Empire Clean Cities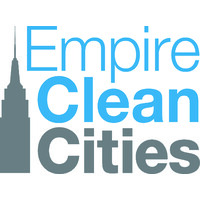 Empire Clean Cities is a 501(c)(3) not-for-profit environmental organization and designated U.S. Department of Energy Clean Cities Coalition with a mission to ensure clean air for future generations.
We are committed to:
Promoting the advancement of alternative fuels, alternative fuel vehicles and advance vehicle technologies that improve air quality, reduce greenhouse gas emissions, displace petroleum consumption, and ensure national energy security.
Increasing awareness and providing citizens and stakeholders access to reliable information about alternative fuels and advanced vehicle technologies.
Providing opportunities for stakeholders and industry leaders to exchange ideas and information that advance the clean fuel and technology markets.
Partnering with other environmental and transportation-related organizations for similar purposes.