February 25, 2022
Advenser at the New York Build Expo 2022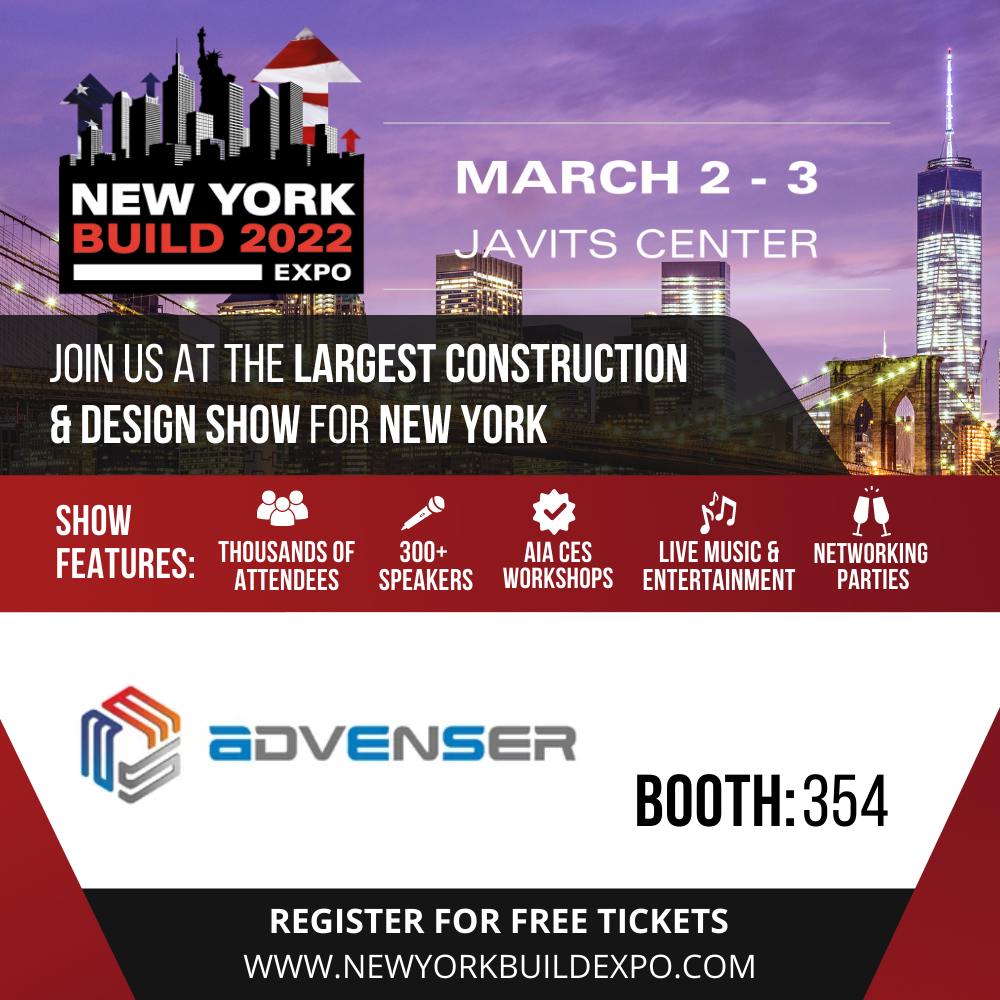 Trevose, PA, Feb 24, 2022 - Advenser Technology Services, Inc. today announced that they'll be a one of the sponsors of the upcoming New York Build Expo 2022, the largest construction and design show for New York and the Tri-state area set for March 2-3 at Javits Center.
The show will feature over 300 leading industry speakers across 11 tracks and AIA CES accredited workshops and over 250 exhibitors covering major construction opportunities in residential, commercial, and infrastructure across New York and the Tri-state region. In what is expected to be the biggest edition of the expo, attendees can also look forward to exclusive free-to-attend networking events (Women in Construction and Diversity in Construction, New York's Festival of Construction), celebrity appearances, and much more.
As one of the leading engineering services providing companies primarily focusing on comprehensive BIM (Building Information Modeling) & CAD solutions for various engineering and construction sectors across the globe, Advenser will be showcasing their exclusive range of BIM services they offer in the construction field.
"Advenser will be one of over 250 exhibitors at the Javits Center for the first time and we're really excited to demonstrate the full suite of BIM services Advenser extends to the construction and engineering industries throughout the globe. Not only are we excited to initiate new partnerships, but we're also looking forward to meeting familiar faces as well." Said Biju Mattamana, President of Advenser.
The Advenser team will be at Booth No. 354 to showcase how their future-proof BIM solutions assure better collaboration and faster BIM implementation to increase any project productivity. Register free tickets to New York Build Expo 2022 here.
About Advenser Technology Services, Inc.
As one of the leading BIM service providers in the world, Advenser has over 15 years of experience working closely with a global clientele in the engineering and construction domain. Advenser combines industry-best business standards and delivery approaches or seamless project delivery. They have a strong track record of working on large-scale projects, with top-tier builders, contractors & consultants. Advenser also delivers a certificate program in Building Information Modeling (BIM) available at East Stroudsburg University (ESU) through a partnership between ESU and Advenser Technology Services, Inc. For more information visit online at www.advenser.com
Contact: Sandra M. Hemphill
Phone: +1 215 934 2868
Email: info@advenser.com