November 28, 2022
Development of the world's only 'well-being window' with automatic blinds in double-glazed glass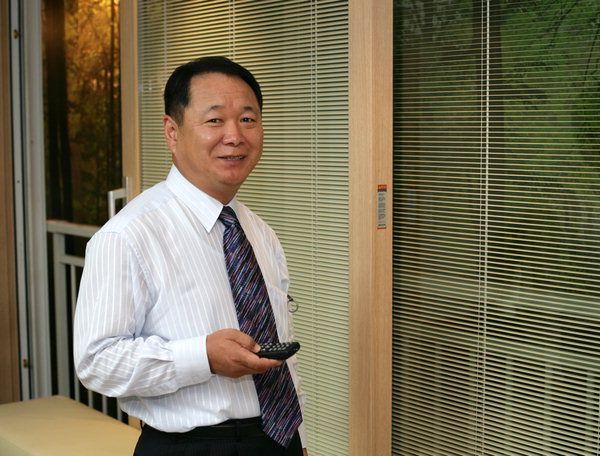 The company, which took its first steps in the construction market in 1983 under the name of Hansung Special Glass Trading Company, moved its factory to its current location in 1996 and has been solidifying its footing with the development of a unique new technology called 'double-glazing with built-in automatic blinds'. Through bold technology investment and ceaseless research and development, we are developing advanced new technologies that were previously unimaginable, such as excellent insulation and sound insulation, scientific and convenient high-tech operation methods, and creating a beautiful architectural culture in our daily life with upgraded quality.
Hans, which has been designated as one of the leading world-class small and medium-sized enterprises and venture companies in the 21st century, boasts a wide range of business areas, including supplying products to Yeoksam Raemian in Seoul, Haeundae e-Pyeonhansesang in Busan, Lotte Castle in Dowon-dong, Daegu, and Shilla Hotel in Jeju. Recently, it is about to achieve 30 billion won in annual sales by signing a contract to supply products worth 20 billion won to the reconstruction site of Gwacheon Jugong Complex 3 in Seoul.
Hans's products are eco-friendly products that are free from contamination by mites and viruses parasitic on exposed curtains by embedding blinds or pleated sheets in the completely enclosed space of double-glazed windows. It is possible to save 20-30% of energy consumption for heating and cooling by blocking heat exchange with the outside and controlling the amount of sunlight, and has several advantages such as securing a wider indoor space, reducing laundry costs, not requiring replacement due to aging, and convenient remote control operation.
Based on this, it received high-efficiency energy equipment certification from the Ministry of Commerce, Industry and Energy and the Korea Energy Management Corporation, and in 2000, it won the Energy Winner Award and the Korea Energy Awards. The popularity of Hans products has been rapidly increasing since the recent expansion of balconies was allowed.
Park Seon-eun (54), CEO of the company, said, "Hans is pursuing qualitative management targeting 1% of VIP customers." We plan to gradually expand the scope of our business," he said.