MPN Boilers Partners With Oilon for Industrial Heat Pumps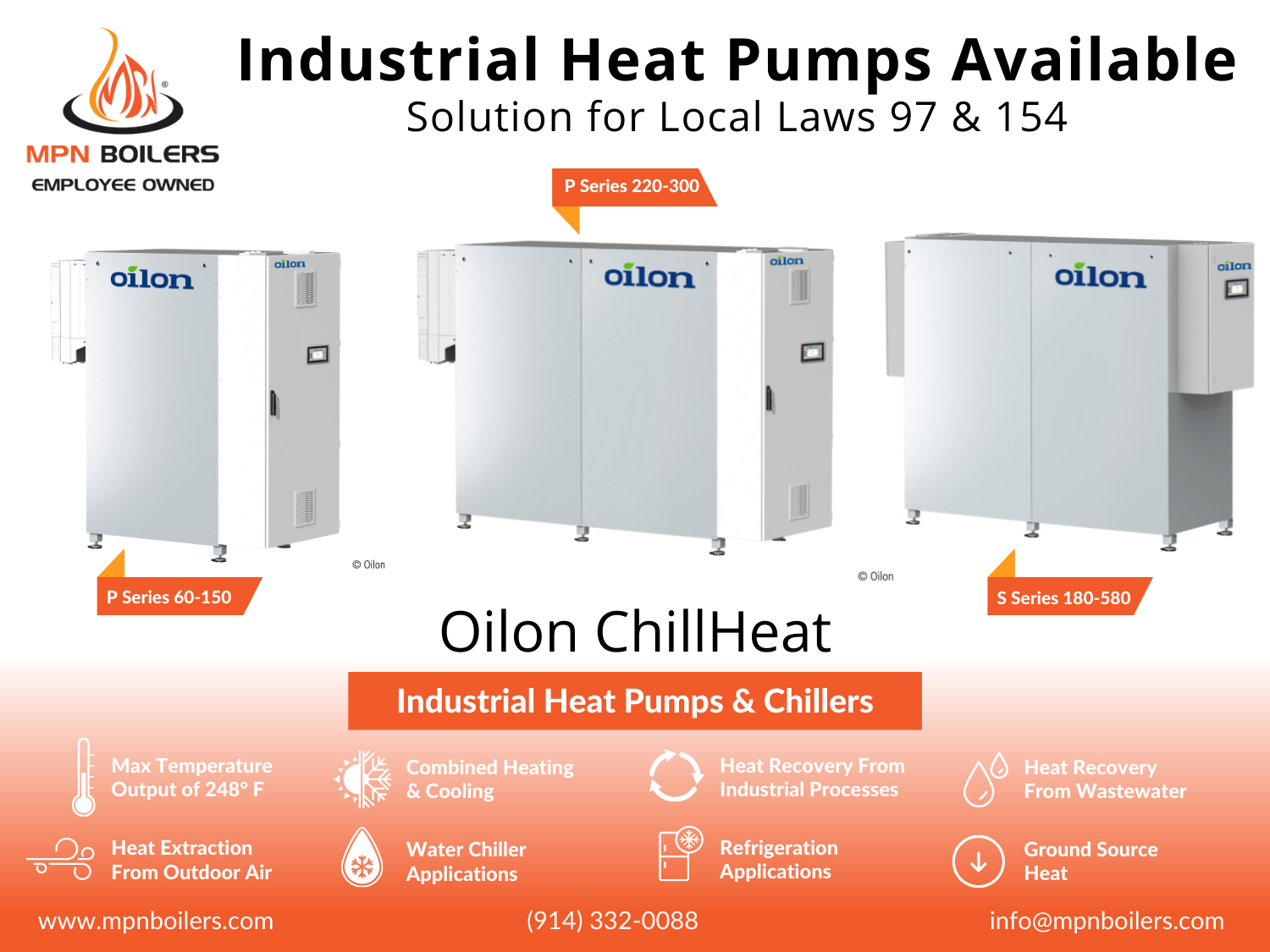 MPN Boilers is annoucing a new partnership with Oilon, to provide industrial heat pumps to the NY Metro Area. Oilon's ChillHeat Industrial Pumps are the new sustainable system of choice for heating and cooling large buildings, and will help property owners meet the emissions requirments for Local Laws 97 & 154.
MPN Boilers can now provide Industrial Heat Pumps to the NY Metro Area with their parnership with Oilon. Oilon's ChillHeat industrial heat pumps and chillers are suitable for a wide variety of cooling and/or heating applications in large real estates, industry, and production of district heating and cooling. Heat pumps offer a new way for NY Building Owners, Property Managers, Facility Engineers, Managing Agents, Energy Engineers, and Superintendents to meet the upcoming sustainability requirements from NYC Local Laws 97 & 154.

Heat pumps are the new system of choice for heating and cooling most large buildings in NY, as they are emissions-free and work in a wide range of exterior temperatures. According to Local Law 97, by 2030 there will be a requirement of a 40% reduction in carbon emissions and an 80% reduction by 2050 for existing buildings. According to Local Law 154, prohibition on fossil fuels will begin with lower-rise buildings in 2024 and taller buildings in 2027. MPN Boilers provided Oilon heat pumps are the best available solution to meet these new regulations as they provide temperature outputs of up to 185 degrees F. With a maximum temperature output of 185 degrees, Oilon's ChillHeat industrial heat pumps and chillers are ideal for existing building conversions where a standard 180-degree supply / 160-degree return system is utilized!
Features and benefits of MPN's Oilon ChillHeat products include:
• Combined heating & cooling
• Heat recovery at refrigeration plants
• Heat recovery from wastewater
• Flue gas heat recovery
• Heat recovery from industrial processes (evaporators, cooling towers, driers)
• Heat extraction from outdoor air
• Ground source heat
• Water chiller applications
• Refrigeration applications
• Highest temperature of 185°F on select series

ChillHeat Industrial Heat Pumps and Chillers will be available for delivery beginning in the fourth quarter of 2022. For more information on ChillHeat, please contact info@mpnboilers.com.

MPN Boilers is a 100% Employee-Owned company that has been providing heating solutions and services to New York for over 50 years. Based locally, MPN Boilers is your single source for all your building heating needs. Our name says "Boilers", but we are much more. We are a full-service-and-solution heating and chilling company based right here in the metro-NYC area.