November 22, 2019
Thermablok' Aerogel Insulation Strips Stop Thermal Bridging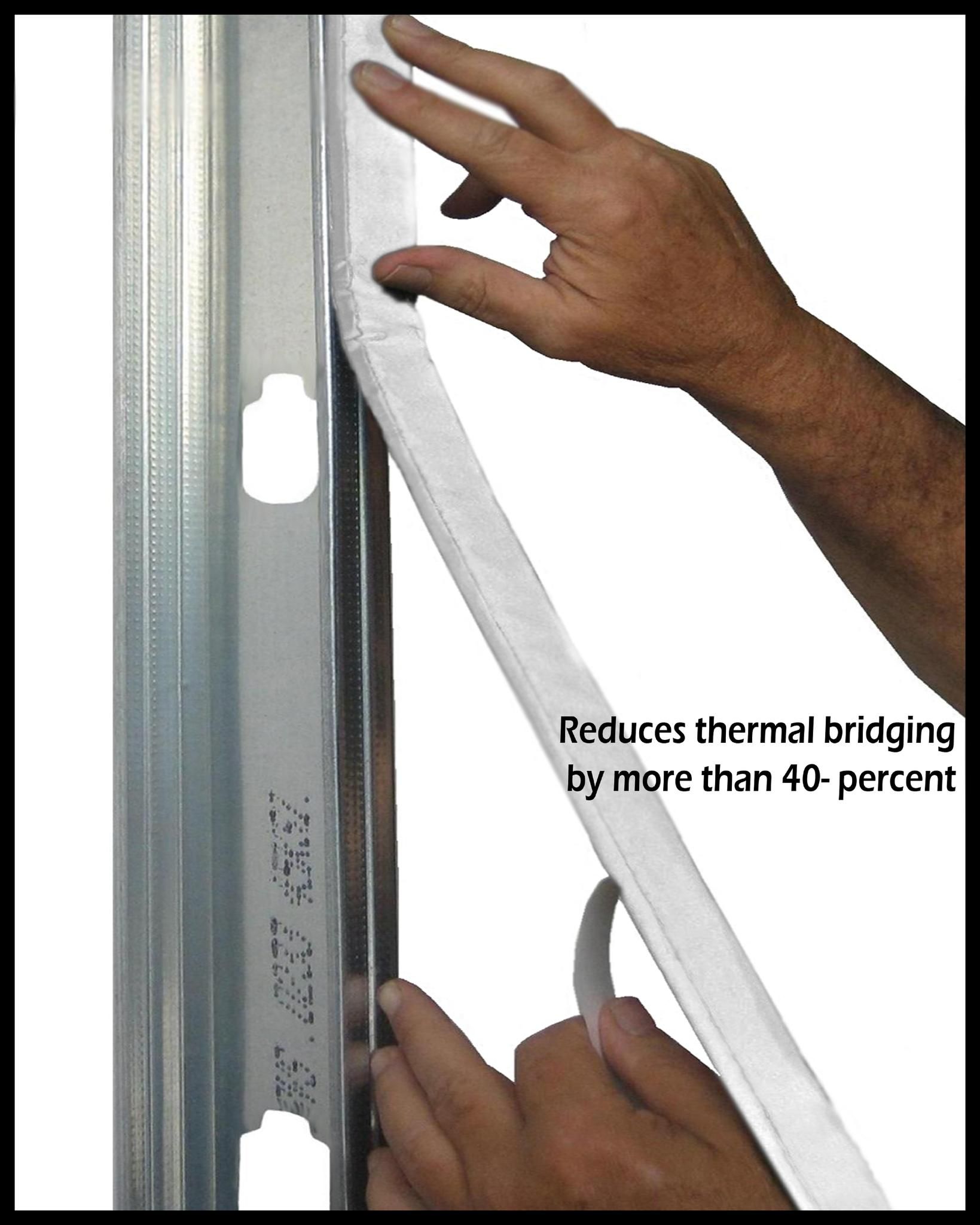 Adding just one THERMABLOK AEROGEL STRIP approx. 0.25" x 1.5", to only one side of each stud can increase the "R" value of a wall (regardless of insulation in the cavity) by an amazing 30 to 40% (DOE Oak Ridge laboratory test).
It is estimated that as much as 50% of the energy we consume in the U.S. is used to control the temperature in buildings. Of that, the major percentage escapes through walls and windows in a process termed THERMAL BRIDGING. This has always been a significant known problem. Until the introduction of NASA technology AEROGEL, there has never been any insulation that could go between a metal stud and the drywall or outside sheeting that would not compress during installation, thus losing its insulation properties.
NASA technology AEROGEL is not only the highest insulating material known, but also has the least amount of compressibility of any known insulation. It is used in the most extreme thermal environments, space suits, the Mars missions, space shuttles, the Star Catcher mission, and clothing now used on Mount Everest expeditions.
Adding just one THERMABLOK AEROGEL STRIP approx. 0.25" x 1.5", to only one side of each stud can increase the "R" value of a wall (regardless of insulation in the cavity) by an amazing 30 to 40% (DOE Oak Ridge laboratory test).
Used by the military, NASA, Apple, Google, Stantec, Siemens, Kiewit, Turner, Clark to name a few; this is without question THE ultimate breakthrough in insulation technology. Considered revolutionary, Thermablok Aerogel Strips are featured in NASA Space Shuttle Enterprise Exhibit at the popular Intrepid Sea, Air & Space Museum in New York City.
Even in small home applications research indicates that using Thermablok Aerogel Strips can provide energy savings of up to approx. $746 per yr. (in an average home of 2400 ft.² and a reduction of 3.9 tons of CO2 emissions). Relative to tax incentives/energy costs one could recover the entire cost in two to three years.
The aerogel insulation in Thermablok is extremely different in that:
It is the least compressible insulation known
It is the lowest thermal conductivity known at 015W/m-K (R-value 10.3 per inch)
As much as 98% is air
Class "A" Fire Rated. Extreme temperature capable
Naturally hydrophobic, air flow breathable
Non-mold
No physical changes with age
Ultra light weight = low shipping
100% recyclable
Easy install
Environmentally safe (unlike other insulations)
Made and patented in USA
Leed credits
Leed Silver C2C rated
0 ozone depleting potential
Fully compliant with RoHS & REACH
Also available in blanket form
It may also be used in many other applications including radiant flooring, concrete slab separation, underground concrete and water pipe insulation and literally hundreds of other applications as the material is hydrophobic.
Metal buildings can have a significant energy efficiency increase with Thermablok Aerogel Strips in the wall and the metal roofing. Using Acoustiblok® sound insulation with Thermablok resolves many high temperature noise problems ie; exhaust systems, hot pipe noise, and industrial noise.
About Thermablok "Aerogel Energy Conservation":
Thermablok Inc. is owned by Tampa entrepreneur Lahnie Johnson, who is also the president and founder of Acoustiblok Inc., a leading soundproofing manufacturer and seller. After extensive research and testing, Johnson, a veteran of the aerospace industry himself, developed Thermablok Aerogel Strips to combat the significant problem known as "thermal bridging".
Made in the USA, aerogel-based Thermablok is 100 percent recyclable, impervious to moisture and mold, and unaffected by age. Green, energy-conscious architects and builders are currently incorporating this new NASA aerogel technology into energy conservation and CO2 emissions reduction.
NASA named Thermablok aerogel insulating material to its prestigious "Spinoff" list of companies that have successfully adapted NASA technology to everyday products and made them available to consumers.
Just one, 1/4-inch x 1½-inch (10mm x 38mm) strip of Thermablok Aerogel insulation applied to the edge of each stud before hanging drywall breaks the conductive "thermal bridging" and can increase the overall wall R-factor by more than 30 to 40 percent (US Department of Energy/JM Laboratories). Thermablok is most often used in construction as a preventative measure against thermal bridging. For more information: http://www.thermablok.com.