15 Jan 2020
2 World Trade Center getting revamped Norman Foster design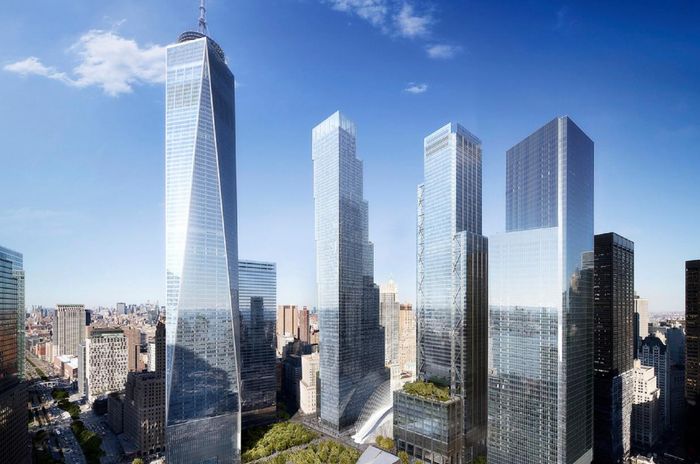 For Two World Trade Center (second from left), Bjarke Ingels' architecture firm BIG proposed a stack of stepped boxes in 2015.
Get ready for Two World Trade Center, Version 3.0.
Larry Silverstein and architect Norman Foster are working on major changes to Foster's original vision for the still-unbuilt skyscraper, the developer tells The Post.
Foster's old design was scrapped in 2015 for an edgier one by Bjarke Ingels' firm BIG when it appeared that two media companies (including the one that owns The Post) would become the anchor tenants in the planned skyscraper.
But now that BIG's quirky tower of stacked boxes has no takers, the old Foster design is being "significantly modified to be more reflective of contemporary needs and taste," Silverstein says. (No rendering is available yet as it's still a work in progress.)
Although Silverstein built the successful Three and Four World Center towers, and started construction of One World Trade before he turned it over to the Port Authority, getting Tower Two out of the ground has been a challenge.
Two's site on the northeast corner of the complex remains the missing link in its planned quartet of giant office towers. The ground facing Church Street currently has a low-rise art installation of contemporary murals painted on corrugated metal sheds.
Foster's first design for the nearly 3-million-square-foot tower was unveiled way back in 2006. In 2015, Rupert Murdoch's News Corporation and 21st Century Fox signed a non-binding agreement to be the project's anchor tenants, but decided in early 2016 not to move there.
Silverstein hit the pause button after that to concentrate on leasing up the other towers. But now he's itching to hit the launch button for Tower Two — although not without first filling the rest of Three World Trade Center.
"The important thing now is to lease up Tower Three," he says. "I don't think it's going to be long to start focusing on Tower Two."
Did that mean he wants Tower Three to be fully leased first? "Yes, it's fair to say that," he says.
Read more at nypost.com
---
New York Build is the leading construction show for New York and the Tri-state area. Gain access to 12 specialized summits, 250+ exhibitors, 230+ speakers and connect with 20,000+ registered visitors.