January 07, 2022
$2.7 Billion Infrastructure Project Won by Local JV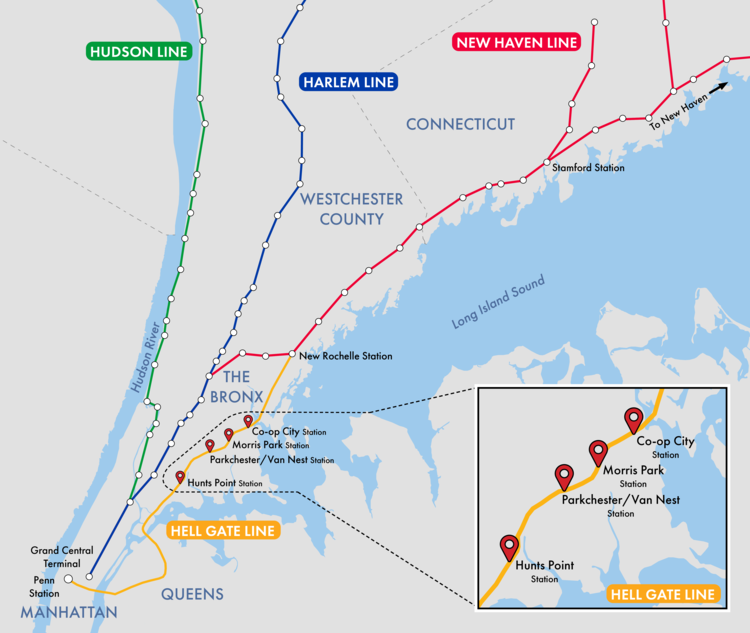 A joint venture between Halmar International and LLC/Railworks has been awarded the contract for the $2.7 billion Penn Station Access project by the Metropolitan Transportation Authority (MTA).
The project will link Metro-North services from the Bronx, Connecticut and Westchester to Penn Station. Taking existing trackage that is owned by Amtrak, the project will mean that Metro-North Railroad commuter trains will be able to access Penn Station from the West Side, creating a new connection that the MTA claims "will add redundancy and resiliency to the network."
In addition to this, a second Metro-North terminal will be built. This will be built on the existing Hell's Gate Line, a decision that limits unnecessary construction work from taking place. It will also increase the reliability of inner-city services and help that corridor prepare for any high-speed operation in the future.
It is estimated that around 30,000 passengers will use the services a day, with 13,000 using one of the new four stations daily. The new services will result in 2850 fewer car journeys being taken a day.
The project:
Four New Stations - there will be four new 'state-of-the-art' stations built, which will be located across the East Bronx in Co-op City, Hunts Point, Morris Park and Parkchester/Van Nest.


Bridge Re-habilitation Works - The bridges located at Bronx River, Bronxdale Avenue, Eastchester Road, and Pelham Lane will either be rehabilitated or replaced.


Work to the Tracks - There will be work on over 19 miles of track, which will be either rehabilitated or replaced. This will take place along the Hell Gate Line right of way. In addition to this, Metro-North's New Rochelle Yard in Westchester County will be reconfigured.


Reconfigured Interlockings - There will be one reconfigured and four new interlockings within the project area.


Power and Communication Infrastructure Modernizations- Modernization work will take place on the traction power, signal systems, traction power, third rail and catenary along the project corridor. There will also be two upgraded and five new substations.
Amtrak has agreed to contribute $500 million towards the project and will pay any costs if the project is delayed as a result of it failing to provide a workforce or outages.
There are nearly 250,000 residents and an additional 100,000 jobs that live within half a mile of the four stations. The new service, which will operate every twenty minutes during peak hours, will reduce journey times by almost 50 minutes between Penn station to East Bronx and by 75 minutes to Connecticut. In addition to this, those travelling to the West Side via the New Haven line will no longer need to travel via Grand Central station, so will save 40 minutes on their commute.
The New York Governor Kathy Hochul supported the project, stating "Metro-North is coming to the East Bronx, and bringing faster commutes with it," in a statement on the 22nd of December." She continued: "This one project by itself is a big step forward for environmental justice, environmentally sustainable transportation, the Bronx economy and regional interconnectivity, and yet another example of our ongoing efforts to make sure that all New Yorkers have the modernized transportation systems they deserve."
The project is predicted to create 4,500 jobs and is scheduled for completion in 2027.
---
New York Build is the leading construction, design and real estate show for New York and the Tri-State Area.
Register for your free tickets now to gain access to 300+ top industry speakers across 11 tracks and AIA CES approved workshops, 250+ exhibitors, exclusive free-to-attend networking events including the Women in Construction and Diversity in Construction, exciting entertainment, New York's Festival of Construction, celebrity guests and much more!

REGISTER FOR TICKETS