07 Oct 2019
Community solar power project in Potsdam nearing start of construction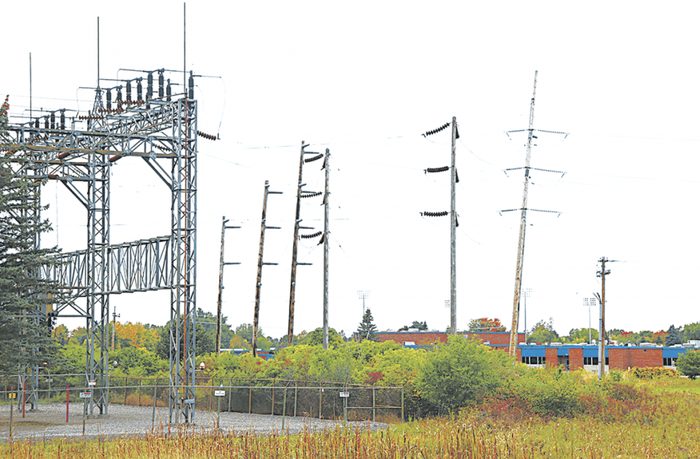 A proposed large solar power project that could be generating enough electricity to power 1,000 homes next year is on track for development on land along Lawrence Avenue.
Jim Snell of Potsdam has formed a company, Potsdam Community Solar LLC, to build a solar array on about 18 acres he owns east of Lawrence Avenue Elementary School.
"The land is ideal because it's contiguous and there's not a lot else the land could be used for because of the high voltage power lines across it," Snell said.
Near the road is a National Grid power substation, which Snell said could be beneficial.
Now that county and village regulatory hurdles have been cleared and the village has issued a work permit, he says survey work has begun on the site. "We hope to get a little bit of a start this fall, perhaps with laying out the rights of way for the power company. The major work will be done in the spring," probably starting with sinking anchors and posts for the racks the 13,284 solar panels will rest on.
The project will also involve 40 power inverters, overhead poles, and wiring. The major hurdles left before building the array are the interconnect with National Grid and securing the rest of the funding.
Snell, who owned and ran Snell's TV and Appliance for 30 years and now owns Snell's Office Complex, is working with Elie Schecter of Hemlock Hills Solar development in the Hudson Valley, who worked for a large solar developer for years before setting up his own development company.
"I had been approached by several companies wanting to generate power and sell it," Snell said, and he told them all "no."
But he was discussing solar with electrical contractor Tracy Dow of Dow Electric in Malone and Everything Electric in Potsdam when he and Dow found they were "on the same wavelength" looking toward developing a project based on the community solar model rather than the commercial systems other people were proposing.
"It will mean people can sign up, so instead of putting panels on their roof they can receive power from this system," Snell said.
Potsdam Solar has a 25-year lease on the land with two five-year options after that, he said.
"We'll be setting up a website so people can become more knowledgeable about it and sign up," Snell said. "It won't cost anything" to sign up and there would be no obligation, and even if they sign up they can get out any time, he said.
Schecter is also an investor in the project who will be overseeing much of the work, including looking for further investment needed to put up the racks that will hold the solar panels tilted toward the sun.
National Grid is studying the project now to determine what kind of equipment will be required for it to be connected to the grid, the cost of which will be borne by the developers. Schecter described that as potentially the highest hurdle. If the cost is too high, then there will be no project.
"Once the interconnect agreement is reached and it looks to be not so expensive as to ruin the deal, then we'll know if we'll have a project." If it won't cost too much, he said, they can begin signing up subscribers.
"We feel good because the project is right next to the substation," possibly making connection easier.
National Grid is expected to get back with their report to them before the end of the year.
To help with financing, they are planning to work for an available federal tax credit of up to 30 percent on project costs, which will help in attracting "tax equity investors" who are looking for tax credits they can apply to their balance sheets.
They are also working to be part of a New York State Energy Research and Development Authority (NYSERDA) program, the Megawatt Block program, that offers incentives to solar project developers in an effort to meet state renewable power goals.
"We will market the project to subscribers – rate-payers in Potsdam" as a community solar program, which is different from a commercial setup.
It allows people to get the benefit of renewable solar power "with no up-front cost, no panels on their roof."
Savings full subscribers get would amount to about a 10% discount off their bill for usage and distribution, Snell said. Subscribers can sign up for any increment of their electric use.
This explanation of the "community solar" model comes from elevateenergy.org, which Schecter says it is "the specific mechanism on the Potsdam project," and is a fair outline of the structure that he and Snell will operate under:
"The developer-owned model is a common one in many parts of the country. In this model, a solar developer designs, builds, owns, and operates the community solar development. The developer finds a host site and leases it over the term of the agreement. The developer also secures the necessary financing, permits, and insurance to construct the community solar project. Typically, the developer would work with a Subscriber Management Organization (SMO) to acquire subscribers and manage subscriptions. Subscribers either buy or lease panels or purchase increments of solar power (kW) or electricity (kWh). The utility provides billing credits to subscribers for their share of the electricity generated from the community solar array. The developer operates and maintains the system as needed."
Source: North Country Now
---
New York Build is the leading construction show for New York and the Tri-state region. Gain access to 9 specialized summits, 200+ exhibitors, 200+ speakers and connect with 17,000+ registered visitors.
REGISTER FREE TICKETS