January 07, 2022
DDC Shortlists 6 JVs for $6B NYC Jail Projects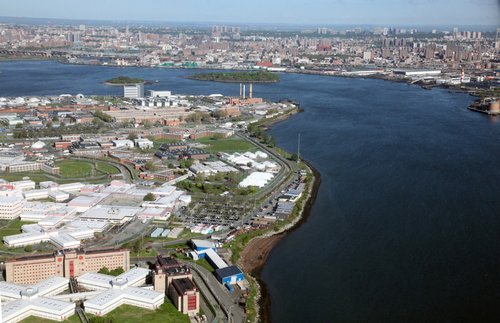 The Department of Design and Construction has released a shortlist of the six JVs that are in the running to design and produce four new borough-based jails, in a project worth at least $6 billion.
With Riker Island closing in 2027, these four new jails will be smaller, more modern and designed to offer more humane conditions to those incarcerated inside compared to Riker. The program is made up of four jails; one in Manhattan, Brooklyn, Queens and the Bronx.
Those chosen are now in the process of preparing responses to a Request for Proposals (RFP) for each of the jails. These will require heavily detailed plans about how the JV will design and build the facility, taking the brief into account.
Although there are currently two JV's working on each of the projects, there will only be one JV chosen. The JV's that have been chosen and will be competing for the projects are:
Brooklyn - A RFP has been issued to two teams; one joint venture led by Tutor Perini Corporation; another led by Lend Lease Corporation and Halmar International. Construction is due to begin in winter 2022/23.
The Bronx - This summer an RFP will be issued to both Cauldwell Wingate 2022 Company, LLC; and Transformative Reform Group, LLC, led by SLSCO and Sciame Construction. Once a team has been selected, construction will begin in late 2023.
Manhattan - The Alberici Corporation and Gilbane Building. The final RFP's are due in fall, 2022, with construction due to begin early 2023.
Queens - An RFP will be issued to the Leon D. DeMatteis Construction Corp in late 2022, with construction due to begin in early 2023.
"The response from the design community is encouraging given the scale and importance of this incredible project," said Department of Correction Commissioner Vincent Schiraldi. "As an agency, we are eager to continue to safely reduce the jail population, move off the Island and to be closer to communities, courts and services."
In a press release, former Mayor Bill de Blasio, who reviewed and approved the six JV's stated: "New York City deserves a smaller, safer, and fairer jail system. That starts with building modern facilities – and getting off Rikers Island once and for all."
"I'm proud to see borough-based jails continue to move forward, and I look forward to celebrating more progress as expert teams design and build these new facilities."
The program's completion is due in 2027, where the entire project will be transferred to the Department of Correction. The city has stated that a number of the design-build contracts for the program will set significant requirements for participation by Minority- and Women-Owned Business Enterprises (M/WBEs). If you are a M/WBE and would like to learn more about participating in the Borough-Based Jails program or other DDC design-build programs, please click here.
---
New York Build is the leading construction, design and real estate show for New York and the Tri-State Area.
Register for your free tickets now to gain access to 300+ top industry speakers across 11 tracks and AIA CES approved workshops, 250+ exhibitors, exclusive free-to-attend networking events including the Women in Construction and Diversity in Construction, exciting entertainment, New York's Festival of Construction, celebrity guests and much more!

REGISTER FOR TICKETS