10 Feb 2022
Foster and Partners Update Design For 2 World Trade Center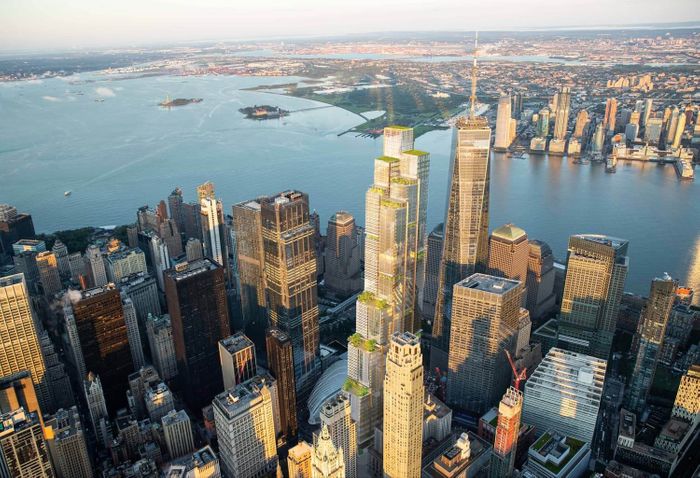 Norman Foster - founder of Foster and Partners - has revealed an updated design for 2 World Trade Center.
The building's design is being led by Foster, with Silverstein Properties as the developer. 2 World Trade Center is the final part of the World Trade Center complex, located on 200 Greenwich Street.
The development has faced a number of hurdles, including a change in design. Originally designed by Foster + Partners in 2006, it was then redesigned by the Bjarke Ingels Group in 2015 before it was handed back to Foster and Partner for a redesign in 2020.
The building is located between two extremely different neighbourhoods; TriBeCa, whose architecture heavily features roof gardens and lofts, and the Financial District, known for its soaring skyscrapers. The design takes this into account, with details that are inspired by both districts.
The new renderings show metal strips lying horizontally across the glass, separating each floor, with vertical metal strips running up the size of the tower, emphasizing its height. The tower has a number of roofs, all at different heights, topped with greenery. 2 World Trade Center will also feature terraces on each side of the building, each providing a viewpoint of the 9/11 memorial.
At its highest, the skyscraper will reach around 1,350 feet, however, the exact number of storeys has yet to be officially released. Excavation on the site began in 2008 and the new building will be built on the same foundation that was built before work was brought to a halt. The tower will be the second tallest building at the World Trade Center Site.
---
New York Build is the leading construction, design and real estate show for New York and the Tri-State Area.
Register for your free tickets now to gain access to 300+ top industry speakers across 11 tracks and AIA CES approved workshops, 250+ exhibitors, exclusive free-to-attend networking events including the Women in Construction and Diversity in Construction, exciting entertainment, New York's Festival of Construction, celebrity guests and much more!

REGISTER FOR TICKETS