January 15, 2020
Look Inside 3 Hudson Boulevard, Hudson Yards' Next Office Tower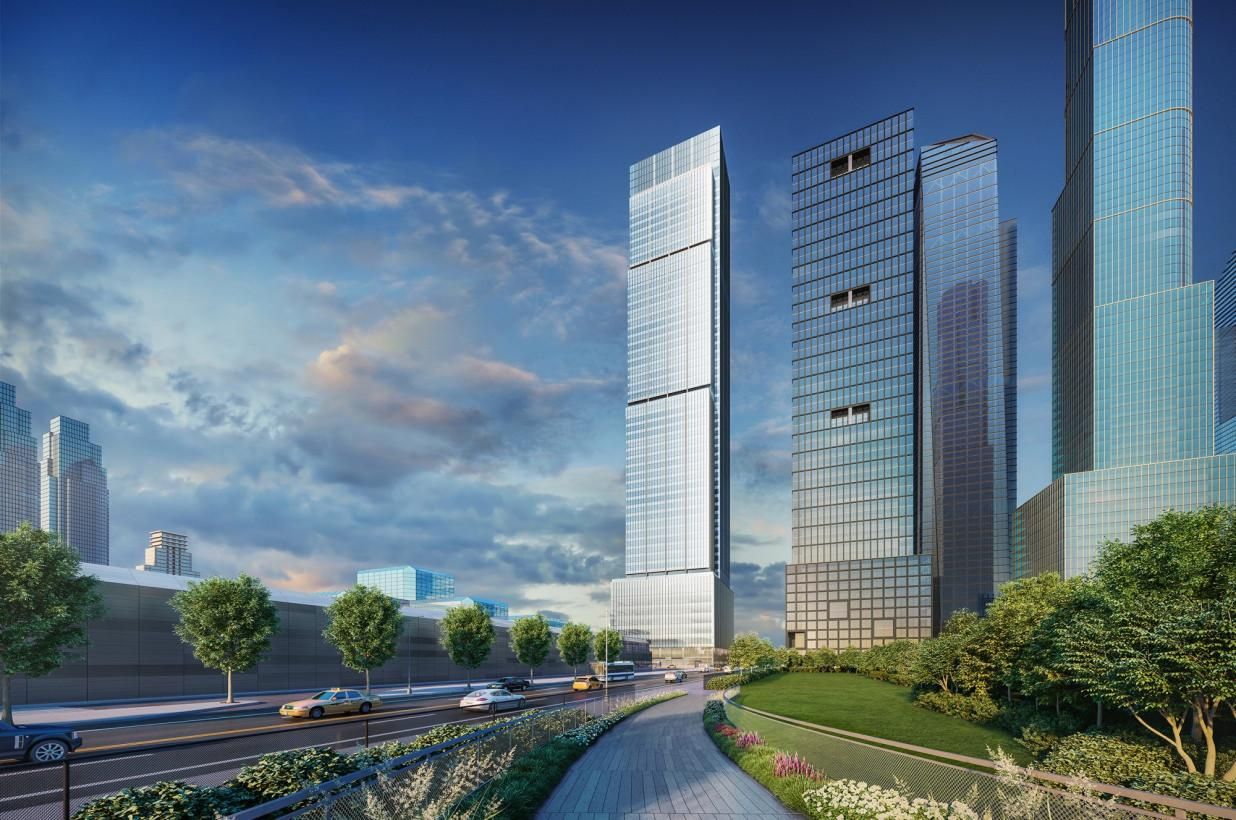 A brand-new design has been revealed for 3 Hudson Boulevard, a long-planned tower with 1.85 million square feet of office space.
Just shy of 1,000 feet tall, 3 Hudson Boulevard will top out at 56 stories with several floors having nearly 30-foot-high ceilings and plenty of terraces. It is slated to be ready for tenants at the end of 2023.
The $3 billion-plus project, located on the northwest corner of West 34th Street and Hudson Boulevard, is a collaboration between Joseph Moinian and office real estate investment trust (REIT) Boston Properties.
The REIT is an experienced developer that owns and has built office buildings from Salesforce Tower in San Francisco to numerous Boston projects and, locally, 250 W. 55th St.
Moinian, who built the Sky and Atelier residential towers a few blocks north, as well as other office buildings, has owned the site for decades. But for years, the plot — bounded on its other side by Eleventh Avenue and West 35th Street — was used for staging by the MTA and Amtrak.
All that commotion didn't stop Moinian from planning his project. This is the third iteration and all the parties agree that the third time's the charm.
Designed by FXCollaborative's Dan Kaplan, it has Gensler as a consulting architect.
As soon as the railroads packed up, foundation construction started.
"It's a very special building and a special location, and we've worked really hard to design a building that justifies the quality of the location because of the park," says Boston Properties' exec John Powers. The tower's location is adjacent to the new Hudson Boulevard Park, a fountain-filled oasis. That section of park has a bench that is named for Moinian's executive, Oskar Brecher, who passed away in 2016.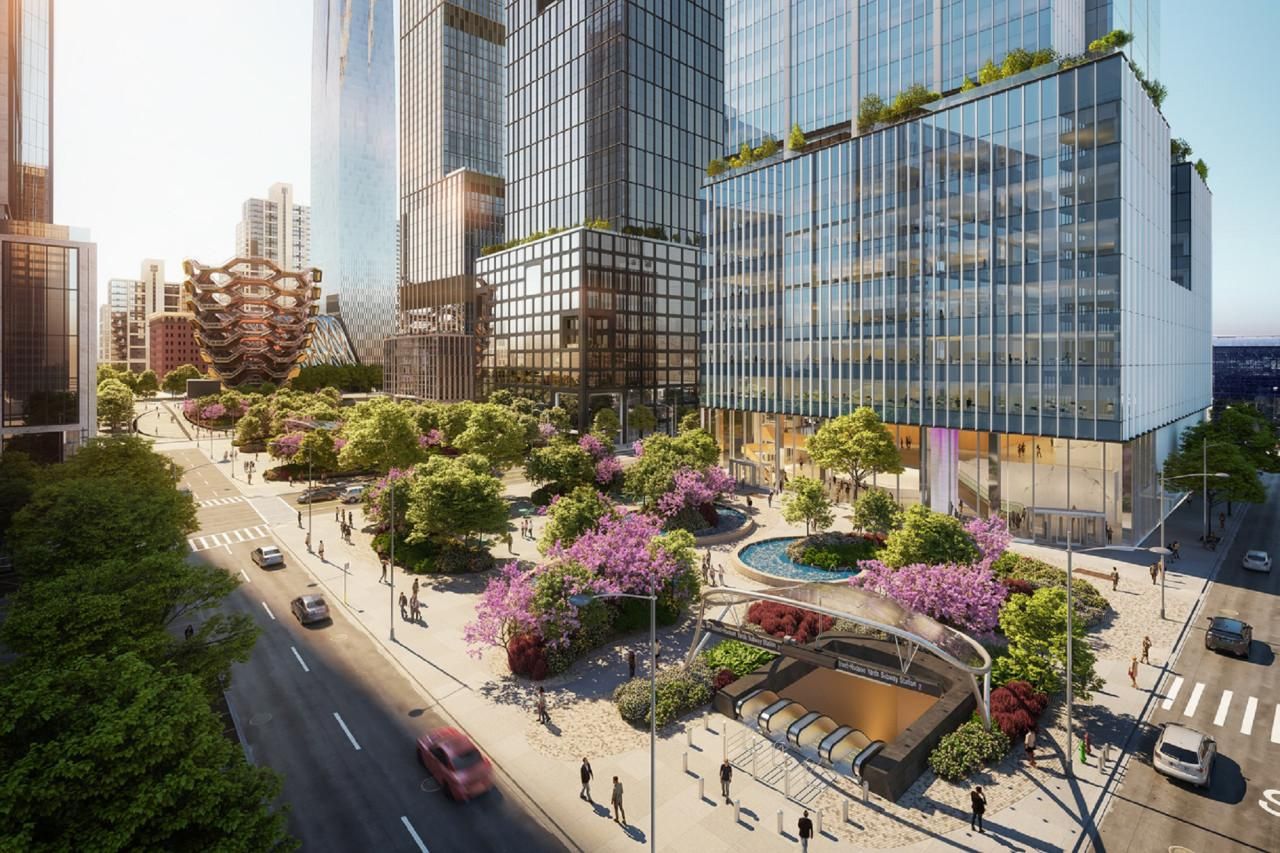 Binyan Studios
The new 3 Hudson Boulevard tower (on right) will rise adjacent to the park where Hudson Boulevard meets West 34th Street. Other Hudson Yards skyscrapers and the Vessel can be seen to the left.
The tower's 40-foot-tall lobby will feature hospitality-like food and beverage experiences that range from casual seating to elegant bars. Escalators and a dramatic staircase will lead to a second-story sky lobby and the main elevators.
"We designed the building from the outside in and from the inside out — and for what today's users want," says Powers.
"We are fortunate to be on the park and we want to respect the park and celebrate the park," he adds of the building's front "yard," where there is one of three entrances and covered access to the 7 train.
And the inside is just as extraordinary. "We wanted something with a big statement," Powers says.
The center core building has just one support column for the large, 50,000 square-foot podium floors that run from stories 3 to 7.
"It's very unusual to have one column for a trading-sized floor," says Moinian. These floors cantilever over the duplex lobby and have 16½-foot ceilings with 10½-foot windows.
As the building rises and sets back to smaller floors, it allowed the creation of seven unique floors dubbed "delighters." These have breathtakingly high ceilings and in some cases, terraces.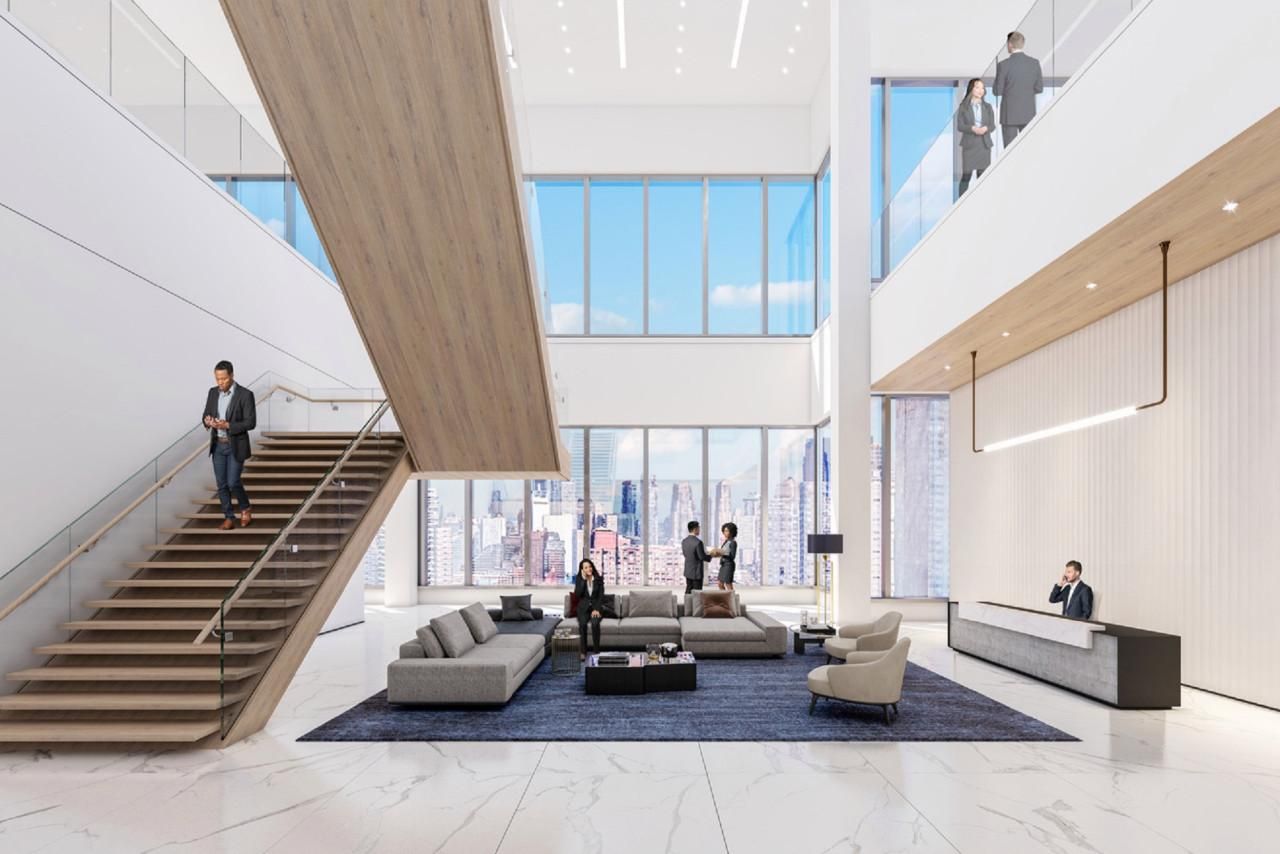 Gensler
3 Hudson Boulevard can accommodate double-height floors for future office tenants.
Explains Richard Monopoli, senior vice president of development for Boston Properties: "They are the best products and they 'delight' the customers."
---
New York Build is the leading construction show for New York and the Tri-state area. Gain access to 12 specialized summits, 250+ exhibitors, 230+ speakers and connect with 20,000+ registered visitors.