January 13, 2022
Private Developers To Renovate 1,673 NYCHA Apartments In Brooklyn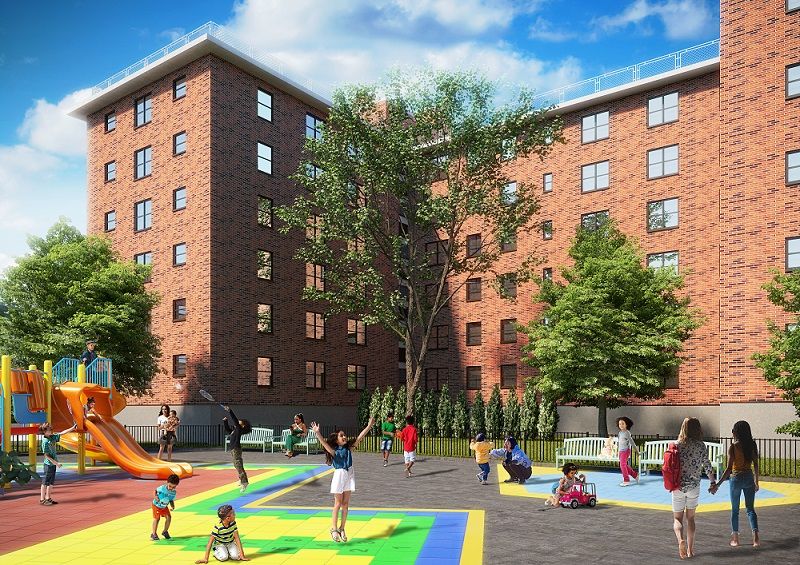 A JV of private developers will complete renovations for 1,673 NYCHA apartments in Brooklyn.
A joint venture comprised of The Hudson Companies, Boulevard Together, Duvernay + Brooks and Property Resources Corporation has formed Boulevard Together Developer LLC. They recently closed on a $600 million loan, which will be used to complete infrastructure upgrades and renovations to 1,673 NYCHA public housing units in East New York.
The buildings that will receive the much-needed renovations include the Boulevard Houses (built all the way back in the 50s), the Fiorentino Plaza (built in the 70s) and the Belmont-Sutter Area Houses (built in the 80s), with 29 buildings being worked on in total.
This re-development project is just one aspect of the New York City Housing Authority's PACT (Permanent Affordability Commitment Together) initiative. This initiative strives to select and upgrade developments in need of renovation. They will also provide services to facilitate much-needed vocational and economic support.
To ensure that the properties that are worked on remain affordable, PACT is funded by a number of private and non-profit development partners, all of which have been shortlisted and selected with input from local residents.
The upgrades that will take place include lighting systems, new flooring, new bathrooms and upgraded kitchens that have been fitted with Energy Star appliances. Communal spaces and entryways will be enhanced to provide increased accessibility. Residential utilities will also get an upgrade, including new storage and laundry spaces. There will be increased outside space, with playgrounds, outdoor gymnasiums, community gardens, walkways and spaces for outdoor exhibitions.
Once the project is complete, Boulevard Together Management LLC will be instated as the new on-site property manager, and will be led by PRC Management and Lisa Management.
---
New York Build is the leading construction, design and real estate show for New York and the Tri-State Area.
Register for your free tickets now to gain access to 300+ top industry speakers across 11 tracks and AIA CES approved workshops, 250+ exhibitors, exclusive free-to-attend networking events including the Women in Construction and Diversity in Construction, exciting entertainment, New York's Festival of Construction, celebrity guests and much more!

REGISTER FOR TICKETS