February 10, 2022
Robert De Niro-backed Wildflower Studios Is Given Green Light By New York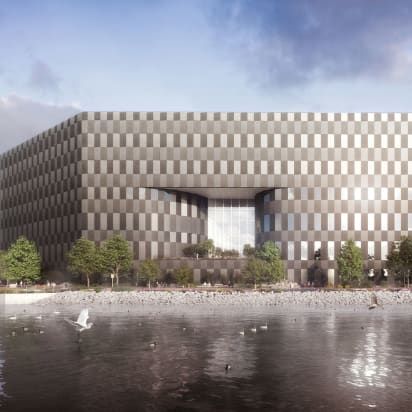 A $600 million Wildflower film studio - backed by movie legend Robert De Niro - has been given the green light by the New York planning authorities.
Plans for the film studio were originally revealed over two years ago, however, the team behind the building's design - Bjarke Ingels Group - revealed in a press release that the New York planning authorities have finally given the go-ahead, meaning that construction can begin.
The project is led by Wildflower, a real estate developer based in Manhattan, in collaboration with Robert De Niro and Jane Rosenthal, a film producer that De Niro has collaborated with for a number of years. The development is also a family affair, with De Niro's son Raphael (a New York-based real estate broker) being the one to present the plans to New York's Department of City Planning.
The seven-story, 775,000-square-foot building has been designed to be the world's first "first vertical commercial film, television and creative studio". It is being built on a 5.25-acre site that used to belong to the world-famous piano company Steinway and Sons. The designers are aiming to create an 'animated effect', by setting concrete panels on the building's exterior at different angles. In addition to this, the roof will feature 150,000 square feet of solar panels. According to the most recent renderings, the building will be built behind a public waterfront promenade.
Queens is already a premier filming location, with production studios already located in the borough, such as the famous Silvercup Studios which featured as the primary shooting location for Mad Men, Mr Robot, and Gangs of New York, among others. However, Wildflower aims for its new studios to attract big-budget producers and productions by providing an alternative to LA and Hollywood, with BIG founder and creative director Bjarke Ingels stating that the studio would help "bring film production back" to the East Coast.
In addition to this, Wildflower has stated that they believe the project will create over 1,000 permanent new jobs in the area.
---
New York Build is the leading construction, design and real estate show for New York and the Tri-State Area.
Register for your free tickets now to gain access to 300+ top industry speakers across 11 tracks and AIA CES approved workshops, 250+ exhibitors, exclusive free-to-attend networking events including the Women in Construction and Diversity in Construction, exciting entertainment, New York's Festival of Construction, celebrity guests and much more!

REGISTER FOR TICKETS