27 Sep 2019
SUNY New Paltz Completes $13.5 Million Engineering Innovation Hub In Hudson Valley, New York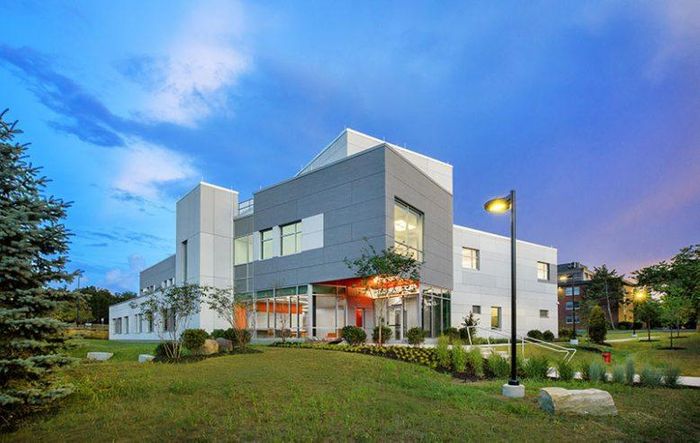 The State University of New York at New Paltz this week celebrated the completion of a $13.5 million Engineering Innovation Hub located on the institution's Hudson Valley campus. Designed by Urbahn Architects, the two-story building comprises 19,500 square feet and serves as a central headquarters for the university's bachelor's degree program in mechanical engineering that has seen rapid enrollment growth since launching in 2014.
Located 90 minutes north of New York City, the building's facilities include advanced research labs and educational spaces, as well as the school's Hudson Valley Additive Manufacturing Center. Known simply as HVAMC, the center serves students with an interest in 3D printing processes and materials, additive manufacturing, and CAD Design. The center also provides expert consulting services to private businesses.
According to Urbahn Architects, the highly technical function of the building was the greatest influence on the development's design. Beginning at the first floor, the entrance lobby is envisioned as a collaborative space for students with display cabinets for 3D-printed artifacts, computer charging stations, lounge-style seating, and whiteboards to encourage the exchange of ideas. Moving past the lobby, the floor also includes a 1,900-square-foot teaching lab with exposed metal deck ceilings, an 850-square-foot machine shop, a post-processing shop for the finishing of 3D-printed objects, office space, and building mechanicals. HVAMC-designated areas house multiple 3D printers.
Additional office, lounge, and collaborative spaces are located on the building's second floor. More secluded areas include a 300-square-foot conference room, three research and educational labs, and a 1,200-square-foot computer lab.
The 1,900-square-foot teaching lab invokes an industrial aesthetic including exposed ceilings and polished concrete floors. (Photo by Ola Wilk/Wilk Marketing Communications)
Second-floor lounge (Photo by Ola Wilk/Wilk Marketing Communications)
"The Engineering Innovation Hub will significantly aid SUNY New Paltz in educating engineering students who will provide technological leadership in the Hudson Valley," said Daniel Freedman, dean of the School of Science and Engineering and director of the HVAMC. "It will also assist the wide variety of regional companies that make use of our state-of-the-art 3D printing technology and expert staff."
The new building was made possible by Governor Andrew Cuomo's NYSUNY2020 Challenge Grant competition, in which SUNY New Paltz was awarded $10 million to support academic programs that translate directly into economic development in New York State. The college also received $1 million through the governor's Mid-Hudson Regional Economic Development Council's annual Consolidated Funding Application.
According to SUNY New Paltz president Donald P. Christian, the investment is projected to yield a regional economic impact of more than $75 million and add about 195 jobs over the next decade.
"Today's opening of the Engineering Innovation Hub at SUNY New Paltz is another great example of the growth of our high-tech sector in the mid-Hudson Valley that will result in jobs and economic expansions throughout the region," said Governor Andrew M. Cuomo. "We will continue to partner with higher education institutions and industry leaders to bring these types of visions into reality to inspire New York's newest generation of innovators."
Urbahn Architects designed the building to meet LEED Silver requirements, which include strict criteria for energy efficiency, construction materials, and overall environmental impact. The architects also designed the structure to allow for a potential expansion to the east if the hub's growth requires more space in the future.
The hub's primary project team also includes general contractor PC Construction, structural engineer Leslie E. Robertson Associates (LERA), and LEED consultants YR&G.
University and state representatives at the new building's dedication. (Photo courtesy of SUNY New Paltz)
Source: New York Yimby
---
New York Build is the leading construction show for New York and the Tri-state region. Gain access to 9 specialized summits, 200+ exhibitors, 200+ speakers and connect with 17,000+ registered visitors.