Sven Tower Becomes Tallest Residential Building Featuring Smart Windows In North America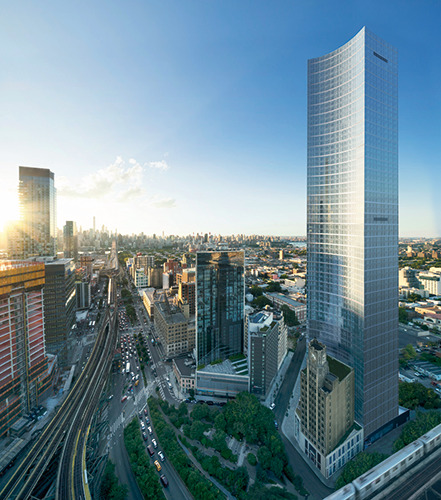 The Sven Tower - located down in Long Island City, Queens - recently became the tallest residential building in North America to feature View smart windows; windows that can be controlled using electrochromism.
This 71-story residential tower was developed by The Durst Organization, designed by Handel Architects and was opened this year.
The Sven Tower was built surrounding the former Bank of Manhattan building. Once the tallest building in Long Island City, this tower was also known as The Queens Clock Tower and is a part of the city's history. It was given landmark status in 2015. The tower is shaped in a concave, a design that is intended to "visually embraces the landmarked historic clock tower" according to its designers.
The Sven Tower was also built with sustainability in mind, with the developers targeting LEED Platinum, the highest sustainability certification possible by the U.S. Green Building Council.
With the installation of smart windows, Sven Tower is not just the tallest residential building in North America to feature the technology but also makes history as the tallest building in New York City with the technology.
The View windows give residents the ultimate control over their living environment, as they can control the tint of their windows via the Spirework app via their mobile phone. The glass is covered with a thin coating of nanocoatings, which are controlled by a varied electrical charge. These increase or lessen the level of tint, without the need for blinds or curtains.
As noted by David Levitt of the Commercial Observer, the use of smart windows has increased in recent years, as demand for energy-efficient buildings grows. Though they come at a cost, smart windows allow users to control the amount of heat and light entering a building.
The Sven Tower is just the third building developed by Durst that uses smart windows, following 115 Avenue of the Americas and 825 Third Avenue.
---
New York Build is the leading construction, design and real estate show for New York and the Tri-State Area.
Register for your free tickets now to gain access to 300+ top industry speakers across 11 tracks and AIA CES approved workshops, 250+ exhibitors, exclusive free-to-attend networking events including the Women in Construction and Diversity in Construction, exciting entertainment, New York's Festival of Construction, celebrity guests and much more!

REGISTER FOR TICKETS