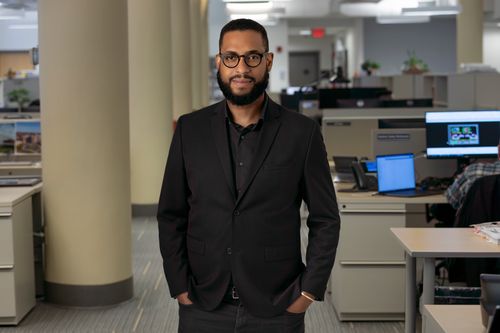 Toussaint Jimenez Rojas
Associate, Senior Architectural Designer - Project Delivery Lead
,
STV
Toussaint Jimenez Rojas, Int'l Assoc. AIA, LEED Green Associate, is an associate senior designer and project delivery lead at STV. An internationally licensed architect, designer, researcher, and academic, he has worked at the intersection of professional practice, experimentation, digital design, and design advocacy for the past two decades. His diverse project experience covers cultural, corporate, residential, educational, justice, athletic, mixed-use buildings, and urban developments. He has managed projects in the United States, the Dominican Republic, Argentina, Chile, and Uruguay. At STV, he has most recently supported the design of a state-of-the-art, treatment-focused correctional facility in Baltimore, MD – the Baltimore Therapeutic Treatment Center.
Jimenez Rojas holds a Bachelor of Science in Architecture and Urbanism and an Associate Diploma in Computer Science from the Universidad Autónoma de Santo Domingo. He received his Master of Arts in Architectural Advanced Design from the University of Buenos Aires and completed postgraduate studies in Parametric Design and Digital Fabrication at the Universidad de Palermo in Buenos Aires, Argentina.
Jimenez Rojas is an active member of the American Institute of Architects' (AIA) International Associates community; the National Organization of Minority Architects (NOMA); the Dominican Association of Engineers, Architects, and Surveyors (CODIA); and the Society of Architects of the Dominican Republic (SARD). He co-founded the School of Architecture at the National University of La Matanza in Buenos Aires, Argentina, where he previously oversaw the curriculum for digital design technologies and the advanced design studio.