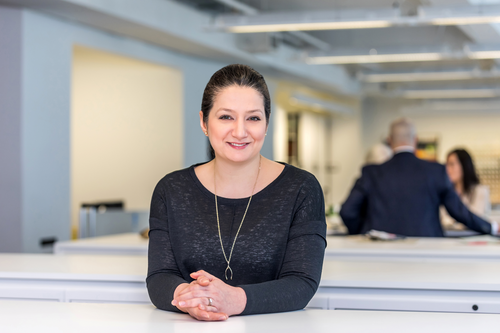 Tzveta Panayotova
Tzveta Panayotova is a senior laboratory planner at HOK with nearly two decades of experience delivering complex scientific facilities for global clients. Tzveta uses her extensive knowledge of design requirements, sustainability and lab standards to create efficient and beautiful spaces that help researchers collaborate and discover.
Her projects encompass higher education, corporate R&D and government buildings with typologies spanning from bioscience/biomedical to chemical and engineering facilities. Recent lab buildings she has helped plan and design include a pharmaceutical fit-out and consolidation for Sanofi in Cambridge, Mass., a large-scale government Covid testing site in the United Kingdom, and the Center for Artificial Intelligence & Human Health at Mt. Sinai in New York City.
An active member of the laboratory community, Tzveta is involved in the AIA New York Science & Research Facilities Committee and Boston Life Science Events. She serves on the HOK's Mentorship Committee and is a member of SEFA Labs, NY Builds Bio+ and the Association of University Research Parks.