5 Places to Spot the Coolest Architecture in NYC, According to a Local Expert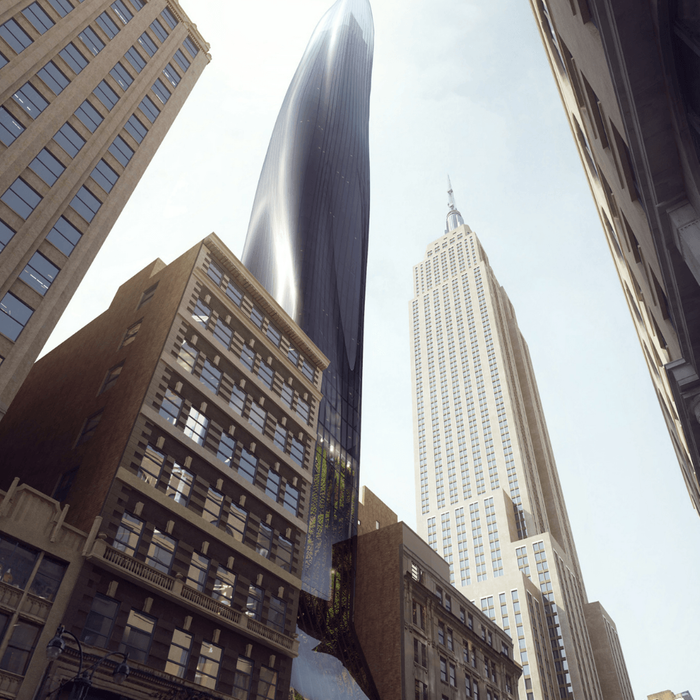 When Andrew Bowen, the director of staging at ASH NYC, describes the city that gave this Brooklyn firm its name, he uses a familiar lyricism to get his affection across. "I love the relentless energy and the constant change of New York City," he says. "It's impossible to keep up with it, to ever feel like you really know it."

Bowen has lived here for more than a decade, and like anyone else who calls it home, a part of his pride is wrapped up in the city's famous architecture—and he doesn't mind pausing every once in a while to appreciate it.
"There's an inherent magic to the sheer number of early skyscrapers, particularly those subject to the 1916 zoning resolution, which is widely considered to be the birth of the setback," he notes. (The resolution famously started regulating—and limiting—the height and bulk of various buildings in the city.) "The variety in which architects responded to these regulations over time has resulted in a richness of heavy, historic forms. It's hard to find elsewhere, especially in cities where most tall buildings are much newer."
That variety is why you don't have to be a New Yorker to name a few of the city's famous structures, since examples like the Chrysler Building, the Empire State Building, and even the Washington Square Arch are icons around the world. But if you want a local's take on the architectural views that should catch your eye when you're in town, then Bowen's tips should provide even more excuses to look up. His five favorite places to take in the structural sights, including when to see them at their best, are listed below. Hopefully, they'll help you fall in love with the city's energy, too.
Where to Find the Best View of NYC
Where: Central Park, on a boulder at the edge of the north side of the Pond
When: Winter, late night
What to look for: "Notice the variety of forms signifying a wide range of architectural styles and periods, from the Neo-Romanesque roofline of the Sherry-Netherland to the iconic ornamental top of Madison Avenue," he says.
Why: "There's nothing like feeling invisible in the middle of one of the densest sections of Manhattan, in pin-drop silence, with shimmering old and new buildings towering above and reflecting on the water below," Bowen adds. "Leaves won't block the views in the winter, and will also minimize the chance of company. This spot offers a view of The Pierre, The Sherry-Netherland, and 550 Madison Avenue, among others."
Where to Find the Most Unexpected View of New York
Where: The intersection of Oak and Guernsey in Greenpoint, Brooklyn
When: Summer, midday
What to look for: "Don't miss the precious rose window centered over the entry door above the second level," Bowen says. "It's a rarity in New York to have gables in this position on buildings, especially in this neighborhood, and even rarer so to have this window type, too."
Why: "There are so few dead ends in a city of New York's size, and this one, with a partial view of an incredible historic red brick building at 137 Oak Street that is barely visible through overgrown trees, is so far my favorite one," he adds. "The building was built by architect Theobald Engelhardt, who was also the likely architect of our own development project, Glassworks, in Bushwick."
Where to Score the Best View of an Iconic Neighborhood
Where: Montgomery Place in Park Slope, Brooklyn
When: Fall, late afternoon
What to look for: "Every building is interesting, but don't miss the spectacular trio of oxidized copper dormers atop No. 36," Bowen notes.
Why: "It is exactly the kind of brownstone block that seems too beautiful to exist in reality," he adds. "Many of the houses were designed by architect C.P.H. Gilbert."
Where to Snag the Best Bird's Eye View of the City
Where: An airplane window
When: Any time of year, early morning
What to look for: "This is special, because it's really the only way to see nearly all of the central skyline at once, and it makes everything feel much less significant on an individual basis—the entire metropolis we know intimately is suddenly transformed into a shiny little architectural model," Bowen says.
Why: "While some of the most valuable real estate in New York is understandably located at the top of our tallest buildings, for brief moments in time, anyone in a plane in the right position has an even more striking bird's eye view," he notes.
Where to Catch the Best Residential View of the City
Where: A high floor of 56 Leonard, Manhattan
When: Any time of year, on an overcast morning
What to look for: "I'm partial to the unique view of the AT&T Long Distance Building at 32 Avenue of the Americas," he says. "When completed, this is the kind of Art Deco building that was often exclusively viewed from below, lending a certain to gravitas to its offset setbacks. But when viewed from above, it has a completely different personality—which empowers the viewer."
Why: "The building is just tall enough to rise above all of its immediate neighbors, giving it endless views of Midtown on one side and Lower Manhattan on the other," Bowen continues. "You cannot get bored of staring out the windows for virtually any period of time. When we first staged a residence here, I would often find the team—myself included—mesmerized by any of its seemingly endless sights. It's at the perfect geographic and vertical position to appreciate two of our most iconic buildings simultaneously: The Empire State Building and One World Trade Center."
Source: House Beautiful
---
New York Build is the leading construction & design show for New York and the Tri-State region. Gain access to 9 specialized summits, 250+ exhibitors, 200+ speakers and connect with 20,000+ registered visitors.