16 Nov 2018
Amazon Plans Average Wage Of $150,000, New Virginia Tech Campus And More For Crystal City Expansion
Now that Amazon has announced they are definitely coming to Crystal City, Va (and Long Island City, NY) it's time to look at exactly how they are going to fit the estimated 25,000 employees in each region. For Crystal City, Amazon plans to partner with the largest landowner in Crystal City, JBG Smith, to lease, purchase and build several buildings in an emerging neighborhood they've allocated the moniker National Landing (a nod to the nearby Reagan National Airport, perhaps?). According to a press release from JBG Smith, Amazon plans to bring more than 25,000 employees to the site, at an average wage of $150,000 (no reports yet on the median wage). You can read the full memorandum of understanding here.
To house all these employees they are going to start by leasing approximately 500,000 square feet of existing office space across three different buildings, purchase undeveloped plots of land, including the 10 acre lot called Pen Place that has up to 4.1 million square feet of "development potential" (no commitments on what that means) and begin construction on the first office building in 2019.
The first question on the minds of everyone who lives here is, how much worse can the traffic get? According to the press release, the Commonwealth of Virginia has pledged to invest up to $295 million of non-general fund money in transportation projects, including:
additional entrances to the Metro stations at Crystal City and Potomac Yard
improvements to Route 1
a connector bridge from Crystal City to Washington National Airport
a transitway expansion supporting Pentagon City, Crystal City, and Potomac Yard.
Additional funding would be available if Amazon creates more than 25,000 jobs.
Another question on everyone's mind is where is Amazon going to find that many skilled workers. Already, government contractors have trouble finding skilled labor. Again, per the press release, the Commonwealth of Virginia will:
"Make performance-based investments of up to $375 million over 20 years for new master's degree programs in computer science and related fields at George Mason's Arlington campus and for Virginia Tech to establish a new Innovation Campus in Alexandria, both of which are subject to a one-to-one match from the universities with philanthropic funds."
For the locals here's a digital rendering of how the entire development could look from the ground level.
Of course there has been no shortage of pundits weighing in on what this could mean. Here's a round-up of what they have been saying so far:
Redfin released a statement saying the online searches for houses in the two new Amazon locations spiked this past week. Here's the graph: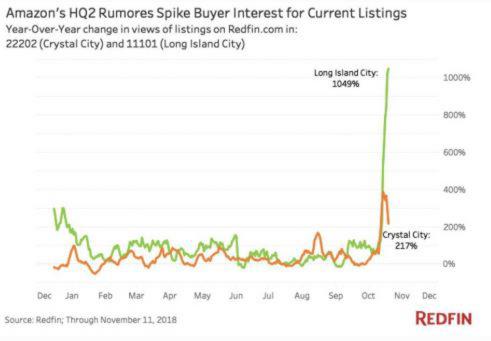 Heidi Learner, Chief Economist at Savills Studley, points out 'two locations gives Amazon the ability to negotiate two different incentive packages, the sum of which may be greater than what Amazon could have negotiated with just one winning city'. She also said in a release, "By choosing two cities, Amazon won't drive up the cost of labor as much as they might have by focusing their demand in only one metro. However, Amazon already has a significant presence in both the NY and DC area – and these are already cities with tech-heavy employment – so I question to what extent they'll be able to draw employees without poaching and paying up for talent.
Economist Stephen Fuller, local professor at George Mason University, told Washingtonian, "We haven't even counted the vendors that support an operation like Amazon. All of the other jobs—there's probably another 25,000 to 30,000 that are pretty good jobs, ranging from security to all the equipment servicing, the building management. Then the spending that these workers generate on Main Street within the local economy would be very helpful as well. On top of that, whoever gets Amazon then becomes visible to every other business, as in 'If Amazon is in Washington, we should be there, too.' This is good for us."
ApartmentList says, "we anticipate that the HQ2 decision will lead to 0.1-0.2% in additional annual rent growth in the D.C. metro and less than a 0.1% increase in rent growth in New York City."
AOL co-founder Steve Case released a statement on Twitter saying, "I hope these cities will view this not as an end, but as a new beginning....The best economic strategy is not to lure existing companies to open offices or factories, but instead to birth the new companies that could be the Amazons of tomorrow."
Alexandria Ocasio-Cortez, Representative-elect for parts of the Bronx and Queens, posted several times on Twitter, including: "Amazon is a billion-dollar company. The idea that it will receive hundreds of millions of dollars in tax breaks at a time when our subway is crumbling and our communities need MORE investment, not less, is extremely concerning to residents here."
Virginia Congressman Don Beyer released a lengthy statement, which includes this sentiment: "Based on my conversations with Amazon and state officials, I am excited to welcome Amazon to Virginia's 8th — already one of the nation's most iconic and most educated congressional districts. This is a district that is steeped in history, including George Washington's home and the final resting place for hundreds of thousands of patriots. It is now also the place where the future is coming to life. The infusion of jobs, the diversification of our tax base, the Commonwealth's dramatic expansion of computer science training in Virginia colleges and universities, starting with a new Virginia Tech graduate campus in Alexandria: these are some of the tangible gains of this victory. I am also eager to learn more and to work together as a state and region to confront the challenges this will inevitably bring to affordable housing and transportation."
Source: Forbes
---