January 31, 2020
Beitel Group And S. Wieder Architect Partner On 100 Lenox Road In Flatbush, Brooklyn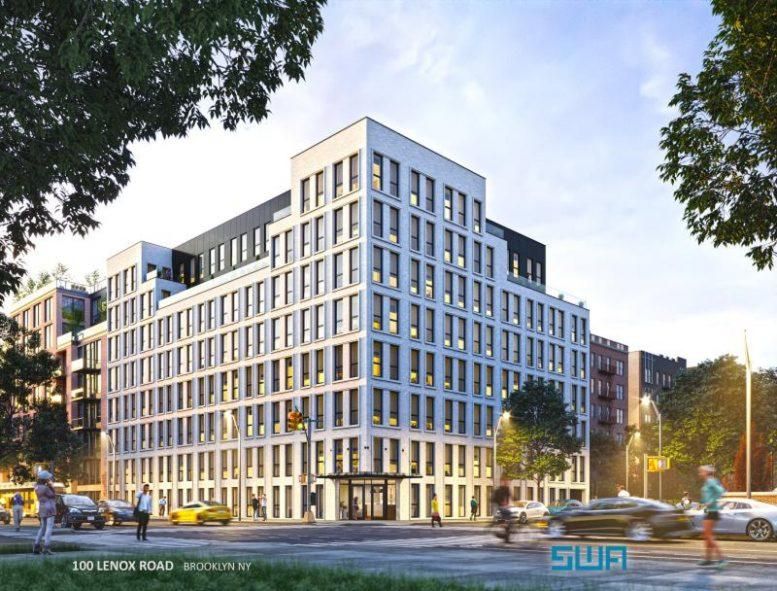 The project team behind a long-delayed eight-story residential building at 100 Lenox Road in Flatbush, Brooklyn has yet again changed. The latest renderings credit Samuel Wieder as the executive architect, Beitel Group as the developer, and Input Creative Studio as the interior design team.
The forthcoming structure will retain its formerly approved eight-story height, but in a drastically different massing and building envelope. New renderings depict a light-hued brick façade with a punched window system. Above the sixth floor, the architect has designed several setbacks to support residential terraces and smaller private balconies. At these upper levels the façade transitions into a dark gray cementitious material.
When complete, the proposed building will contain 96 rental units.
Permits were originally filed in 2016 by Moshe Tal of B.H. Tal Real Estate, with Bienenfeld Architecture as design lead. The 74-foot-tall structure was expected to yield 22,000 square feet with 32 rental apartments.
These plans were scrapped in 2019, when Pulse Bedford Development, J Frankl Associates, and Charles Mallea Architect were announced as the project's new design team. Under this plan, the proposed structure was heightened by six feet and greatly expanded in depth. Proposals specified 62 apartments, a laundry room, a fitness center, a communal lounge, and parking area for 27 vehicles and an additional 31 bicycles. The structure also supported an assortment of private balconies above the second floor.
Previous renderings of 100 Lenox Street by Bienenfeld Architecture (left) and Charles Mallea Architects (right)
While the latest plans indicate Mordy Beitel of Beitel Group as developer, he is also at the helm of Pulse Developments. It remains to be seen when, or even if, this iteration of 100 Lenox Road will move forward.
Read more at New York YIMBY
---
New York Build is the leading construction show for New York and the Tri-state area. Gain access to 12 specialized summits, 250+ exhibitors, 230+ speakers and connect with 20,000+ registered visitors.