17 Jan 2020
Bushwick Rezoning Impasse Puts De Blasio's Housing Plan at Risk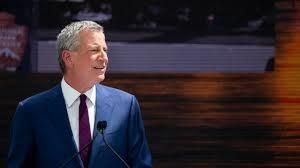 A fight over the future of Bushwick could put Mayor Bill de Blasio's entire housing policy at risk, as opposition to its basic premise — mixed-income housing — seems to be gaining momentum.
The Bushwick drama involves a rezoning of the trendy Brooklyn neighborhood that would allow for more residential construction, triggering the mayor's mandatory inclusionary housing law, which requires a percentage of every residential project to be affordable.
The idea is for market-rate units to effectively subsidize low-rent ones in new apartment buildings. That is possible in stronger markets such as Bushwick and allows the de Blasio administration to concentrate public subsidies on weaker ones, such as East New York, where market-rate housing is virtually non-existent.
There's a social policy goal as well: The administration believes poor residents fare better in mixed-income neighborhoods than in areas of concentrated poverty. It has lots of data to back that up.
Moreover, the de Blasio housing policy reflects a belief in the law of supply and demand — that adding units lowers the cost of housing.

Read more a the therealdeal.com