03 Oct 2019
City board to spend $300m on Syracuse school renovations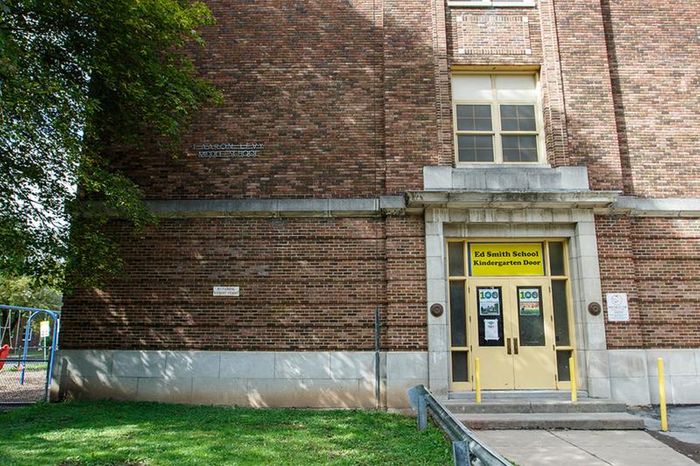 Several schools in the Syracuse City School District have been renovated as part of a state- funded project managed by the city.
A total of $300 million will be invested in city schools, Syracuse Mayor Ben Walsh said at a media roundtable in September. About half of that sum has already been invested, he said. The district is renovating a total of 15 schools.
"We're taking care of some punch list items on a handful of our schools and we have some work to do," Walsh said. "Big picture, I think that sends a strong message on the value that we put on educating our young people."
The Joint Schools Construction Board, run by SCSD and the city, is managing he investments. The current renovations are part of the board's Comprehensive Plan, which is in its second phase.
Temperature provisions and a new fence were installed in Bellevue Elementary School before the start of the school year. The school's roof was also removed and replaced. Frazer Middle School received renovated masonry and data wiring, and its pool was removed. Edward Smith Elementary School's first floor hallway remains under construction. The total cost of these renovations is estimated at about $66 million, according to JSCB reports.
Since 2006, the board has overseen renovations to Fowler High School, H.W. Smith School, Dr. Weeks Elementary School and the Institute of Technology at Syracuse Central. Those projects were part of the project's first phase.
The plan's second phase was authorized 2013, when the New York state legislation was amended to allow JSCB to allocate up to $300 million for school construction. Corcoran High School, Danforth Middle School and Edward Smith K-8 School were among the 15 schools deemed eligible for reconstruction under the legislation.
The project prioritizes schools most in need of resources to improve the quality of education district-wide. The particular needs of each of the eligible schools were detailed in a JSCB presentation. Bellevue needs a new roof and plumbing systems. Danforth needs new electrical and mechanical systems. Ed Smith needs interior repairs and new windows.
The second phase of the project is scheduled to be completed by 2022, according to the JSCB.
Jaime Alicea, superintendent of SCSD, said in a statement that the project is being carried out in multiple phases because the district has never renovated so many schools at once.
Based on annual visual inspections conducted in 2014, the costs needed to repair the 15 eligible schools amounts to more than $600 million. Total repairs to schools within SCSD are estimated to cost close to $900 million, according to JSCB documents.
The JSCB approved an $18.2 million contract in August to renovate Fowler's stadium field and tennis courts, said Michael Henesey, SCSD's administrator of communications. Fowler was promised a field in 1997, but the project fell apart due to financial difficulties.
"It's about time these kids get a field," said Samantha Lopez, mother of a Fowler High School student. "I know other schools in this city that have them, so tell me why can't my son?"
Danforth Middle School and Westside Academy at Blodgett, also slated for renovations, are among New York state's lowest 5% of public schools in terms of performance. The schools were at risk of being turned over to an independent receiver for failing to meet state performance requirements last year. The JSCB allocated $5.5 million this fall for their renovation, which placed a greater emphasis on interdisciplinary and expeditionary learning within the curriculum.
"(Our schools) have shown demonstrable improvement and are making progress on the rest of the renovations," Alicea said.
Source: The Daily Orange
---
New York Build is the leading construction show for New York and the Tri-state region. Gain access to 9 specialized summits, 200+ exhibitors, 200+ speakers and connect with 17,000+ registered visitors.