10 Jan 2020
City Officials Approve $2.5 Billion Waterfront Development In Sayreville, New Jersey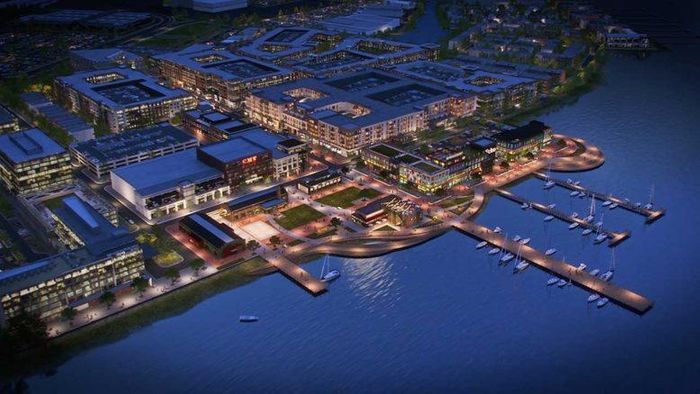 The Sayreville Planning Board has approved construction of a waterfront community that will soon become one of the largest redevelopment projects in New Jersey history. Known simply as Riverton, the multi-phase development will occupy 418 acres near the Driscoll Bridge along the Raritan River.
North American Properties and Prudential Global Investment Management, the development team behind Riverton, was unanimously granted approvals by the planning board on December 10 and was applauded for the anticipated transformational effects of the project.
Site map off the Riverton development – North American Properties
The full scope of the development includes 1.5 million square feet of retail, nearly 2 million square feet of office space, an 800,000-square-foot hotel and conference center, up to 2,000 apartment units, and a 400-slip marina. Phase One of the project, which could break ground this year, includes nearly 250,000 square feet of retail, 70,000 square feet of dining area, a nine-story office building, a ten-story hotel, and a 48,000-square-foot conference center.
Bass Pro Shops will occupy 200,000 square feet of the retail component, while a portion of the residences will be reserved for affordable housing.
Views within the Riverton development – North American Properties
Retail corridor within the Riverton development – North American Properties
The property once served as a National Lead Industries paint manufacturing plant but has sat vacant and mostly unused for more than a decade. During this time, the city began an exhaustive remediation plan to remove hazardous constituents from the existing soil. That process is only partially complete.
The entire project, valued at approximately $2.5 billion, could take another decade to complete due to ongoing remediation efforts and an open lawsuit launched by the Raritan Baykeeper and Edison Wetlands against National Lead Industries. Depending on the outcome of the suit, National Lead Industries could be held liable for costs related to the environmental remediation.
For now, city officials and the development team remain hopeful that a portion of the Riverton development will open by 2021.
Read more at New York Yimby