23 May 2023
Construction of $1.5B Buffalo Bills Stadium Cleared to Start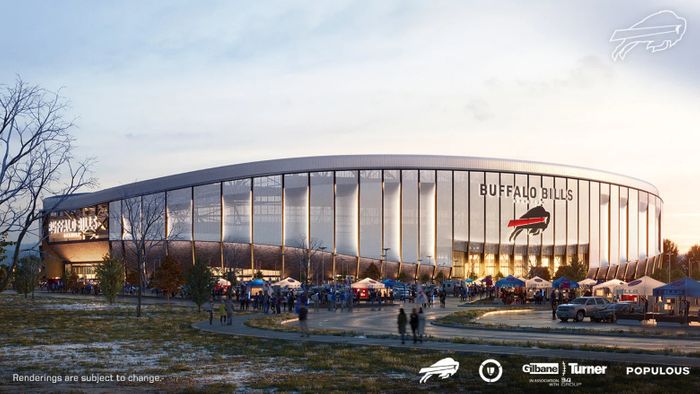 Construction of an estimated $1.54-billion stadium in Orchard Park, N.Y., for the National Football League's Buffalo Bills is scheduled to start next month, according to the team. The nearly 1.4-million-sq-ft project is moving ahead now that the Erie County Legislature unanimously approved a funding agreement May 4.
A joint venture of Gilbane Building Co. and Turner Construction Co. is leading construction, with local builder 34 Group. The joint venture is seeking subcontractors for various bid packages.
The price tag is up from the initial estimate of $1.4 billion. While the project is set to receive public funds, the Bills are responsible for paying any cost increases or overruns, county officials said in a statement.
Under the terms of the agreement, New York state is contributing $600 million toward construction and Erie County is contributing $250 million. The state would own the stadium and lease it to the Bills for 30 years.
While excavation gets underway in June, Ron Raccuia, Bills executive vice president and chief operating officer, said in a statement that the the design of the 60,000-seat stadium is still not finalized.
Read More at ENR New York
---
Officially supported by the Mayor of New York, New York Build is the largest construction, design and real estate show for New York. Now in it's seventh year, your ticket gives you access to 350+ expert speakers, 300+ exhibitors, 30,000+ attendees, 12 conference tracks and AIA CES approved workshops, networking parties, entertainment, live music, and endless networking opportunities with leading architects, developers, housebuilders, contractors, government and more.