04 Dec 2018
Construction on $1 Billion Hudson River Tunnel Project is Halfway Done: DEP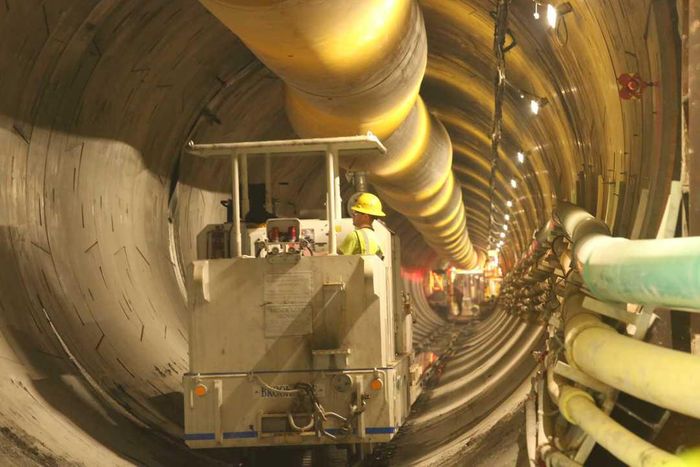 Six hundred feet under the Hudson Valley, New York City Department of Environmental Protection workers will soon reach the river.
The department is in the midst of creating the Delaware Aqueduct Bypass, a 2.5-mile tunnel from Newburgh to Wappinger, which will connect with the Delaware Aqueduct on each side of the Hudson.
And, the $1 billion project reached the halfway point this week, according to the department.
The bypass will allow leaking portions of the aqueduct, the longest tunnel in the world, to be taken out of service.
Vincent Sapienza, DEP commissioner, said in a statement that the project is on schedule to be complete in 2023.
"This massive repair effort is critical for the long-term reliability of the water supply system that sustains 9.6 million New Yorkers every day," Sapienza said.
The project began in 2014 with blasting in the Wappingers Falls area, and the tunneling began in late 2017.
NORA, a 470-feet long, 2.7-million pound tunnel boring machine, was around a half-mile away from the western side of the Hudson River earlier this week, the department said.
The machine was named after Nora Stanton Blatch Deforest Barney, a noted leader of the women's suffrage movement who was the first woman in the U.S. to earn a college degree in engineering.
A total of 1,238 concrete rings were installed by the machine as of this week, according to the department. The tunnel will also be lined with steel and a second layer of concrete once mining is complete.
The project began due to the decades-old aqueduct leaking between 15 million and 35 million gallons of the fresh water it pulls from four Catskill-area reservoirs — Cannonsville, Neversink, Pepacton and Rondout — to the city.
As part of the project, New York City agreed to pay for new water systems in a number of affected communities.
Wappinger got $11 million for a two-phase project. The first phase ran a water main to New York City's construction site. The second phase runs a series of distribution mains through a town hamlet, Chelsea.

Source: Poughkeepsie Journal
---
New York Build is the leading construction show for New York and the Tri-state region. Gain access to 9 specialized summits, 200+ exhibitors, 200+ speakers and connect with 15,000+ registered visitors.