January 03, 2020
Construction starts on $30 million renovation project at SUNY Cortland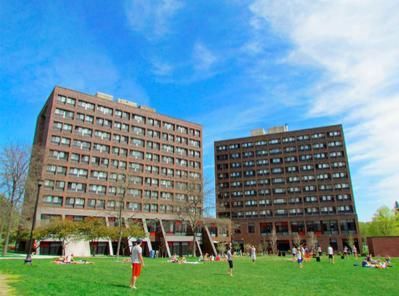 The Dormitory Authority of the State of New York (DASNY) is managing the construction effort, per a Thursday news release.
The renovation is being financed by low-cost, tax-exempt bonds issued by DASNY as part of its SUNY Dormitory Facilities Program. Construction is expected to be completed by August 2021.
DASNY issued low-cost, tax-exempt bonds to finance the renovation project. The bonds are part of the SUNY dormitory facilities program.
About the project
The Smith and Casey Towers will undergo renovations to modernize the 147,000-square-foot complex, DASNY said.
Crews will remodel the first-floor entry and lobby to include moveable walls, allowing for functions of various sizes. In addition, they'll add another small lounge with a kitchenette to that floor.
Bedrooms and corridors in the two towers, which house about 560 students, will receive fresh paint and finishes as well as new lighting. The work will also target bathrooms, which will get new showers, sinks, plumbing fixtures, exhaust fans, paint, and tile.
Crews will also install low-flow faucets and toilets to conserve water. The lounges on the upper floors of both towers will also be upgraded to include "modern" kitchenettes, while floors nine and 10 will include new laundry facilities.
Contractors will fit new exterior windows on floors three through 10 to "improve comfort and energy efficiency of the complex." In addition, the installations will include two new heating, ventilation, and air conditioning units (known as make-up air units) on the roof to "ensure optimum ventilation and healthy building conditions are achieved." They'll also install new high-efficiency boilers as well, DASNY said.
Crews will replace all doors on floors three through 10 and all bedrooms will receive power and data upgrades. They'll also extend fire-protection systems to the upper floors, providing a full-coverage sprinkler system throughout the building. The work will also include fire-alarm upgrades to "enhance resident safety."
"When it is done, all of our on-campus student apartments will be completely modern, energy efficient and competitive with residences available at more expensive, private colleges," SUNY Cortland President Erik Bitterbaum contended in the release.
Source: Business Journal Network
---
New York Build is the leading construction show for New York and the Tri-state area. Gain access to 12 specialized summits, 250+ exhibitors, 250+ speakers and connect with 20,000+ registered visitors.