22 Nov 2019
First Renderings Revealed For CetraRuddy's 200 East 34th Street In Kips Bay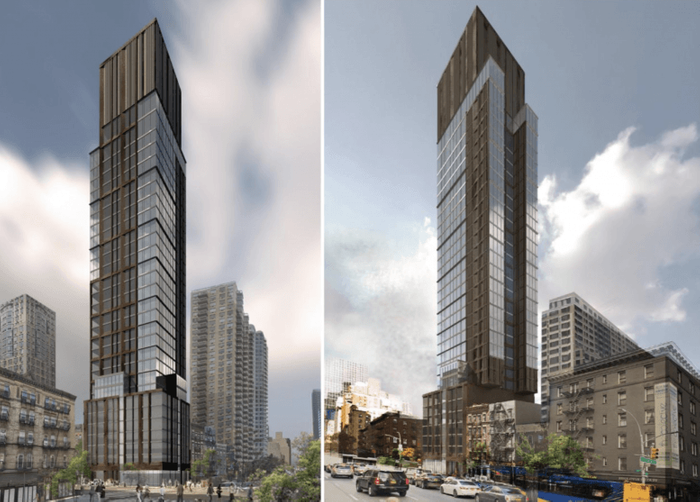 YIMBY has the first look at new renderings for a 31-story mixed-use building at 200 East 34th Street, aka 501 Third Avenue, in Kips Bay. Xiaocheng Zhou under COA 200 East 34th LLC is listed as the owner behind the applications on recently filed permits for the development. The project is being designed by CetraRuddy Architecture and will eventually rise as a 388-foot-tall tower yielding a total of 135,094 square feet.
The renderings above show a modestly tall building with a multi-story podium and an expansive glass curtain wall punctuated by horizontal grid lines and dark metal panels in an irregular arrangement. A large crown and flat roof parapet cap the superstructure design. The elevation marks in the photo below show the roof parapet of the upper mechanical floors beginning after the last occupied floor at 328 feet high. The equipment will be covered behind a vertically oriented grille of metal strips.
The northern elevation (left) and southern elevation (right)
The structure will feature a cellar, 132,102 square feet of residential space divided among 144 units, and 2,992 square feet for commercial purposes. The homes, ranging from studios to three-bedroom layouts, will most likely be rentals and average around 917 square feet apiece. The closest subway is the 6 train at the 33rd Street subway station.
The renderings below show the evolution of the design, with the most recent on the left side. The first image is a view looking south on Third Avenue. The second image is oriented in the opposite direction and reveals a subtle cantilever on the southern elevation.
200 East 34th Street, designed by CetraRuddy Architecture
With an inconspicuous height for the neighborhood, 200 East 34th Street should fit the architectural context of Kips Bay while adding a nice modern touch.
No word on when demolition of the existing buildings on the property will commence, or when 200 East 34th Street is expected to be completed.
Source: New York Yimby
---
New York Build is the leading construction show for New York and the Tri-state area. Gain access to 12 specialized summits, 250+ exhibitors, 250+ speakers and connect with 20,000+ registered visitors.