February 14, 2020
FXCollaborative's 185 Broadway Begins Vertical Ascent In The Financial District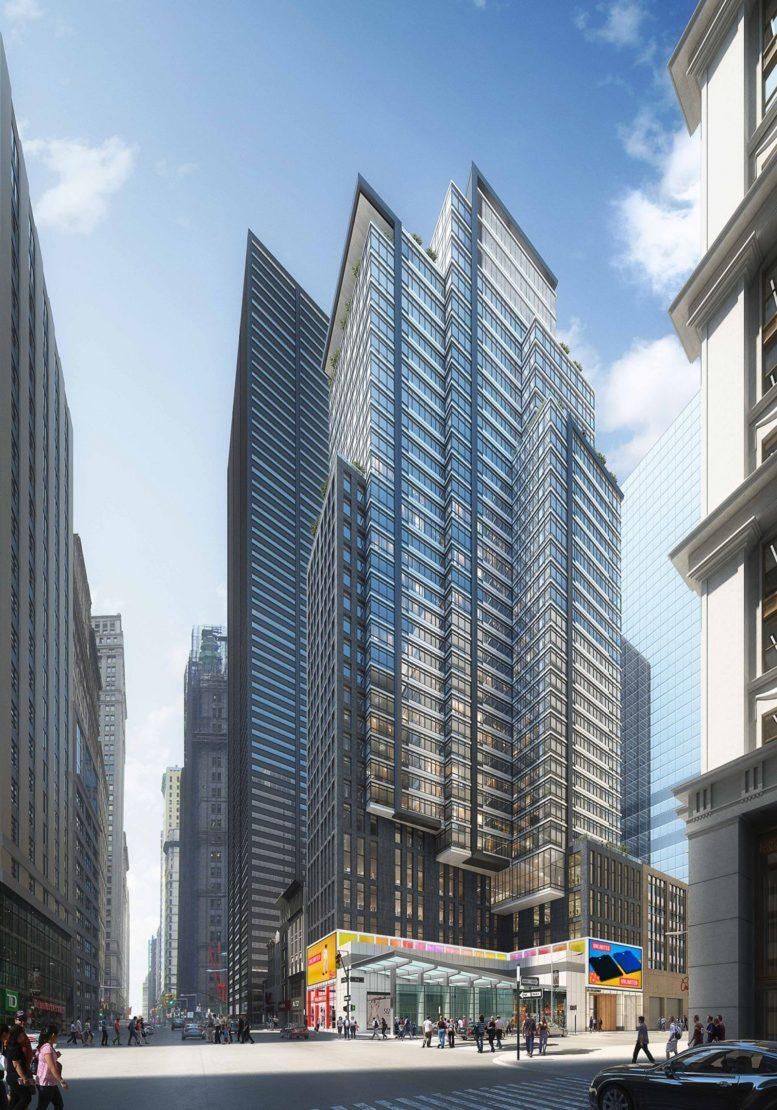 Construction is going vertical at 185 Broadway, a 31-story mixed-use building in the Financial District. Designed by FXCollaborative and developed by SL Green, the 260,000-square-foot development is located at the southwestern corner of Dey Street and Broadway, directly next to one of the entrances to the Fulton Street subway station.
The following photos, taken only days apart, show the assembly of the second floor that wraps around the Fulton Street subway entrance in an L-shaped configuration. Construction workers on the site have been busy laying down wooden formwork and metal supports, steel rebar for the floor slabs, columns and egress walls, and coordinating with cement trucks driving up to the sidewalk with their daily deliveries.
185 Broadway, photo by Michael Young
185 Broadway, photo by Michael Young
185 Broadway, photo by Michael Young
185 Broadway, photo by Michael Young
185 Broadway, photo by Michael Young
185 Broadway will yield 209 rentals with 63 units, or 30 percent dedicated to affordable housing. Residences will range from studios to three-bedroom homes, while two flagship retail spaces will be located on the ground floor. Three stories of commercial space will have their own dedicated entrances on Broadway and Dey Street, separate from the main residential doors and lobby. The residential portion of the building features a glass curtain wall with an interlocked pattern of vertical and horizontal lines formed by the multiple scales of windows and mullions. The building's massing incorporates several setbacks, some of which will be topped with landscaped terraces.
The site is located just one block to the east of the World Trade Center complex. 185 Broadway is situated amid a wide selection of retail and dining establishments including the shops and restaurants at the Westfield mall in the Oculus and Le District at Brookfield Place further to the west by the Hudson River waterfront. Fulton Street and the Oculus are the two biggest transportation hubs in the Financial District and are both conveniently connected subterraneously.
Read more at New York YIMBY
---
New York Build is the leading construction show for New York and the Tri-state area. Gain access to 12 specialized summits, 250+ exhibitors, 230+ speakers and connect with 20,000+ registered visitors.