February 10, 2020
Hotel Indigo Tops Out At 120 Water Street In The Financial District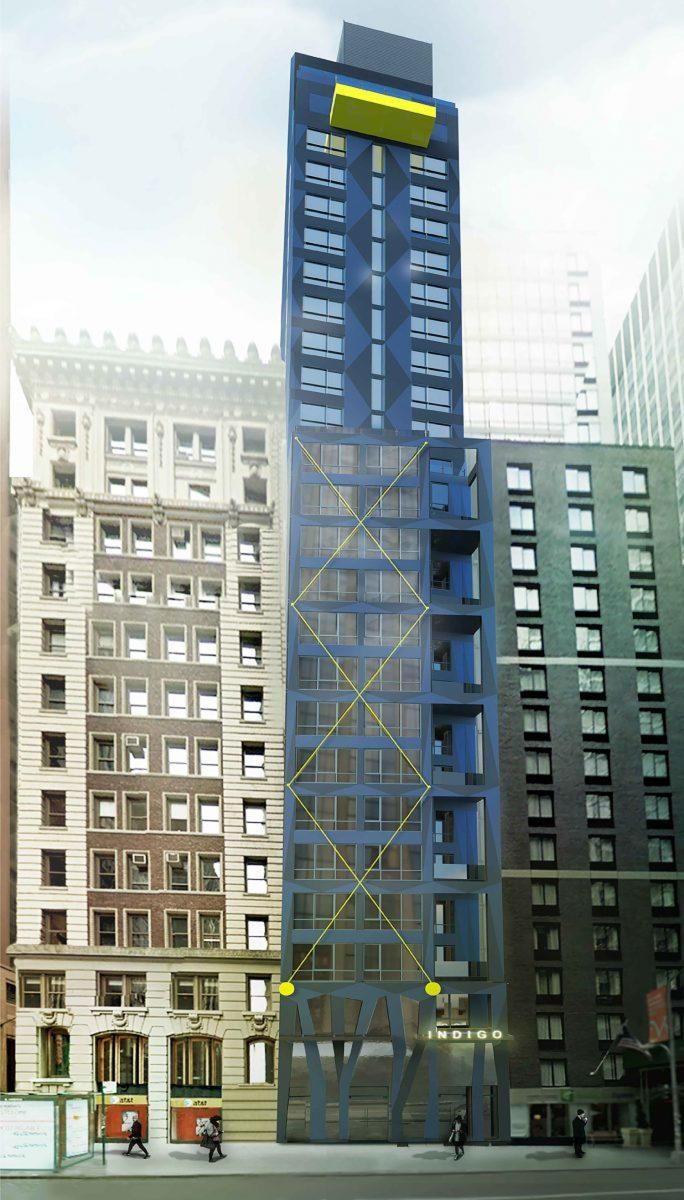 Construction has topped out on 120 Water Street, a 28-story Hotel Indigo in the Financial District. Designed by Gene Kaufman Architects and developed by Atlas Hospitality, the slender reinforced concrete superstructure will yield 52,000 square feet with 128 hotel rooms managed by Fortuna Realty Group.
Recent photos show the final upper floors formed with a flag perched on the southern corner of the top level. Some of the formwork is still present and should be removed as soon as the concrete sets. Meanwhile, the metal studs and walls of the perimeter are continuing to climb upward.
120 Water Street, photo by Michael Young
120 Water Street, photo by Michael Young
120 Water Street, photo by Michael Young
Most of the window frames on the main southern elevation facing Water Street have been created and await the final exterior cladding. The yellow-colored cantilever that sits near the top of the hotel is present and is being held with temporary supports. The building will eventually feature a dark blue curtain wall adorned with three sets of thin, X-shaped crosses.
120 Water Street, photo by Michael Young
120 Water Street's amenities will include a cellar-level fitness center for guests, a ground-floor restaurant, and a 25th-floor venue space. The building is steps away from the 2 and 3 trains at the Wall Street station, which can be accessed in the interior public space at 60 Wall Street. Further west are the J and Z trains, and the New York Stock Exchange at the intersection of Broad Street and Wall Street. Pier 17 and the South Street Seaport district are about a ten-minute walk toward the East River and up South Street, the World Trade Center complex is also ten minutes to the north, and there are a number of restaurants and shops within walking distance.
120 Water Street is estimated to be finished around the end of the year.
Read more at New York Yimby
---
New York Build is the leading construction show for New York and the Tri-state area. Gain access to 12 specialized summits, 250+ exhibitors, 230+ speakers and connect with 20,000+ registered visitors.