04 Dec 2018
In New Jersey, A University to Make Your Construction Dreams a Reality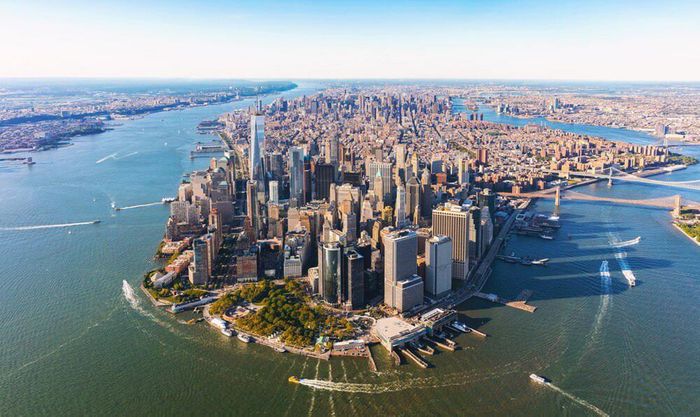 The world is experiencing unprecedented transformation. From the developing world to the most advanced economies, the massive shift to urban life is bringing extraordinary demands and opportunities to the built environment.
New York, for example, the largest metropolis in the US today, is set for profound changes to its landscape. Impact from global megatrends – fast urbanization, climate change, resource scarcity and a growing talent gap will affect how infrastructure, real estate and other built assets are designed, constructed, operated and maintained in this economic powerhouse. Given its size and prominence, its progress will set the standard for the rest of the world.
And Stevens Institute of Technology has a bird's eye view of it all.
Located ten minutes from lower Manhattan, this is an educational institution with a track record in making history. Established by a member of the Stevens family – America's First Family of Inventors who designed the steamboats, locomotives, railroad tracks and other technical innovations that powered the nation in the 1800s – in 1878, the institute has grown leaps and bounds, carrying this legacy into the future.
Today, its leading construction programs are powering the nation's foray into the next industrial revolution. There are two graduate courses in construction offered here: Master's in Construction Engineering and Management and Master's in Construction Management.
Stevens is one of the few New York universities to offer the former; a program that blends superb technical training and skills development in managing costs, time constraints, quality and safety controls while preparing students to lead global construction projects. For this Master's, graduate students experience three tracks of study, maximum curricular flexibility and one-of-a-kind classes developed to serve individual student needs.
For the Master's in Construction Management, expert faculty guide graduate students through a curriculum with more specialized classes in strategic planning and knowledge management, resilience and sustainability, and technology and scheduling.
But what both programs share in common is its enviable ease of access to one of the most impressive built environments in the world: New York City.
The Stevens campus lies in the stunning, 55-acre residential campus in Hoboken, New Jersey. A vibrant and dynamic living and learning community, it promises the best of both small town and big city living. In Hoboken, students make their home in a lively, pedestrian-friendly settlement complete with boutiques, restaurants, parks cafes and an unforgettable nightlife – all the perks of an urban lifestyle with a manageable small town feel.
New York City is a quick train, bus or ferry ride from Stevens' waterfront campus on the Hudson River, connecting students to Manhattan's world-famous cultural, business and entertainment scenes.
For construction students, this is also a gateway to inspiration, experience and opportunities.
In addition to drawing inspiration from their surroundings, students gain access to construction sites on campus and exposure to some of the most impressive construction development sites in NYC.
Within close proximity to NYC's professional hubs, like Hudson Yards on the West Side of Manhattan, for which a large-scale redevelopment program is being planned, a world of opportunity and exposure await Stevens' construction students. After all, internships or exposure to cutting-edge software for industry-specific expertise is practically on their doorstep.
An ambitious school
Stevens has ambitions. The aim here is to prepare students to lead mega projects around the world, arming them with the latest knowledge, skills and technology.
Leading this mission is Linda Thomas, an experienced educator with 20 years under her belt as well as stints as a Navy officer and attorney. She's also the woman credited for successfully turning Georgia Tech into a 'village' for 30,000 people, with only one year to plan and two weeks to build.
At Stevens, her specialty – megaprojects – is at the forefront.
These are the projects that cost more than US$1 billion, take more than a year to complete and are notorious for going over budget. But Thomas is adamant that Stevens' graduate students should receive only the best in terms of their research, educational and career needs.
Stevens' construction students already go on to positions like director of engineering, construction manager or managing partner at notable firms Exxon, Skanska and PCL Construction. But Thomas has even bigger plans lined up.
Since taking over, she has hired new faculty members, hosted roundtables with construction firms in New York and New Jersey, developed a symposia for industry professionals and updated the curriculum. Though a small school, Stevens is inherently innovative. Faculty receive round-the-clock support and in turn, students get the best out of their education.
Professor David Vaccari, Director of the Department of Civil, Environmental and Ocean Engineering, believes that with Thomas' efforts, Stevens is poised to host "one of the premier construction management programs in the country."
Source: Student International
---
New York Build is the leading construction show for New York and the Tri-state region. Gain access to 9 specialized summits, 200+ exhibitors, 200+ speakers and connect with 15,000+ registered visitors.