02 Oct 2019
Innovative architect Sou Fujimoto designs cut-away building to replace Slave Theater in Bed Stuy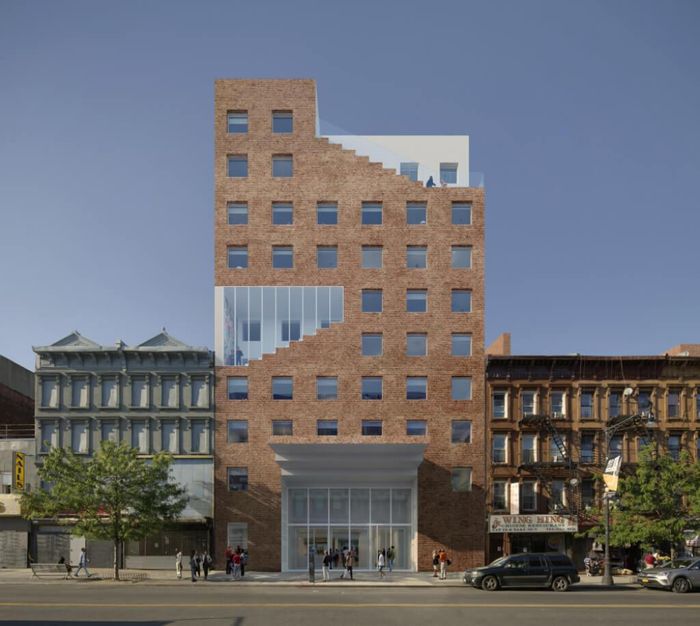 Ingenious Japanese architect Sou Fujimoto is designing one of Brooklyn's most interesting new buildings to replace the iconic Slave Theater in Bed Stuy.
Renderings released by one of the developers, London co-living firm The Collective, show a two-story entrance capped by a projecting canopy that recalls the former cinema's entry. Openings in the red-brick facade let light into the interior and expose "glimpses of shared space and cultural programs within," according to a statement the company sent out Wednesday.
Once a unique hub of Afrocentrism in Bed Stuy, the Slave Theater was eventually demolished in 2017, despite protests and efforts by locals to save it.
A view of the interior
The new 240,000-square-foot complex at 1215 Fulton Street will include three 10-story buildings connected by an "expansive ground-floor hub" and interior courtyard that will be open to the public. The combination hotel-apartments-restaurant-community space will include 136 apartments and 222 hotel rooms designed to host 440 members for stays ranging from one night to one year.
Publicly accessible spaces will include theater, performances, exhibitions, co-working, a restaurant and a rooftop bar, the firm said. Slated to open in 2022, the complex will include an artist-in-residence program offering free housing and work space to six to 10 people a year.
A view of the complex's central courtyard
The inclusion of residencies and the theater nods to the history of the site. Owned by an African American judge and businessman, the theater showed movies, hosted community events and performances, and boosted black history, culture, arts and activism. Murals on the walls painted by local artists depicted mostly black heroes, including Rev. Dr. Martin Luther King Jr. and Marcus Garvey.
Architect of record Ismael Leyva Architects filed an application for a construction permit last month. The Collective and New York developer Tower Holdings Group bought the property at 1215 Fulton Street, 10 Halsey Street, and 16 Halsey Street for $32.5 million earlier this year.
Fujimoto, who has worked in Japan, France and Switzerland, is known for unusual forms that play with privacy and openness, including a sculptural design for the 2013 Serpentine Gallery pavilion in London and a bushy apartment tower in Montpellier, France, that seems to defy its materials. This project is the firm's first in New York.
"I am honored, in particular, to be working in a culturally rich neighborhood like Bed Stuy, and to reimagine this historic site," he said in a prepared statement. "I hope our design will sustain and serve the incredible culture of this community…It was a great challenge and opportunity to envision a building that brings together such a diversity of activity and connection."
After the theater's owner died, the property passed through a variety of hands. The Collective and New York developer Tower Holdings Group bought the property at 1215 Fulton Street, 10 Halsey Street, and 16 Halsey Street for $32.5 million earlier this year.
An aerial view of the site in 2018. Image via Google Maps
The Collective, which has opened two co-living spots with 1,255 rooms in London since 2016 and has ambitious plans to expand internationally, caters to an increasingly mobile and global society, founder and CEO Reza Merchant told Brownstoner earlier this year.
Elsewhere in Brooklyn, The Collective is developing a co-living flagship at 555 Broadway on three parking lots at the intersection of Broadway and Lorimer in Williamsburg. It is also revamping the Paper Factory Hotel in Long Island City.
The site after demolition in 2017. Photo by Seán Devlin
Coworking and co-living are making a noticeable impact on real estate in Brooklyn, where there are a myriad of coworking spaces. Co-living company Common now runs 10 co-living places in Brooklyn.
Co-working startup WeWork, which runs several sites in Brooklyn, is seeking loans to continue following a failed IPO and management shakeup Monday. Its Dock 72 office building, jointly developed with Rudin Development and Boston Properties, is on the verge of opening in the Brooklyn Navy Yard (at one point it was slated to open in 2018). WeWork is the anchor tenant. If things do not go well for the firm, it could potentially affect other companies in the tech and real estate sectors.
The Slave Theater in 2015. Photo by Edrei Rodriguez
The Collective has raised almost $1 billion in investment so far, according to the company, and is set to open what it bills as the "largest co-living building in the world" in London's Canary Wharf this month.
"We are very focused not just on how people feel in our spaces, but what they might become there," said Merchant in a prepared statement earlier this year. "We take a huge amount of inspiration from Maslow's hierarchy of needs and believe it is our duty to cater to all levels of the pyramid — starting from essentials like food and shelter, all the way to the top, which is self-actualization."
Source: Brown Stoner
---
New York Build is the leading construction show for New York and the Tri-state region. Gain access to 9 specialized summits, 200+ exhibitors, 200+ speakers and connect with 17,000+ registered visitors.