31 Oct 2019
Interior designer Tina Rich has turned a "white box" into a patchwork leather and textured concrete showroom in New York City's Soho neighbourhood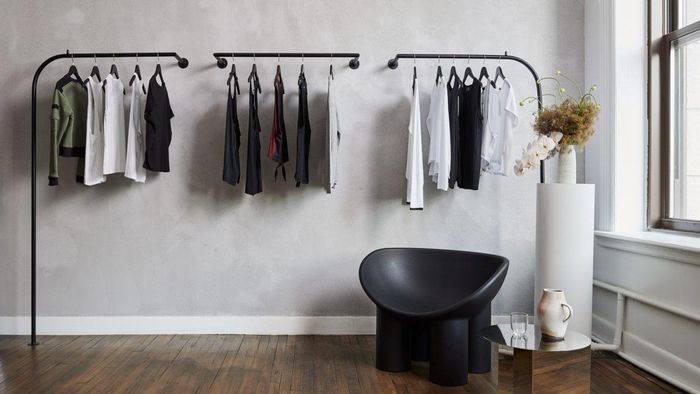 Interior designer Tina Rich has turned a "white box" in New York City's Soho neighbourhood into a showroom and office for a women's sports brand.
Local studio Tina Rich Design transformed a 2,500-square-feet (232-square-metre) space into the office and showroom for online brand Alala.
Rich's firm had previously designed the first office of the company, following its establishment in 2014 with a focus on "high-end designer activewear for women".
It was enlisted again to design a second, much bigger space to accommodate the growing team, as well as other activities.
"They wanted a larger, light-filled space for their creative studio where they design all their activewear and a showroom that was flexible enough to meet with buyers, host events, and have morning yoga classes for their growing team," Tina Rich said.
The aim of the project was to bring a "downtown attitude" to a previously plain decor.
"The space was a white box so we worked on laying out the space to include the showroom, open office, fitting rooms and a kitchen," the studio added.
Roughly finished concrete adds texture to the walls in the showroom, while changing rooms are fronted in patchwork nude curtains.
Darker details are provided by a metal clothing-rail that protrudes in three parts to hang the activewear and a black Faye Toogood Roly Poly chair, while other features include planting and handmade ceramics.
A long bench topped with nude cushions for customers to sit on forms part of a series of Japanese-influenced items in the space.
Others include the glass and wooden screens of the offices, which take cues from traditional Japanese partitions, and lantern lights that are arranged to hang above the meeting-room table.
"We also wanted to bring in some Japanese elements with the lantern pendants, wood partition-wall inspired by shoji screens, and the floating bench with linen cushions," Tina Rich said.
The long, pale wooden table matches the tones of built-in cabinetry, while green chairs are arranged around the table to highlight hues of planting throughout.
Tina Rich also designed a kitchen for the Alala team that has black cabinets offset with a white, marble backdrop.
Other recently opened showrooms in New York include a dark-blue outpost for Konekt lighting company and a home for furniture brand Orior to showcase its retro, colourful furniture.
Photography is courtesy of Tina Rich.
Source: Dezeen
---
New York Build is the leading construction show for New York and the Tri-state area. Gain access to 12 specialized summits, 250+ exhibitors, 250+ speakers and connect with 20,000+ registered visitors.