'It's A Conservation Crisis': City Council Holds Hearing On Proposed Bill To Make Buildings More Bird-Friendly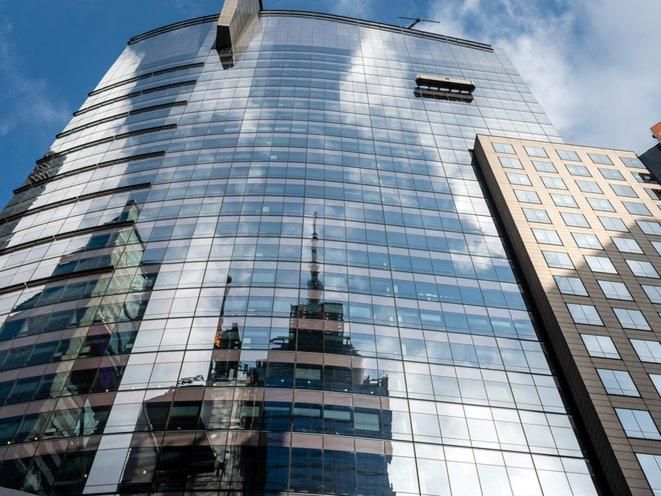 New York City is a major "flyway" for migrating birds, with millions of them passing through during the fall and spring.
Unfortunately, the city's architecture can also pose an occupational hazard for our avian friends (which include over 200 kinds "of songbirds, seabirds, birds of prey, and waterfowl"). Somewhere between 90,000 and 230,000 birds die each year in New York City after colliding with glass buildings, according to the New York City Audubon Society. On Tuesday, bird conservationists and concerned New Yorkers—several of them under the age of 12—testified at a City Council hearing regarding proposed legislation requiring that glass on buildings be treated to reduce bird strike fatalities. The "bird-friendly" glass would be used on newly constructed as well as altered buildings to make them more visible to flying birds.
The proposed bill was introduced earlier this year by New York City Council Speaker Corey Johnson and Council Member Raphael Espinal Jr. It's part of a larger national movement to make buildings more bird-safe. In Chicago, for instance, a local politician introduced a Bird Friendly Design Ordinance in January.
"We know that reflective glass and transparent glass on buildings are the deadliest obstacles migratory birds encounter here," Kathryn Heintz, the executive director of NYC Audubon, said on Tuesday during the City Council meeting. "Our team has evidence that up to 230,000 birds die each year in New York City alone, colliding with glass and buildings. It is a conservation crisis." Heintz noted that the Javits Center was once the city's top bird-killer, yet a 2013 renovation was able to reduce the number of bird collisions by around 90 percent.
Some of the most impassioned testimony came from young birders in elementary and middle school. Among them was a fourth grader named Elias, who said that he loves birds and has been studying them since kindergarten. He now works as a volunteer with NYC Audubon's Project Safe Flight, and urged the local lawmakers to pass the bird-friendly bill.
"Many kids my age have never held a bird live or dead," Elias said. "I've been lucky enough to hold many alive birds. But I've held even more dead ones, and every time it makes me sad."
Adam Vinson, an 11th grader who is a member of the New York State Young Birders Club and similarly volunteers with NYC Audubon, also spoke in support of the bill. "I have seen with my own eyes the consequences glass window collisions have on birds," Vinson said. "When birds hit the windows, they often die in especially painful and grotesque ways. Most birds that survive the initial strike often die within a month."
By chance, the Council meeting took place the same week as another major threat to migrating birds: Tribute In Light, the annual September 11 memorial light installation. As we've noted in the past, the light tribute is known for confusing and sometimes trapping migrating birds in massive numbers.
"Because [the lights] are bright and vertical, their reach extends far, far into the sky," says Dr. Andrew Farnsworth, a research associate at the Cornell Lab of Ornithology, who explained that strong light probably disorients birds by affecting the ways in which they sense the earth's magnetic fields. "Once birds are attracted to that light, there's likely to be some pretty significant disorientation."
"We've thankfully found very, very few dead birds" as a result of the lights, Farnsworth adds. "We have seen them fly into windows, clearly disoriented and confused by the combination of light and a lot of glass."
In 2017, Farnsworth was a co-author of a multi-year research study which found that Tribute In Light has affected the migrations of more than a million birds. He was surprised to discover that birds were attracted to the light from as far away as a four-kilometer radius above ground. Despite this issue, he says he doesn't think the city should discontinue the lights (which are designed to signify the Twin Towers) and is glad the organizers have been willing to switch the lights off for 20-minute increments to allow trapped birds to escape.
"We know that birds disperse and return to much more normal migration behaviors when they do that," Farnsworth says "We've seen it on radar."
Farnsworth says he supports the proposed legislation to reduce bird fatalities. "I think it's a no-brainer. It's a big discussion and movement in Chicago, too."
As of Wednesday, there has been no vote on the bird-friendly legislation. "The bill is going through the legislative process," a spokesman for Council Speaker Corey Johnson told Gothamist. "As an animal lover, Speaker Johnson believes that having bird-safe glass is vital."
Source: gothamist
---
New York Build is the leading construction show for New York and the Tri-state region. Gain access to 9 specialized summits, 200+ exhibitors, 200+ speakers and connect with 17,000+ registered visitors.