12 Sep 2019
Lendlease Chicago chief heads to New York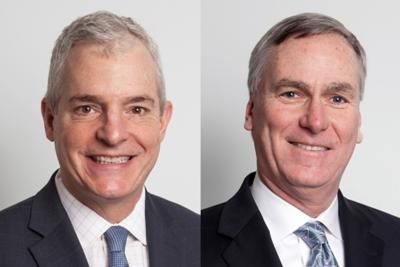 Chicago developer Thomas Weeks is departing Lendlease for a new job in New York City, leaving longtime associate Ted Weldon in charge of three big residential projects here.
Weeks, 56, will take over at the end of the month as executive vice president and head of development for the Rockefeller Group, best known as the developer of Rockefeller Center in Manhattan. Weldon, 58, is succeeding Weeks as executive general manager of development in Chicago at Lendlease, an Australian construction company.
Weeks, who joined Lendlease in 2014, has expanded the firm in Chicago beyond its historical role as a general contractor and into the development business. Under Weeks, the firm has launched major housing projects in the South Loop and West Loop, and it plans to break ground next week on two towers in the Lakeshore East development.
Weeks' departure ends a longtime partnership with Weldon. The duo have worked together on and off since they were actuaries at Hewitt Associates in the 1980s and bought a building together in 1990, Weldon said. Their relationship continued at Related Midwest and Lendlease, which Weldon joined in 2015 as acquisitions director, moving up to senior vice president and project director last October.
"This is just a natural progression to the next step," Weldon said of his new job.
At Rockefeller, Weeks will be in charge of expanding the firm's U.S. development business, which currently comprises 40 employees and more than $3 billion in projects.
"Most people move to New York when they're 23, but I am taking a different path," Weeks said. "It was an opportunity I couldn't say no to."
Rockfeller doesn't have any current projects in Chicago, but Weeks didn't rule out the possibility that it could in the future.
Weldon, meanwhile, has plenty to keep himself occupied in Chicago. In the South Loop, Lendlease is developing Southbank, a seven-acre project along the South Branch of the Chicago River. Its first building there, a 452-unit apartment tower called the Cooper, is about 80 percent leased, Weldon said.
In the West Loop, a Lendlease joint venture with Chicago-based John Buck is building 845 West Madison, a 586-unit apartment development expected to open next summer. In Lakeshore East, Lendlease and its partner, Chicago-based Magellan Development Group, plan to break ground Sept. 17 on two buildings: Cirrus, a 363-unit condominium tower, and Cascade, a 503-unit apartment high-rise.
"We're in execution mode right now," Weldon said. "We continue to look for (new development) opportunities, but that's not our primary focus now."
Source: Chicago Business
---
New York Build is the leading construction show for New York and the Tri-state region. Gain access to 9 specialized summits, 200+ exhibitors, 200+ speakers and connect with 17,000+ registered visitors.