04 Mar 2019
Manhattan's New Luxury Skyscrapers Continue to Fill Up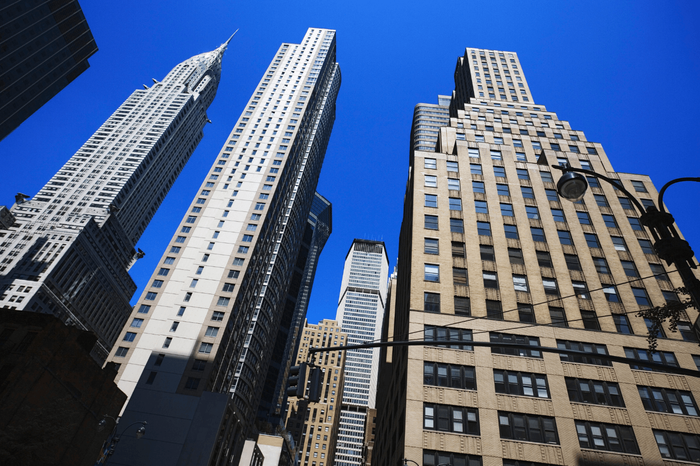 Last month, 70 Vestry Street and 220 Central Park South had the most expensive residential closings, though both were dwarfed by the record $240 million sale in January.

Sky-high closings continued in February at 220 Central Park South, 520 Park Avenue and 70 Vestry Street, the limestone high-rises designed by Robert A.M. Stern Architects that are among Manhattan's most expensive and talked-about new residences.
Four sponsor apartments in these buildings sold to anonymous buyers for more than $30 million apiece, and one for more than $20 million — staggering prices for mere mortals, though they pale in comparison to the nearly $240 million that the hedge fund manager Kenneth Griffin paid for four floors at 220 Central Park South earlier this year.
New York City's biggest closing in February was an apartment on the 12th floor of 70 Vestry in TriBeCa that sold for nearly $39.3 million.
At 220 Central Park South, between 58th and 59th Streets, an apartment on the 35th floor was acquired for $33.5 million, while another on the 39th floor sold for $22.8 million.
Two penthouses sold at 520 Park, at 60th Street. One, on the 51st floor, closed for $32 million. Another, on the 59th, was bought by the banker Robert Diamond and his wife, Jennifer Diamond, for $30.1 million.
A few blocks away at 432 Park Avenue, the supertall residential tower near 57th Street that accounted for many of the top sales in 2018, a 95th-floor penthouse sold for $30.7 million, a hefty reduction from its $41.25 million asking price. The 3,952-square-foot unit has three bedrooms and three and a half baths.

Several other noteworthy transactions took place in February. The chief executive of the Shake Shack restaurant chain, Randy Garutti, and his wife, Maria Garutti, bought a townhouse on the Upper West Side, while the designer Steven Gambrel sold one in the West Village.
Along Fifth Avenue, the billionaire trader Thomas Peterffy purchased a full-floor co-op unit. Adam Alpert, the founder of Sony Music's Disruptor Records, bought a condo, and Frayda Lindemann, vice president of the Metropolitan Opera and widow of the billionaire George Lyle Lindemann, sold a co-op.

Also last month, the artist Eric Fischl sold a loft in SoHo that he had used as a studio.
At 70 Vestry, near West Street, the closed apartment (unit 12S) has 4,331 square feet inside and more than 1,000 square feet of outdoor space, with sweeping views of the Hudson River. The unit has four bedrooms and four and a half baths, along with an enormous great room with a fireplace, according to the listing. Its monthly carrying charges are around $16,000.
The condominium was developed by the Related Companies, which is also behind the massive Hudson Yards development.
At 220 Central Park South, one of the closed apartments was No. 35A, a 4,184-square-foot unit with five bedrooms and five baths. It sold for $33.5 million.
The developer, Vornado Realty Trust, had originally sought $30 million for the unit, according to the initial offering plan filed with the New York attorney general's office. Vornado later raised the price to $34.5 million in a plan amendment, which listed the monthly carrying costs at nearly $18,000.

The other recently closed unit, 39A, at $22.8 million, has three bedrooms and three baths with 3,114 square feet.
As with 70 Vestry, the buyers' identities for both units were shielded through limited liability companies — a common practice for those purchasing in the 65-floor skyscraper (and most other high-profile buildings). Some buyer names, though, have trickled out, among them the hedge fund manager Daniel Och, as well as the musician Sting and his wife, Trudie Styler, and, of course, Mr. Griffin.
Mr. Griffin, the billionaire founder of the Chicago-based hedge fund Citadel, set a national record in January for a single-residence sale with his purchase of a penthouse encompassing roughly 24,000 square feet across four floors. The home is still under construction.

In a quarterly earnings call with financial analysts in mid-February, Vornado's chief executive, Steven Roth, said that all 27 of the full-floor simplexes at 220 Central Park South have closed or are under contract. The project has an estimated sellout of $3.4 billion.
The two penthouses that sold at 520 Park were near the top of the 54-story building, which was developed by Zeckendorf Development.
The more expensive, and larger, of these two penthouses, unit No. 51, has 4,628 square feet and is configured with three bedrooms and five baths. It was purchased through a limited liability company for $32 million.

Penthouse No. 59, which sold for $30.1 million, has 4,322 square feet, with three bedrooms and three and a half baths. Mr. Diamond, the buyer, is the former chief executive of Barclays.
Mr. Garutti and his wife paid $8.1 million for a brownstone on West 81st Street, between West End Avenue and Riverside Drive, uptown from Shake Shack's new headquarters on Varick Street.

The house, which was listed for just under $9 million, has four main levels and a finished basement. It contains five bedrooms and four and a half baths, along with at least two other rooms that could be converted into bedrooms.
There is also ample outdoor space, with a terrace off the master bedroom suite on the third floor and a landscaped garden. The south-facing garden is entered through a wooden door built into a massive, 21-foot wall of casement windows.
Although fully renovated, the home maintains many early-20th-century details, like an ornate staircase, rich hardwood floors and woodwork, and high ceilings.
The townhouse sold by Mr. Gambrel is at 68 Morton Street, between Hudson and Bedford Streets, in the Greenwich Village Historic District. It, too, was listed for just under $9 million; the closing price was nearly $7.8 million.
Mr. Gambrel, the founder and president of the design firm S.R. Gambrel, bought the house through an estate sale in 2011 for $3.85 million and, in a top-to-bottom renovation, remade the space into a showpiece with contemporary and 19th-century elements mixed throughout.

Built in the mid-1800s, the red brick Greek Revival house is four stories high and 25 feet wide, with three bedrooms, two full baths and two half baths. The master suite, spread out over the top level, has an enormous dressing room and an expansive skylight.
The garden level of the home opens to a small, gravel-covered yard with planters full of green boxwood and skip laurel.

The largest of the Fifth Avenue closings was Mr. Peterffy's $22 million purchase, with partner Lynne Wheat, of the 11th floor at 810 Fifth Avenue, an Italian Renaissance co-op building overlooking Central Park on the corner of 62nd Street. The prewar apartment house was designed by James E.R. Carpenter and served as home to several notable residents, including Richard Nixon and Nelson Rockefeller.

Mr. Peterffy, the founder and chief executive of the electronic brokerage firm Interactive Brokers, and Ms. Wheat acquired the apartment from the estate of Jan Cowles, a prominent art collector. The unit was configured with two bedrooms and three and a half baths, though a library and study could be converted into bedrooms.
At 212 Fifth Avenue, a new boutique condominium between West 25th and 26th Streets overlooking Madison Square Park, Mr. Alpert, the record executive, paid nearly $6.7 million for a sponsor unit, 9B. His apartment contains almost 2,700 square feet, with three bedrooms and three and a half baths.
Farther uptown, Ms. Lindemann sold unit 32 at the Sherry-Netherland co-op building, at 781 Fifth Avenue, between 59th and 60th Streets, across from Central Park. The closing price was $11 million. The home, which had a $12 million asking price, has two bedrooms and two and a half baths, along with stellar park views.
Mr. Fischl, who is known for his paintings of American suburbia, received $4.75 million for his 3,300-square-foot loft, unit No. 2, at 37 Greene Street. The space had been listed for $4.3 million.

The full-floor unit, with one bedroom and one full bath, has oversize windows, 13-foot ceilings, painted brick walls and Corinthian columns.
This closing comes just five months after Mr. Fischl and his wife, April Gornik, a landscape artist, sold another loft, at neighboring 41 Greene Street, for $4.25 million. The couple have a home and studio in Sag Harbor, N.Y.
Source: The New York Times
---
New York Build is the leading construction show for New York and the Tri-state region. Gain access to 9 specialized summits, 200+ exhibitors, 200+ speakers and connect with 15,000+ registered visitors.