06 Jan 2023
'Mayor Adams, HUD, NYCHA Announce Pact Program on Track to Improve Living Conditions for 76,000 NYCHA Residents, Deliver $7.2 Billion in Building Upgrades'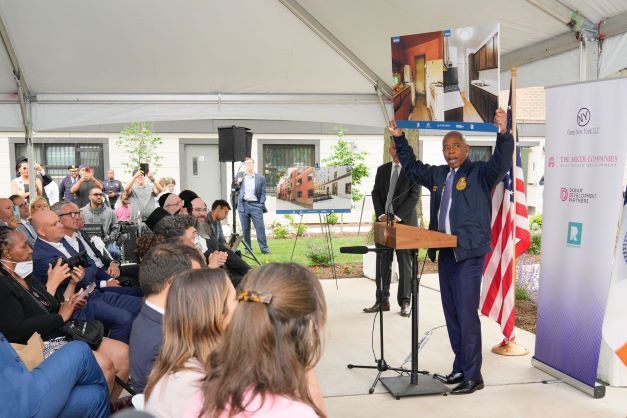 NEW YORK – New York City Mayor Eric Adams, U.S. Department of Housing and Urban Development (HUD) Regional Administrator Alicka Ampry-Samuel, and interim New York City Housing Authority (NYCHA) CEO Lisa Bova-Hiatt today announced that 36,103 apartments, across 137 NYCHA developments, have been renovated, are under construction, or are in the community planning and design process under NYCHA's Permanent Affordability Commitment Together (PACT) program from its inception through the end of 2022. Once complete, these renovations will improve quality of life for more than 76,000 NYCHA residents and address $7.2 billion in capital needs through building upgrades. In 2022, the PACT program drove $2 billion in large-scale improvements for NYCHA residents in 8,531 apartments across 17 developments.
The PACT program transitions developments from traditional public housing assistance to the more stable, federally funded Project-Based Section 8 program — unlocking funding for designated PACT partners to complete comprehensive repairs. With strong support from Mayor Adams and HUD, PACT is a key tool in the city's strategy of preserving and upgrading New York City's aging public housing stock. Photos of 2022 projects are available online.
"We have been clear since day one of this administration that NYCHA residents deserve the same quality of life as every New Yorker, and, in 2022, we delivered results," said Mayor Adams. "Thanks to the PACT program, more than 76,000 New Yorkers will have safe, high-quality, affordable homes with all the tenant protections of public housing. As we continue to take major steps forward on the Public Housing Preservation Trust, we are giving residents a real menu of options to deliver much-needed repairs while always ensuring residents are at the center of the process."
"Residents deserve to live in quality, safe, and affordable homes, and that is what the PACT program is about. In 2022, we saw thousands of New Yorkers finally receive the repairs they have been waiting years for, while keeping their public housing rights and permanently affordable rents," said Chief Housing Officer Jessica Katz. "As we continue to fight for full funding of NYCHA, we will use every tool available to ensure our neighbors have homes they can be proud of. PACT delivers for NYCHA residents."
"Since the creation of HUD's Rental Assistance Demonstration (RAD) program, public housing authorities across the country have generated over $15 billion for construction investment. NYCHA's RAD/PACT program has addressed housing in dire need of repair and transformed it into homes NYCHA residents can be proud of," said Alicka Ampry-Samuel, regional administrator for New York and New Jersey, HUD. "Utilizing readily available resources to improve the lives of NYCHA residents is imperative to preserve affordable housing for future generations."
"2022 saw the continued utilization of the PACT program in providing public housing families with the resources, renovated apartments, and thriving communities they need," said NYCHA Interim CEO Lisa Bova-Hiatt. "We are committed to realizing the unparalleled potential of this program to meaningfully improve the quality of life for NYCHA residents, and look forward to bringing even more comprehensive apartment upgrades, building modernizations, and enhanced services on-line in the coming year."
Through PACT, a total of 22 NYCHA developments have been completely revitalized, and 36 more developments are in the process of being renovated. An additional 79 developments are in pre-development, where NYCHA and its PACT partners collaborate with residents to design detailed rehabilitation, property management, and social service plans that meet the needs of each community and ensure they thrive for years to come. The city has committed an additional $1.5 billion in capital funding for fiscal years 2023-2026 to help NYCHA continue this critical work. A breakdown of NYCHA's PACT projects citywide — and the associated minority- and women-owned business enterprise partners involved — is available online.
"The authority has continually looked for ways to make the PACT program more reflective of the urgent priorities and lived experiences of NYCHA residents," said Jonathan Gouveia, executive vice president, real estate development, NYCHA. "The host of innovative rehabilitation plans and full-scale modernizations that were delivered and committed to over the past year are indicative of that resident-centered focus, a process that provides NYCHA residents with homes they can be proud of for generations."
"Every New Yorker deserves a safe place to call home, and under this administration's 'Housing Our Neighbors' blueprint, HPD, HDC, and NYCHA will continue to work together to advance our shared goals of providing affordable housing and economic opportunity to all New Yorkers," said New York City Department of Housing Preservation and Development (HPD) Commissioner Adolfo Carrión Jr.
"As a key financing partner for PACT, HDC is proud to support the effort to secure guaranteed affordability and improved housing quality for New York City's public housing residents," said New York City Housing Development Corporation (HDC) President Eric Enderlin. "Today's announcement is indicative of the city's commitment to bring essential building repairs and upgrades, alongside expanded social services, to thousands of NYCHA residents across New York. Thank you to all the residents, as well as the incredible teams at NYCHA and HDC, for their dedication to ensuring the ongoing success of this crucial program."
Credit: nyc.gov