January 30, 2020
MTA Approves Contract for Work on Elmont Stop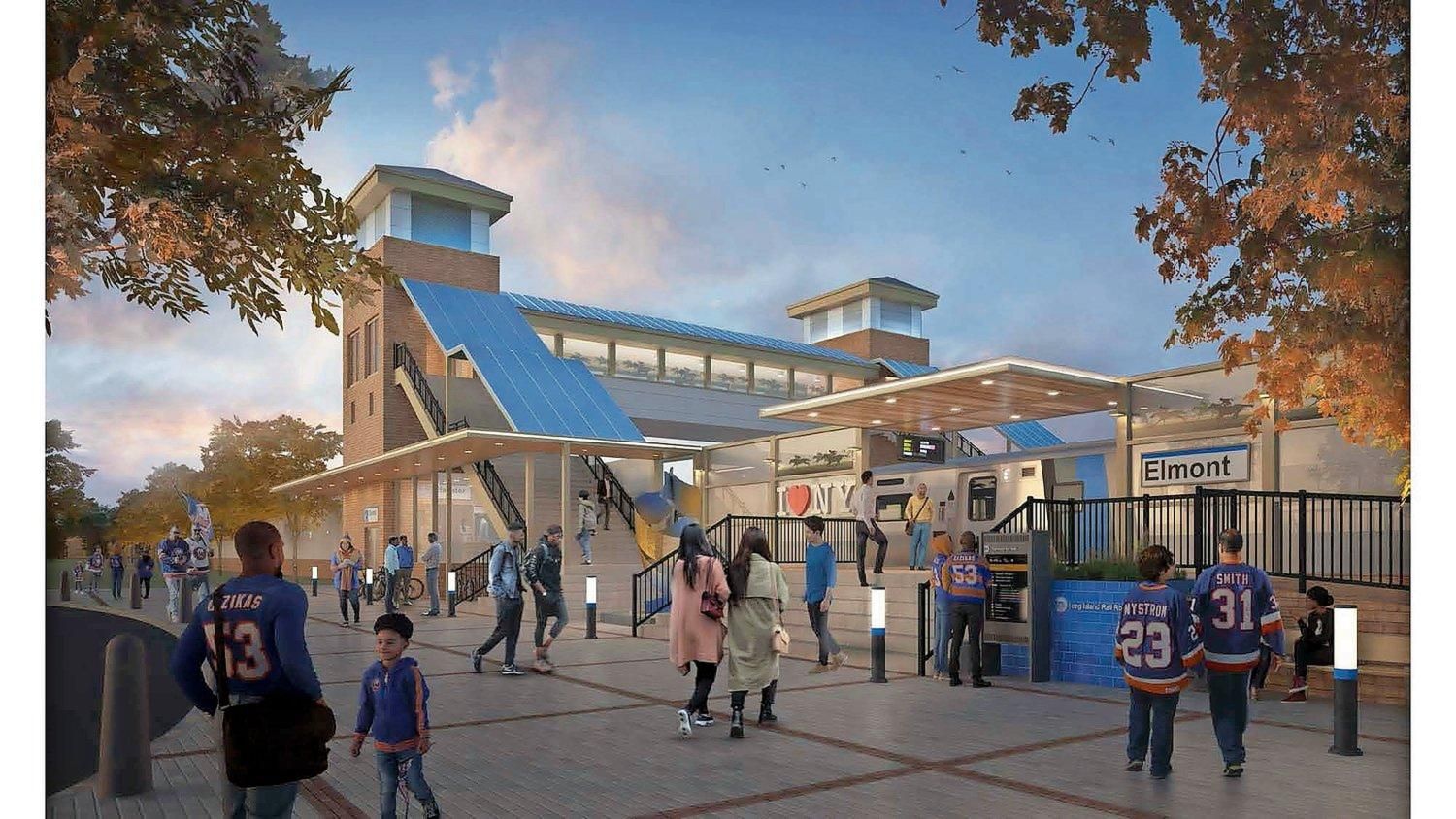 Questions remain on whether a new Elmont Long Island Rail Road station should be built, after the Metropolitan Transportation Authority board voted on Jan. 21 to approve a $65 million contract for its construction.
Under the terms of the contract, Queens-based Judlau Contracting will build a stop on the Hempstead line with two 12-car platforms, a pedestrian overpass, lighting, elevators, and an audio and visual announcement system. The company previously constructed the MTA's Second Avenue subway station in Manhattan, and officials expect Elmont's eastbound platform to be open in time for the New York Islanders' 2021-22 season, with the westbound platform finished one year later.
"We look forward to advancing this project in the coming months," said MTA spokesman Aaron Donovan, "and will continue to work with the community as this project moves forward."
The proposal to build a station was included in the Belmont Park redevelopment project, after Elmont residents argued that any construction at the park should include a full-time station. Renovations to the existing station at the park would be too costly and time-consuming, experts said, so state officials included plans for the station in the project's final environmental impact statement. The station will sit on the border between Elmont and Bellerose Terrace, halfway between the Queens Village and Bellerose stops, and will feature shuttle buses for anyone trying to get to Belmont Park.
"The Elmont LIRR station will provide a critical public transit link for both neighborhood commuters and fans attending the new Belmont Park arena," said Jack Sterne, a spokesman for Empire State Development, a state agency that promotes development. "This will be the first new, full-time commuter LIRR station built in decades, and it will provide a real benefit for Long Islanders through an innovative public-private partnership."
The MTA board added the $105 million project to its 2015-19 capital plan last September, with the understanding that ESD would transfer $105 million from its budget to the transportation authority. ESD will contribute $75 million, with developers New York Arena Partners paying $30 million up front, and reimbursing the state interest-free over the next 30 years, according to former Federal Transportation Administration official and industry advocate Larry Penner.
"It's interesting that Governor Cuomo . . . manipulated the MTA funding process using one state agency budget to help another to fund a project," Penner told the Herald. "He's robbing Peter to pay Paul. At the end of the day, it's all the taxpayers' money."
Penner also expressed doubts about the future popularity of the station. He explained that only the Hempstead line will stop at the south platform, and as a result, riders on the Babylon, Speonk, West Hempstead, Long Beach and Far Rockaway lines will have to change at Jamaica for an eastbound train. Those coming from Port Jefferson, Huntington, Oyster Bay and Ronkonkoma will have to do the same, he said, until the westbound platform is opened.
"Why would any Islanders fan want to first drive to a local LIRR station, park their car, board the LIRR (and in some cases have to switch at Huntington, Hicksville, Mineola, Babylon or Ronkonkoma from a diesel to an electric train), then board a shuttle bus from the new Elmont LIRR station?" Penner asked in an email.
No information has been released about the shuttle buses, he added, and he questioned whether there will be enough trains and buses during peak hours to serve all riders. "Imagine several thousand fans leaving the arena at the same time, all waiting for a shuttle bus for the return trip back to the Elmont LIRR station," Penner said. "There is no way hundreds of thousands of people could all board a series of shuttle buses at the same time."
The station would also not benefit Elmont residents, according to Aubrey Phillips, who said he usually drives to 179th Street in Queens to take the subway when he commutes into the city. He could also take the LIRR from Floral Park or Valley Stream, he noted, but prefers to take the Valley Stream train because it comes more frequently.
"Putting a third train station in Bellerose Terrace wouldn't help," Phillips said. "I'd still have to drive two miles."
It would also be difficult to park at the station, he noted, as it will be adjacent to an elementary school where parents drop off and pick up their children. "This proposed train station imposes an unnecessary burden on the Bellerose Terrace community," Phillips argued, adding that the Parkhurst Civic Association continues "to assert that the train station is not in Elmont, and represents an inadequate remedy for Elmont."
But another Elmont resident, Jon Johnson, disagreed and said the station could benefit Elmont residents. He recounted how his neighbors used to complain that there was no train station in Elmont. "Well," Johnson said, "now we have something very close to us."
Either way, Penner said, no one can say for certain whether investing $105 million into the station will be worth it until "the first puck hits the ice" in 2021.
Read more at Liherald.com
---
New York Build is the leading construction show for New York and the Tri-state area. Gain access to 12 specialized summits, 250+ exhibitors, 230+ speakers and connect with 20,000+ registered visitors.