January 26, 2023
New York City $500M Warehouse Complex Looms Large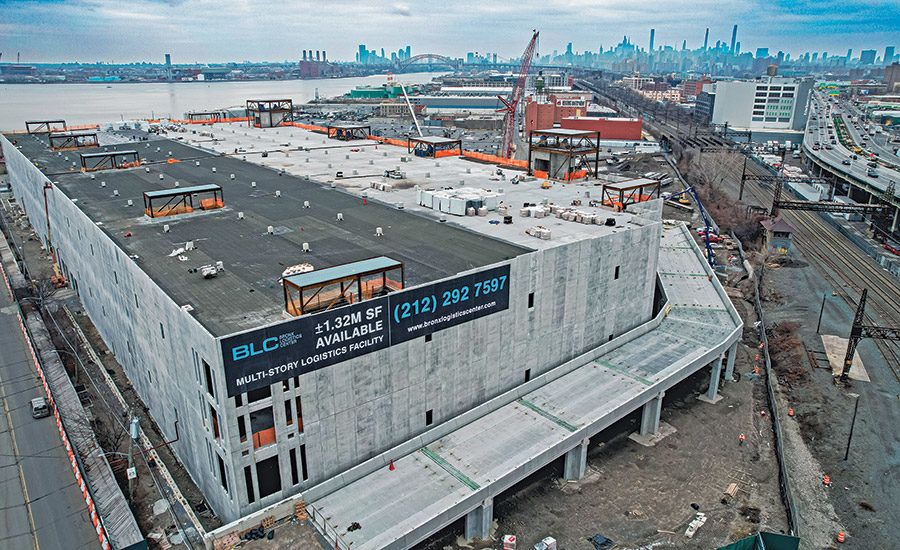 One of New York City's largest project sites—the 14.2 acres on which the $500-million Bronx Logistics Center is nearing completion—started out mainly as a three-dimensional puzzle. Project leaders had to piece together how much land they could acquire, then bargain over when they could occupy it and finally size up design iterations for various potential site layouts before even breaking ground.
The flexibility needed just to start construction became a defining theme that has carried through all project phases—and will be a main feature marketed to prospective tenants of the 585,000-sq-ft, two-level warehouse on the border of the South Bronx's Mott Haven and Melrose sections, minutes from Manhattan.
The state-of-the-art facility, set to finish in the third quarter, will be able to support one or two large tenants or multiple smaller ones—while offering the same amenities, access and technology that users can get in a new warehouse in central New Jersey, says Ryan Nelson, managing principal of Turnbridge Equities, the project's lead developer.
Many of those features are the result of efforts that started in 2018 to secure a city site suitable for modern warehouses, he says. "It was an assemblage of five properties. We started with the biggest one."
That initial 8-acre site, owned and occupied mostly by a concrete recycling operation, also had two other tenants with seven years left on their leases, so the developers had to negotiate buyouts before getting to the next piece of the puzzle, he says. That first deal sparked the next one, since one tenant owned an adjacent property, he adds.
We were able to structure something where in addition to buying out their lease we also bought their property," Nelson says. "We just kept going, property by property."
By that time, Turnbridge and lead co-developer Dune Real Estate Partners had hired ARCO Design/Build Industrial as architect and contractor and began mapping out each combination.
"As we would look at adding a property, we'd do a new design," he says. "If we only get this, how does the site lay out?"
Read More at: ENR New York
---
Officially supported by the Mayor of New York, New York Build is the largest construction, design and real estate show for New York. Now in it's seventh year, your ticket gives you access to 350+ expert speakers, 300+ exhibitors, 30,000+ attendees, 12 conference tracks and AIA CES approved workshops, networking parties, entertainment, live music, and endless networking opportunities with leading architects, developers, housebuilders, contractors, government and more.