February 10, 2020
New York firm O'Neill McVoy Architects Creates Black Double Square Studio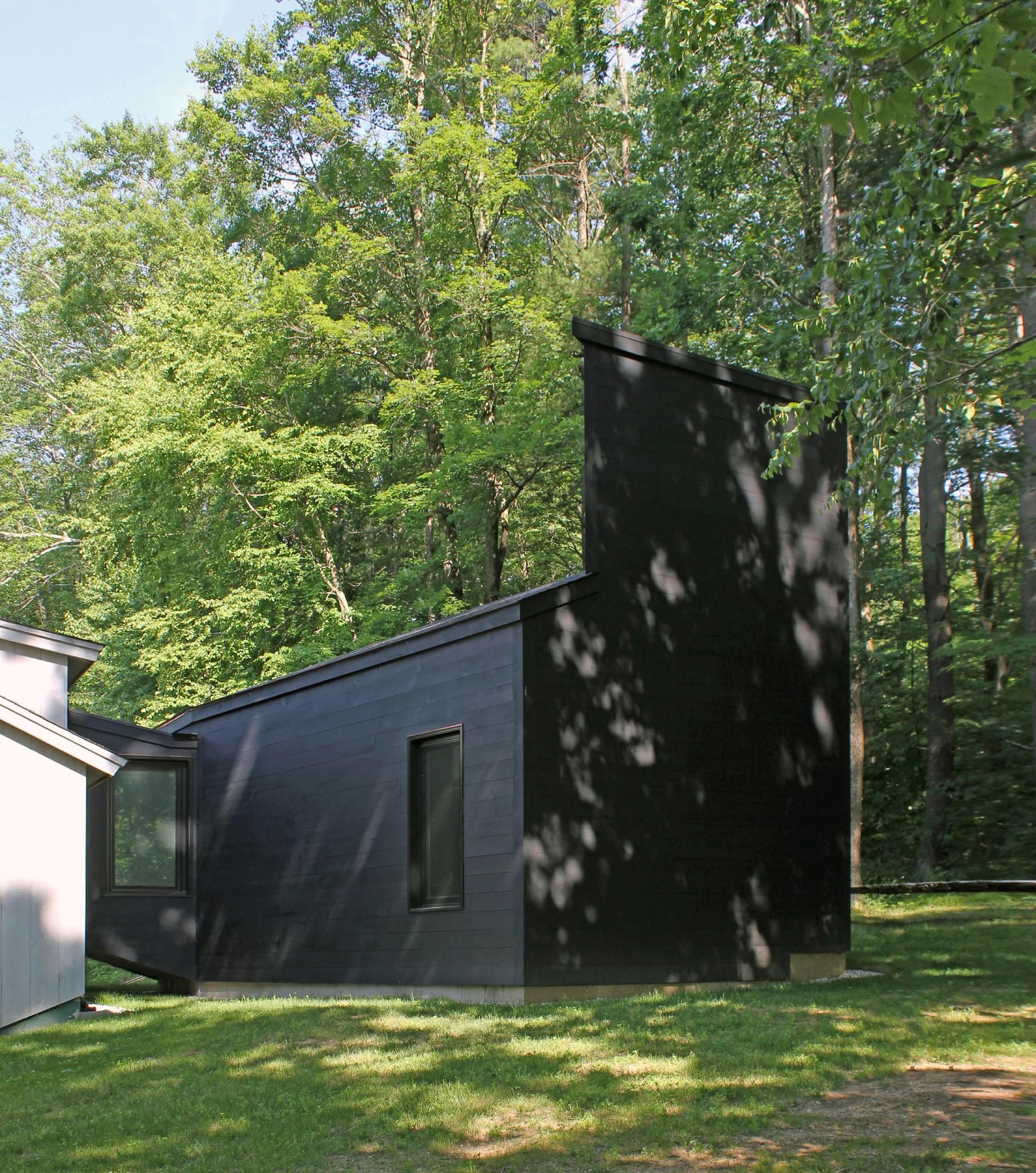 New York firm O'Neill McVoy Architects has used a lightwell and clerestory window to illuminate the interiors of this studio in Connecticut for artist Gelah Penn.
Penn, whose work mainly focuses on sculpture and installation, commissioned O'Neill McVoy Architects for an addition to her home in Litchfield County, Connecticut.
The artist wanted a space with proportions and natural lighting that would help facilitate her creative process.
"The artist has an active, multi-scalar and materials-based practice, much of which directly engages wall surfaces," studio co-founder Beth O'Neill told Dezeen.
"Light and height were of great importance in constructing this space, because my work deals with visual ambiguity through the manipulation of many translucent and optical materials," Penn added.
Called Double Square Studio, the 370 square-foot (34-square-metre) addition connects to the upper floor of an existing art studio on Penn's property, which she shares with the painter Stephen Maine.
A short staircase the architects describe as a "stair-bridge" leads to a shared work and exhibition space.
It is clad in dark-stained cedar boards, which according to O'Neill McVoy, help the building's massing "recede in shadow and reflect the seasonally changing wooded site"
The studio is open plan, with large windows that provide views of the surrounding forest. It is oriented with its longest side facing north, with clerestory windows that bring in additional natural light.
"The double-square studio is turned with its long, high side facing true north for classic studio clerestory light, then animated by east, south and west light 'figures', including the vertical light monitor which celebrates the artist's corner installation work," said O'Neill McVoy Architects.
Additional daylight is provided by an angular volume that juts up above the rest of the structure. An opening on the southwest face of it helps illuminate works by the sculptor that occupy the tall corner.
The only material visible within the space, besides the blank white walls, is a polished concrete floor, which also provides radiant heating for the studio in the winter.
The project was a collaboration between the artist and architects, who initially met as neighbours in New York City in the early 1990s. "Working collaboratively with great friends on their brilliant design was pure pleasure, and the resulting studio more than a bit of heaven," Penn told Dezeen.
O'Neill McVoy summed up the small project as "the joy of making a one-room building in the woods – just the fundamentals of light, proportion, spatial volume and material."
O'Neill founded the architecture office in 2010 with Chris McVoy. It is based in Brooklyn, where the studio also completed a townhouse illuminated by an angular skylight.
Penn's work, including a 33-foot-long (10-metre-long) installation piece, will be on display in an exhibition called Uneasy Terms at Brooklyn art gallery Undercurrent from 13 February.
Other projects in Connecticut include a neglected barn that was restored by John-Paul Philippe for use as his own residence and an elevated, rotating home refurbished by Mack Scogin Merrill Elam Architects.
Read more at Dezeen
---
New York Build is the leading construction show for New York and the Tri-state area. Gain access to 12 specialized summits, 250+ exhibitors, 230+ speakers and connect with 20,000+ registered visitors.