January 13, 2022
NYEDC Announces Plans For Flood Protection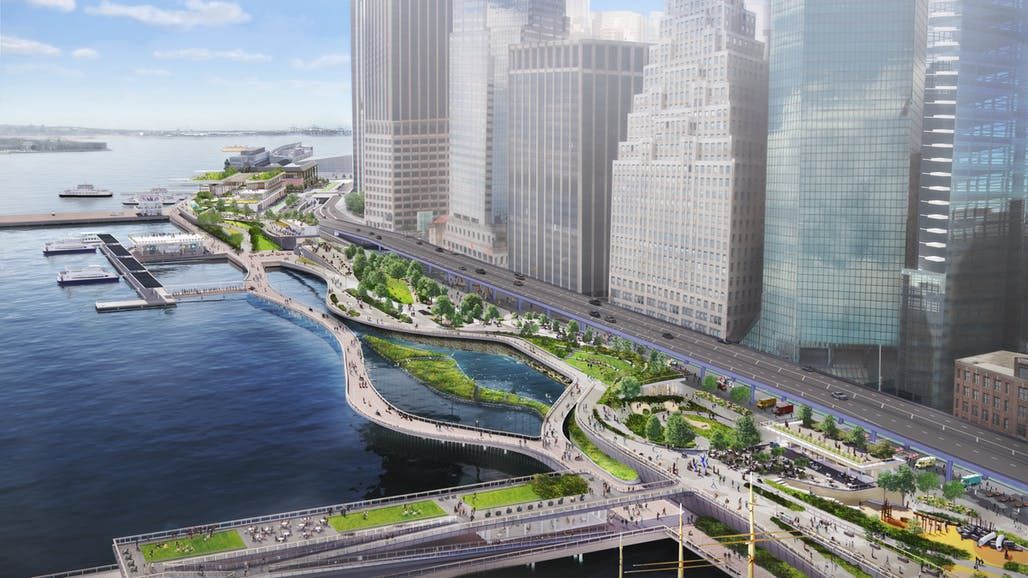 The New York Economic Development Corporation, together with the Mayor's Office of Climate Resiliency revealed their plan to protect Lower Manhattan against flooding in the future.
Titled 'Financial District and Seaport Climate Resilience Master Plan', it has been described as ""a shared City-community vision for a resilient 21st-century waterfront,", with the plan aiming to protect the areas of Manhattan that are extremely vulnerable to flooding, either as a result of climate change or serious storms. This master plan is a part of the LMCR (Lower Manhattan Coastal Resiliency) strategy, which has been backed by over $900 million in investments from the city.
The plan has been supported by a number of New York City, state and federal agencies including the Department of Buildings, Department of City Planning and Department of Environmental Conservation, to name just a few. Technical support for the project was also provided by an interdisciplinary consulting team from Arcadis.
The lower region of Manhattan is the core of the city's transport system, with millions of people travelling daily throughout lower Manhattan via rail, car, bus and ferry. With over 415,000 people travelling via the subway and 93,000 via the ferry daily, Lower Manhattan provides connections like no other, connecting its travellers to all five boroughs.
The plan focuses on a mile-long section of the shoreline which can be found between the Brooklyn Bridge and the Battery, which is a particularly low-lying piece of terrain. It features an elevated highway, underground utility lines and tunnels for vehicles, all of which are particularly vulnerable to flooding.
The plan asks for an extending shoreline to be built into the East River, which will create space for flood defence infrastructure to be built. This space will also double as green public open space. It calls for a multi-level structure to be built which will integrate floodgates and a floodwall with pathways surrounded by greenery and platforms that will offer residents and visitors picturesque views of the skyline and shore.
It is predicted that the construction will cost between $5 and $7 billion, however, the NYCEDC has made a prediction that if left untouched, flooding could cause up to $20 billion in damages from now all the way until 2100.
---
New York Build is the leading construction, design and real estate show for New York and the Tri-State Area.
Register for your free tickets now to gain access to 300+ top industry speakers across 11 tracks and AIA CES approved workshops, 250+ exhibitors, exclusive free-to-attend networking events including the Women in Construction and Diversity in Construction, exciting entertainment, New York's Festival of Construction, celebrity guests and much more!

REGISTER FOR TICKETS