February 21, 2020
Photos Show New Restoration Work at the New York State Pavilion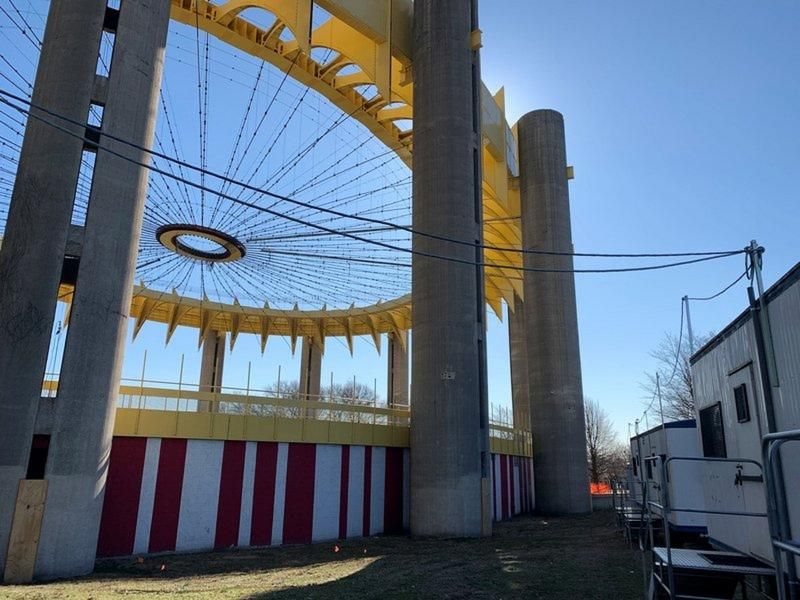 An update provided by the New York State Pavilion Paint Project, one of the early, influential activist groups fighting to save World's Fair structure in Queens, provides an inside look at the work done so far since the groundbreaking on the NYC Parks restoration project. The $24 million project will preserve the historic pavilion and its accompanying observation towers.
The Paint Project visited the site on February 15, 2019. Construction crews had set up trailers adjacent to the Pavilion. So far, cement blocks that had been added were removed from each of the 16 columns, to await upgrading of electrical cables which will allow for the columns to be lighted again, one of the upgrades in the latest restoration phase. Mitchell Silverstein, from the New York State Pavilion Paint Project, writes that the "columns contain telephone and electrical panels, typically alternating every other one. The plywood was marked so the construction crews know what to expect inside."
Photo by Mitchell Silverstein/New York State Pavilion Paint Project
The walk on the interior also showed the remnants of the original elevator cars, which Silverstein writes, are in an "advanced state of decay." Rehabilitation of the elevators is not part the scope of this round of restoration. However, there will be work done on the towers themselves, with a replacement of the stairs that go to the observation decks, the cables that support the decks, and additional concrete work.
Photo by Mitchell Silverstein/New York State Pavilion Paint Project
The stairs to the lower level were cleared to allow for access. Silverstein says, "The basement below the towers contained the mechanicals for the elevators; motors, relays, electrical among other things. Since it's deep below it tended to flood. The current work is supposed to make it water tight and replace the electrical so the towers and columns can be lighted."
Read more at Untapped New York
---
New York Build is the leading construction show for New York and the Tri-state area. Gain access to 12 specialized summits, 250+ exhibitors, 230+ speakers and connect with 20,000+ registered visitors.