06 Mar 2019
Real Estate Technology Has A New Home In New York City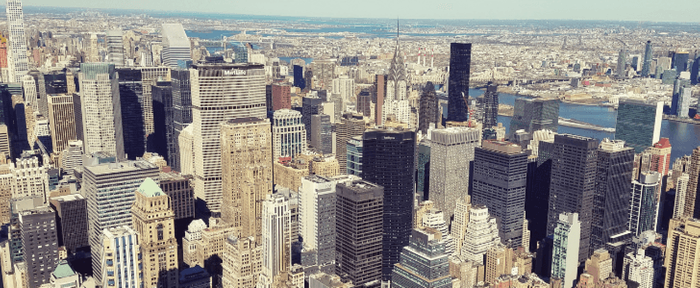 Real estate technology has seen unprecedented innovation—not to mention investment—over the last few years. And now, thanks to a new facility from venture capital fund MetaProp, the industry stands to gain even more ground, especially in the New York market.
The VC has just announced the launch of its "PropTech Place"—a hub for all things property tech-related. Located at 214 W. 39th Street in Manhattan, the spot boasts co-working spaces, curated "PropTech" exhibits and a full calendar of educational events and programming.
MetaProp itself has even relocated to the property and expects to invest an additional $3 million into its development over the next five years.
It's just the latest move in establishing New York City as one of the world's technological leaders. Last month, Savills named the Big Apple the No. 1 tech city in the nation. And though Amazon might have called it quits on its NYC headquarters, other tech giants have stepped in to fill the void. Google announced plans for a West Village campus late last year, and Facebook is said to be considering a Manhattan expansion.

At any rate, PropTech Place is set to help NYC—and the real estate tech sector in general—continue its record-breaking expansion. The facility is already home to a number of tech investors, academics and start-ups.
As Nick Romito, chief executive officer of leasing platform VTS explained, "The real estate technology world needed a home base. I think of this space as where PropTech leaders can go when they need to really get inspired."
"New York City is the undisputed real estate capital of the world," Patchett said. "Throughout our five boroughs, we have billions of square feet in residential, commercial and industrial properties. Our unparalleled building stock and thriving tech sector position us to be an epicenter of industry innovation and to create jobs for all New Yorkers. New York's PropTech Place will be the first stop for industry leaders looking for a window into the best real estate technology innovations."
Aaron Block, a cofounder at MetaProp, said his company is already working to add an additional 10,000 square feet to the PropTech Place facility. The center is currently home to three educational exhibits: "History of PropTech," "Tomorrow's PropTech" and "Today's PropTech," which features live piloting of up to 12 current real estate technologies.
The "Tomorrow's PropTech" exhibit will rotate every 90 days to feature the most cutting-edge, up-and-coming innovations. Considering the record amounts of investments entering the space, the exhibit is likely one to watch.
According to real estate analytics firm CREtech, venture capital funds invested more than $9.6 billion into real estate technology last year. MetaProp's 2018 Year-End Confidence Index shows that 60% of those investors plan to make even more investments in 2019.
Source: Forbes
---
New York Build is the leading construction show for New York and the Tri-state region. Gain access to 9 specialized summits, 200+ exhibitors, 200+ speakers and connect with 15,000+ registered visitors.