January 07, 2022
River Ring Masterplan Approved by City Council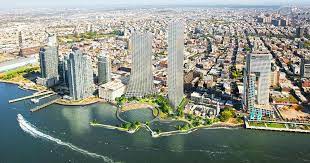 New York City Council has unanimously approved the construction of the River Ring masterplan of the Williamsburg waterfront project.
Designed by Bjarke Ingels Group and James Corner Field Operations, with Two Trees Management as the developer, the revised plans passed with 48 votes in favor of the project.
The proposal has faced a number of revisions across the years, after a number of discussions with concerned stakeholders, investors and local residents. The approved plans were adapted to include a dedicated YMCA space for the community, an environmental benefits fund and 150 units of affordable housing for seniors, all of which aims to "to enhance the connectivity of the public waterfront, reinstate natural habitats, elevate the standard for urban waterfront resiliency, and transform the way New Yorkers interact with the East River" says Cortney Koenig Worrall, CEO and President, Waterfront Alliance.
Two Trees Management has also committed to funding community initiatives worth $1.7 million, including an environmental fund that will enable neighborhood buildings to be retrofitted.
The proposal also features:
Affordable Housing - New affordable housing for the area. Out of 1050 on-site homes, 263 will be permanently affordable apartments. Their designs and features will be the same as the market-rate units and will be made available at an average of 60% AMI, with some of the units available as low as 40% AMI. As previously noted, 150 of these new units will also be affordable housing for seniors.


$100 million resiliency infrastructure investment - In addition, open space will protect the properties that are upland and up-river from the River Ring.


3-acre public park - Financed and maintained by Two Trees Management, this public park will also feature 3 acres of space with tidal wetlands and an accessible beach that are designed for in-water recreational sports and activities and marine ecology.


Dedicated YMC facility - This 50,000, state-of-the-art facility will feature a community swimming pool, with a community program that includes free swimming lessons for second-grade students in CB1.
The project will create over 2,000 construction jobs, with 500 of these being permanent jobs that includes a training program. They will also focus on hiring local tradesmen, working in collaboration with local workforce development partners.
The design also incorporates sustainable design features and green technology, such a commitment to all-electric buildings and the addition of an on-site wastewater treatment center.
Green technology and sustainable design, including a commitment to all-electric buildings and the development of on-site wastewater treatment.
---
New York Build is the leading construction, design and real estate show for New York and the Tri-State Area.
Register for your free tickets now to gain access to 300+ top industry speakers across 11 tracks and AIA CES approved workshops, 250+ exhibitors, exclusive free-to-attend networking events including the Women in Construction and Diversity in Construction, exciting entertainment, New York's Festival of Construction, celebrity guests and much more!

REGISTER FOR TICKETS