November 05, 2019
Sinatra & Company Real Estate and Ellicott Development Co. plan $120m Elmwood Crossing conversion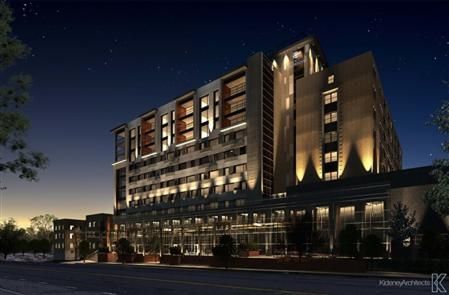 The developers behind the planned $120 million conversion of the former Women & Children's Hospital of Buffalo campus into Elmwood Crossing are hoping to be underway with significant construction on multiple projects next year, a senior official with one of the companies said Monday.
Sinatra & Company Real Estate and Ellicott Development Co. are already proceeding with the first phase of redevelopment on the 10.5-acre campus, with construction of a new five-story building at 451 Elmwood Ave., at the corner of Bryant Street. That $16 million project, which was already approved by the city, includes first-floor retail space, one floor of office space and three floors of up to 23 apartments in all.
But Sinatra Director of Development Amy Nagy said Monday that the team also expects to begin work on a set of new townhouses on West Utica Street, in conjunction with Essex Homes of Western New York. That's on an existing parking lot that the developers already own.
Additionally, she said, officials want to start on the proposed marketplace building on West Utica, with a grocery store, some retail space and more apartments, connected to the Gallagher Ramp on Elmwood.
"It is intended to be a phased project, so we would anticipate we could move forward fastest with those projects on Utica," she said, noting that community members "want to see this project move along."
However, the market building would likely wait until after the townhomes are completed, so that crews can use the site to stage equipment for the first project, she said. The developers still have to purchase the parking ramp from the city.
Finally, Nagy said, the team hopes to kick off renovation of the connected former MH and D buildings of the hospital, which will become a combination of market-rate and mixed-income housing. The developers have previously said they intend to spread affordable housing throughout the campus.
"It's a big site for us to carry with no revenue, so we are very anxious to get the process moving along," Nagy said. "A dormant site draws things in a neighborhood that people typically don't like, so we want to see some activity on the site."
The two firms, who bought the Elmwood Village campus from Kaleida Health, unveiled a major makeover of the former hospital that relies on both new construction and historic renovations. The site is located in an Opportunity Zone, which provides extra tax incentives to investors.
Plans call for more than 220 apartments, 27 condominiums, 22 townhouses, a 75-room hotel, an urban grocery of 20,000 to 40,000 square feet, boutique shops, office space and an EduKids day care. Most of the hospital buildings — including the Variety and Tanner towers and Alfiero — would be reused, while two would be expanded. Nagy said the complete project, including the environmental cleanup, is not expected to be completed until 2023.
Nagy confirmed Monday that the developers are working with People Inc., which would use the smaller MH Building along Hodge Avenue for affordable senior housing that the nonprofit will own under a condominium arrangement. About 45 units are planned, targeted at tenants earning 60% of the area median income.
People Inc. must first apply for funding from New York State Homes and Community Renewal to finance the project, but Nagy predicted that could move forward by next summer. Precise planning for the D Building is still underway by the developers, she said.
"People Inc. has a robust application process to get its funding. We are on that path with them, hand in hand, but we won't know with certainty if that's moving forward until they know if they have a project that will receiving funding," Nagy said.
Nagy spoke after the Buffalo Planning Board completed a series of six actions Monday related to the venture – including adopting a formal finding that the developers and city have complied with state environmental laws governing such projects.
The panel also backed the rezoning of four properties – at 180 and 184 West Utica, 125 Hodge Ave. and 187 Bryant Ave. – to allow for a broader mix of uses than previously permitted. And, it recommended that the Common Council approve a planned-unit development for the campus, unifying the entire project under one set of zoning and land-use rules while specifying what the developers will be permitted to do.
The Council's Legislative Committee will take up the planned-unit development and rezonings Wednesday, with a public hearing. Nagy reiterated that all individual projects in the future will still come to either the Planning Board or the city's Planning Department for review and approvals.
"This is one step in the process. We'll know more on Wednesday," Nagy said. "Every step forward is important, but it's early on. We know that this project is going to take time."
Source: The Buffalo News
---
New York Build is the leading construction show for New York and the Tri-state area. Gain access to 12 specialized summits, 250+ exhibitors, 250+ speakers and connect with 20,000+ registered visitors.