19 Dec 2018
The 10 Biggest NYC Investment Sales of 2018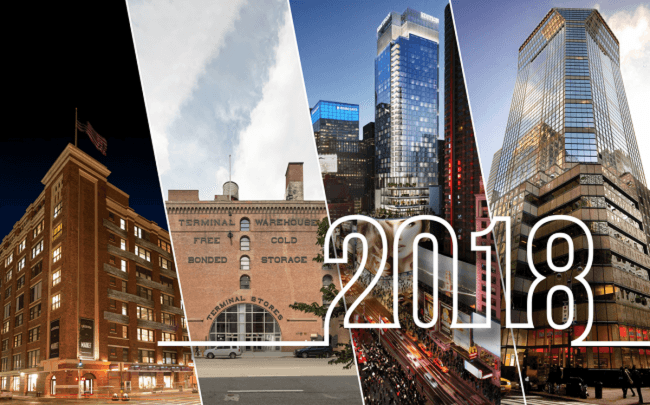 Google's Chelsea Market purchase topped the list
Chelsea had a pretty big year.
The Manhattan neighborhood was home to New York City's top two building sales of 2018 thanks to Google's whopping buy of Chelsea Market and L&L Holding Company and Normandy Real Estate Partners' purchase of Terminal Stores. The Google deal was the only investment sale throughout New York in 2018 to crack the $1 billion mark, which it did by a wide margin at roughly $2.4 billion.
All of the top 10 single-building sales took place in Manhattan, and they included multiple deals for hotels and office buildings. The sales were worth about $8.2 billion overall, just slightly more than last year's total dollar volume of $8.1 billion and far behind 2016's total of $12.7 billion.
It should be noted that multi-building portfolio deals — including the $905 million sale of Starrett City — were not included in this round up.
The full list of New York's top 10 investment sales is below:
1. Chelsea Market, $2.4 billion
Buyer: Google
Seller: Jamestown
Brokerage: CBRE, Cushman & Wakefield
New York's largest investment sale of the year was also the second-priciest deal for a building in the city's history. Google's $2.4 billion purchase of Chelsea Market from Jamestown was the only deal for more than $1 billion to go under contract this year, and the tech giant closed on it in an all-cash transaction. Google is already the building's largest tenant with about 400,000 square feet of space, while other tenants in the property include Major League Baseball and the Food Network. Jamestown will keep the branding rights and intellectual property of the Chelsea name in the deal.
2. Terminal Stores, $880 million
Buyer: L&L Holding Company, Normandy Real Estate Partners
Seller: GreenOak Real Estate
Brokerage: CBRE, Cushman & Wakefield
A deal in Chelsea also took the No. 2 spot on the year's list of largest investment sales. L&L and Normandy bought the neighborhood's Terminal Stores building from GreenOak for almost triple its prior valuation back in 2014, when it was valued at $300 million. The companies plan to renovate the interior of the building and convert 500,000 square feet of storage space into office space. They hope to increase its value to roughly $1.8 billion over the next four years. Allianz Real Estate of America is in talks to take a roughly 30 percent stake in the building.
3. Marriott Edition, $719 million
Buyer: Maefield Development, Fortress Investment Group
Seller: Steve Witkoff, Ian Schrager, New Valley, Winthrop Realty Trust, Carlton Group
Brokerage: Cushman & Wakefield
Maefield and Fortress bought out their partners in the Marriott Edition hotel at 701 Seventh Avenue in Times Square to take the third place spot. The Witkoff-led investor group bought the site for $430 million in 2012 and broke ground on the 39-story, 452-key hotel in 2015. The deal this year gave Maefield and Fortress full ownership of the property.
4. 425 Lexington Avenue, $701 million
Buyer: Vanbarton Group
Seller: JPMorgan Chase
Brokerage: HFF
Vanbarton Group closed on its purchase of this Midtown East building in October. The office property spans 780,000 square feet and last traded in 2013 for $665 million. The building is 31 stories tall and has just two vacant floors. Asking rents reportedly are reportedly between $80 and $90 per square foot.
5. St. John's Terminal, $700 million
Buyer: Canada Pension Plan
Seller: Westbrook Partners, Atlas Capital Group
Brokerage: Cushman & Wakefield
Canada Pension Plan joined Oxford Properties Group as a partner on the south site of St. John's Terminal in January. The $700 million deal brought the total capitalization of the site to $1.3 billion. Westbrook and Atlas still own the north site, where they intend to develop a 400,000-square-foot residential project. The south site offers 1.3 million square feet worth of commercial development. Google's parent company Alphabet announced Monday that the company would be doubling its presence in New York by bringing 7,000 new workers to a Hudson Square campus with leases at St. John's Terminal, as well as 315 Hudson Street and 345 Hudson Street.
6. The Belnord, $660 million
Buyer: Westbrook Partners
Seller: HFZ Capital Group
Brokerage: Cushman & Wakefield
Westbrook took a $660 million stake in the Belnord from HFZ Capital Group by converting its debt on the property into fresh equity. The gated Upper West Side apartment complex at 225 West 86th Street spans 680,000 square feet and stands 14 stories tall. HFZ paid $575 million for the site in 2015 and has been converting its rental units into condos as rent-stabilized tenants leave. The project has 215 units in total and a targeted sellout of $1.35 billion, one of the largest in the history of the Upper West Side.
7. 5 Bryant Park, $640 million
Buyer: Savanna
Seller: Blackstone Group
Brokerage: JLL, HFF
The office tower at 5 Bryant Park had been on the market since 2016 before Savanna picked it up this year for $640 million. The building, also known as 1065 Sixth Avenue, stands 34 stories tall and spans 665,000 square feet. Blackstone purchased it as part of its $7.2 billion takeover of Trizec Properties in 2006 with Brookfield Property Partners, which it then bought out in 2011 for about $300 million. The sale marks the last of Blackstone's Bryant Park properties. It is about 97 percent occupied, and tenants include Seamless, HOK Architects and Movable Ink.
8. 1731 Broadway, $596 million
Buyer: Institutional client of Invesco Real Estate
Seller: SL Green Realty, Ivanhoe Cambridge
Brokerage: N/A
SL Green sold off several properties this year as part of an effort to buy back its own shares. One of those properties was the office portion of 1745 Broadway. The 685,000-square-foot condo spans the second through 26th floors in the 50-story building. Penguin Random House is the largest tenant by a wide margin with a long-term lease for 604,000 square feet.
9. 1700 Broadway, $453 million
Buyer: Rockpoint Group
Seller: Ruben Companies
Brokerage: Cushman & Wakefield
Rockpoint Group bought this Midtown office tower for $453 million. Ruben Companies developed the building in 1968, which stands 42 stories tall and spans 626,000 square feet. The firm initially just had the leasehold but then paid the Schubert Foundation $280 million for the land under the building in 2016. The design firm Gensler has 120,000 square feet in the building.
10. New York Marriott Marquis, $442 million
Buyer: Vornado Realty Trust
Seller: Host Hotel & Resorts
Brokerage: N/A
The top 10 deals for 2018 closes out with Vornado's purchase of the retail and commercial condo portion of the New York Marriott Marquis in Times Square from Host Hotel & Resorts. Vornado signed a 20-year lease at the 1535 Broadway property in 2012 and agreed to spend as much as $140 million to expand it. The lease gave Vornado the chance to buy the space as well.
Source: The Real Deal
---
New York Build is the leading construction show for New York and the Tri-state region. Gain access to 9 specialized summits, 200+ exhibitors, 200+ speakers and connect with 15,000+ registered visitors.