17 Mar 2020
The Owner Of A Four-story Downtown Brooklyn Townhouse Plans To Start Demolishing It Soon As A Prelude To High-rise Hotel Construction.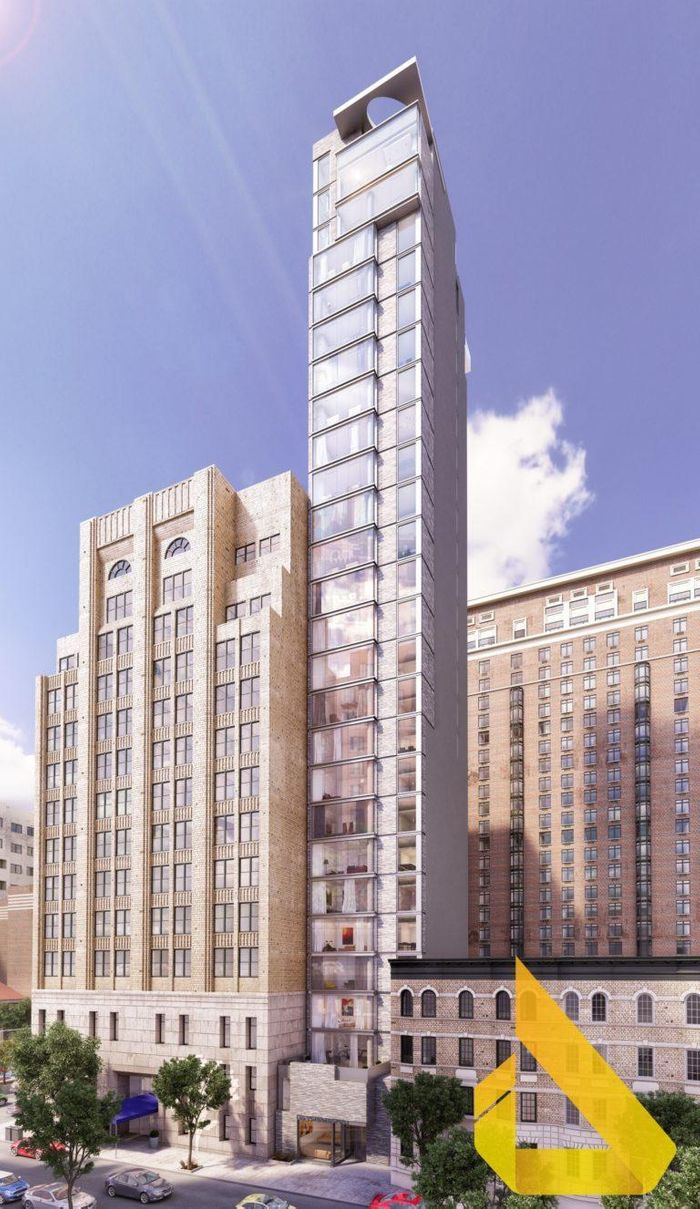 The owner of a four-story Downtown Brooklyn townhouse plans to start demolishing it soon as a prelude to high-rise hotel construction.
"The Department of Buildings has approved a permit for the demolition of the existing building," a spokesperson for AWH Partners, the owner of 88 Schermerhorn St., told the Brooklyn Eagle. "We are finalizing details and hope to begin that work in the coming weeks."
The lot at 88 Schermerhorn St. is just 33 feet wide, and the property's zoning allows a 26-story building to be constructed on it. That means AWH Partners could construct a sliver building, so called because it's tall and skinny.
In November, AWH Partners Co-founder Chad Cooley and Danny Forster of Danny Forster & Architecture gave the Commercial Observer development details about 88 Schermerhorn St., which is located on the block between Boerum Place and Court Street.
The current owner of 88 Schermerhorn St., the townhouse at left, plans to tear it down and build a hotel. Photo: Lore Croghan/Brooklyn Eagle
They said a 26-story Motto by Hilton hotel was planned, and that it would be more than 300 feet tall and have 117 guest rooms. Forster's rendering published with that story showed a sliver building rising above its neighbors.
'Various designs' under consideration
AWH Partners' spokesperson now says the high-profile architect's design is just one of various options the developer is considering.
"We are currently exploring various designs for a hotel that would be permitted under current zoning," the spokesperson told the Eagle.
Forster, who was educated at Harvard's Graduate School of Design, hosted a Discovery Channel TV series about construction and engineering called "Build It Bigger," his website says. His recent designs include a slender hotel tower for Manhattan's Hudson Yards complex.
The design Forster drew for 88 Schermerhorn St. looks like a sliver building. So does a condo tower design another architecture firm drew up for the property's prior owners.
There's a sliver building just a few blocks away in Brooklyn Heights — 67 Livingston St. The 29-floor residential property was constructed on a lot that's just 23 feet wide. The Jehovah's Witnesses used the tower as a dormitory before selling it for $18.6 million in 2007, city Finance Department records indicate.
This sliver building can be found at 67 Livingston St. in Brooklyn Heights. Photo: Lore Croghan/Brooklyn Eagle
As for 88 Schermerhorn St., the townhouse slated for demolition, it stands in a row of three lookalike buildings. They were constructed in the 1920s as faculty housing for St. John's University School of Law.
The former law school, which was also constructed in the 1920s, is now a co-op building. It's at 96 Schermerhorn St., which is right next 88 Schermerhorn St. Further down the block, a 12-story condo development is being constructed at 76 Schermerhorn St., and Saints Constantine and Helen Greek Orthodox Cathedral of Brooklyn stands at 64 Schermerhorn St.
The New York Transit Museum's entrance is at 99 Schermerhorn St., across from the townhouse that's going to be torn down. The museum is in an active subway tunnel beneath the street.
Sold three times
AWH Partners is the third investor since 2013 to own the 88 Schermerhorn St. townhouse. An LLC with Yoel Goldman as sole member bought the building for $3.75 million that year, Finance Department records show.
He sold it in 2014 for $11 million to Second Development Services (SDS) and Heights Advisors, which planned to construct a 27-story tower with 23 condos.
The townhouse slated for demolition, 88 Schermerhorn St., is at far left, next to taller 96 Schermerhorn St. Photo: Lore Croghan/Brooklyn Eagle
This developer team also tried to buy the townhouse next door, 86 Schermerhorn St., so they could construct a larger condo building, the Eagle reported in 2015. The sale did not go forward because younger members of the Hainan Association, which owns the building, objected to it.
The Hainan Association is a group of immigrants from the island province of Hainan, China and their descendants. The association uses 86 Schermerhorn St. to house some of its elderly members.
SDS and Heights Advisors put 88 Schermerhorn St. up for sale in 2015 after Schermerhorn Street residents voiced opposition to the condo-development plan. In 2019, an LLC with AWH Partners exec Cooley as authorized signatory bought it for $13,647,512, Finance Department records indicate.
Read more at: Brooklyn Eagle