16 Nov 2018
The Ultimate Symbol Of The Future Is Finally Coming True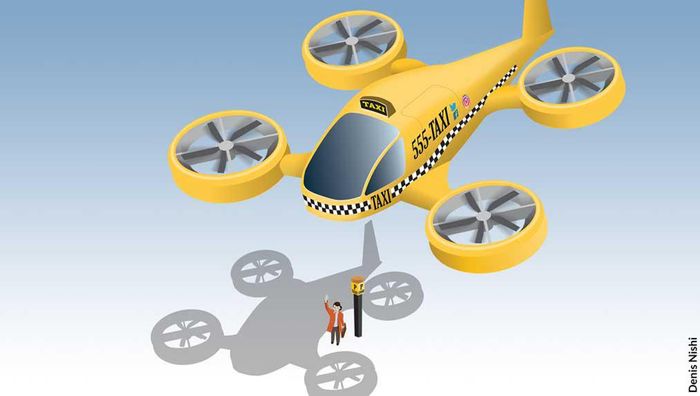 The flying car — the stuff of sci-fi dreams for decades — could become a reality next year and spark the biggest disruption to urban life since the postwar baby boom and interstate highway system.
From "The Jetsons" to "Chitty Chitty Bang Bang," "Blade Runner" and "Back to the Future," the flying car has been pop culture's ultimate symbol of the future. Now, aerospace giants like Boeing (BA) and Airbus (EADSY), Silicon Valley startups like Uber, and auto giants like Toyota (TM), Volkswagen(VWAGY) and Daimler (DDAIF) are racing to make short-range air travel part of daily life.
"It's coming because it has to," said Robin Lineberger, the leader of Deloitte's Aerospace & Defense industry practice. "We have no more room on the ground to move cars around."
The pace of development is ramping up. Air taxi startup Kitty Hawk already has FAA approval to test its prototype in "uncongested areas." Boeing air taxi prototypes are in the works and the company expects to fly them within the year. German startup Volocopter is planning tests in Singapore next year. Activity looks to pick up after that, with regular service possible by 2023.
Air mobility comes as ride-sharing and eventually autonomous cars free commuters from the labor of driving. But autonomous cars still face clogged streets and highways. Continued congestion has even fueled a stampede of investment in electric scooters that promise to quicken first- and last-mile travel.
Meanwhile, the high cost of housing poses another urban problem. New construction remains slow relative to demand due to political opposition and the dwindling supply of undeveloped urban land.
Flying Taxi Business: A $5 Billion Market?
A flying car, air taxi or other air mobility ideas in the works could literally rise above those dilemmas. Industry watchers and proponents see them becoming part of the transportation network and generating as much as $5 billion a year in service revenue. That would open up areas farther from city centers for development as consumers use air mobility along with public transit, cars and ride-hailing apps.
Textron's (TXT) Bell is developing a hybrid air taxi that runs on both electricity and conventional fuel to give it a longer range than just battery-powered vehicles. Its market would include trips between downtowns and rural areas or even short city-to-city hops.
Uber, eyed by investors as a potential 2019 IPO, is looking at multiple vehicle concepts with several partners, including Bell. The ride-hailing leader sees its Uber Air flying taxi having a range of 60 miles. That's about the distance between Los Angeles and Riverside, which has seen an influx of residents priced out of L.A.
In fact, Uber has said it's aiming to begin service in several cities, including L.A., by 2023 with early demonstrations set for 2020. An Uber Air conceptual video depicts a customer booking a flight on her smartphone, heading to an "Uber Skyport" at the top of a high-rise, and boarding an aircraft with multiple rotors.
Flying Car, Air Taxi: Why Now?
This isn't the first time people have tried to make a flying car. Earlier efforts never made it off the ground due to technology limitations.
Airbus is developing Vahana as an autonomous single-seat aircraft, (Balkis Press/Sipa USA/Newscom)
But advances in batteries and electric motors have changed the economics of flying car or air taxi transport. For example, today's helicopters are widely regarded as too fuel inefficient and require expensive and time-consuming maintenance, making them impractical for a mass-scale business.
But battery-powered electric motors eliminate more complex transmission systems that need a lot of time and knowledge to repair. They also will be much quieter than helicopters, making them more acceptable to city dwellers.
Meanwhile, improvements in artificial intelligence mean paying a pilot to ferry passengers around won't be necessary. And that frees up another seat for a paying passenger.
"Electric motors that power electronics (along with newer batteries, are making progress) in power density and energy density," said Scott Drennan, VP of innovation at Bell. "That's really encouraging to see."
Other aerospace experts, however, aren't convinced batteries and autonomy will improve fast enough.
"They are a bit ridiculous," said Teal Group aerospace consultant Richard Aboulafia. "We are talking about a 2040 story here."
Flying Car And Air Taxi Teams Come Together
To capture this new market, teams across multiple transportation sectors have emerged. Not surprisingly, some of the same industries that are developing electric propulsion and autonomy on the ground are converging on air mobility.
Uber has teamed up with Textron's Bell, Boeing's Aurora Flight Sciences and others for Uber Air.
CityAirbus is envisioned as a four-seat aircraft. (Airbus)
Airbus is working with Volkswagen's Audi to design a flying car that can drive on the road and take flight. Airbus is separately developing Vahana, an autonomous single-seat aircraft, and CityAirbus, a four-seat aircraft.
Volocopter is building an air taxi with the help of Mercedes-Benz parent Daimler with plans to launch a service in three to five years.
And Joby Aviation has received investments from Toyota and JetBlue Airways (JBLU).
Lineberger says the automotive industry is good at rapidly scaling production. And the aviation industry understands what is needed to get flight certification. Tech firms know how to disrupt an established industry and get consumers on board.
What A Flying Car Or Air Taxi May Look Like
Lineberger's team at Deloitte see three flying vehicle categories in the near future, according to a report released in January.
The first category includes passenger drones that can take off and land anywhere. Those will likely be electric or hybrid-electric quadcopters. They could be piloted, remotely operated or autonomous. Deloitte predicts they will take flight by 2020.
The second category includes a "traditional" flying car that drives to existing airports then takes off and lands at other airports. These vehicles will have pilots but eventually could become autonomous. Deloitte sees this flying car in 2020-2022.
The third category includes "revolutionary vehicles," that will combine a passenger drone and traditional flying car. They eventually will be autonomous and will take off and land anywhere. But it could take until 2025 before they become a reality.
Uber Air Taxi Cost
Flying cars and air taxis likely wouldn't affect most airlines, which fly longer routes. (But Air New Zealand is partnering with Zephyr Airworks, the operator of Kitty Hawk's air taxis.)
Instead, analysts and air mobility proponents see air taxis mostly taking passengers away from traditional taxis and ride-hailing services.
German startup Volocopter is planning tests in Singapore next year. (Volocopter)
If 10% of the current global taxi market uses air taxis, that would translate to about $3 billion-$5 billion yearly, estimates Rene Griemens, CFO of Volocopter.
And eventually the fares could be comparable.
"A ride in an air taxi should have almost the same price per passenger as one would pay for a taxi on Earth," Eduardo Dominguez Puerta, head of urban air mobility at Airbus, said in an email.
That may sound implausible when you consider that a cab in L.A. costs $2.70 per mile after the first 1/9th mile. And at first, trying to match that will be a stretch.
Uber wants to launch its Uber Air service at $6 per mile per passenger, according to technology tracker CNET. By comparison, Uber says a helicopter ride costs $9 per mile, at best.
But the company thinks the mass production of air taxis combined with pooled rides for passengers could bring the per-passenger cost down to $2 per mile. Turnaround time for flights would also shrink if battery improvements cut charging times from an estimated 8 minutes now to 5 minutes, as Uber expects.
"But in the beginning, when you focus on a smaller niche market and you don't have the supply available, the prices are likely to be higher," said Volocopter's Griemens.
About 10 years after launch, he thinks "we would have a significantly developed market."
Where Will An Air Taxi Pick Me Up?
The first routes will be more like public transit lines that carry passengers between fixed points like the airport and central business district, analysts and executives say.
But if they hope to crisscross a city someday, flying cars or air taxis will need many places to land.
Real estate developers could be open to putting a landing pad and hangar on buildings if they raise property values, Griemens says.
Also, if air taxi and flying car companies rapidly scale up, traffic would decline and space would open up in parking lots, says Deloitte's Lineberger. That space could then go toward landing-pad infrastructure.
Flying Car Regulations
Then there are the regulators.
Air taxi startup Kitty Hawk already has FAA approval to test its prototype in "uncongested areas." (Xinhua/Sipa USA/Newscom)
The FAA has already started discussing certification options with some manufacturers, according to the Deloitte report. The FAA sees the first vehicles being manned, then autonomously assisted, and then fully autonomous.
"While regulations related to piloted passenger drones and flying cars could be relatively easy to address, fully autonomous (vertical takeoff and landing) operations are likely to be more challenging, with issues around how to allocate the use of the airspace (lower altitudes to higher altitudes) considering the exponential growth in piloted and autonomous vehicles utilizing the airspace," Deloitte predicted.
Meanwhile, Uber is working with NASA to simulate air taxi traffic above the Dallas-Fort Worth airspace. They hope to see how the service would work with commercial flights and other air traffic above the busy region. The agency is developing air traffic management software for Uber.
Bell is looking at Dallas and Dubai to be test cities for its technology in the 2020s, with the mid-2020s the target for operational models.
Unfortunately for everyone stuck on the Beltway and the Bronx Expressway, New York and Washington, D.C., will likely be some of the last cities to get air taxi service because of security concerns, according to Lineberger.
Dubai Flying Taxi Plan
Dubai is already training police officers to pilot hoverbikes. It's also committed to building infrastructure and supporting flight regulations. In fact, the wealthy emirate is a perfect test area for a flying taxi, Lineberger notes.
A Dubai flying taxi would serve a population that can afford such a service. And there's only one road linking financial center Dubai to government seat Abu Dhabi 90 miles away.
Besides the technological and regulatory barriers, a flying car faces a psychological barrier. A recent UBS survey found that 54% of respondents would not fly in an aircraft that lacks a human pilot.
But even skeptics concede there is potential for disruption — and growth.
"If you are a large aerospace prime (contractor), it might be a threat to your investor base and might be an opportunity to play for future growth," Aboulafia said.
Source: Investor's Business Daily
---