11 Dec 2018
Three Female Architects Changing New York City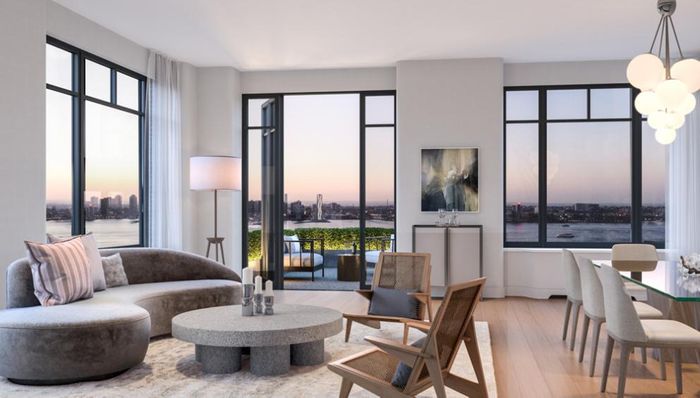 Ambitious new projects are reshaping the skyline.
Architecture has long been a male-dominated field. According to the Los Angeles Times, nearly half of architecture school graduates in the United States are women, but only 18 percent of licensed practitioners are women. Many experience wage inequality and bias. And only three of the world's biggest architecture firms are headed by women.
However, female architects are beginning to break new ground in the profession. In New York City, for example, female architects are helming daring design projects that are changing the skyline. The French architect Françoise Raynaud, who cut her teeth working with architect Jean Nouvel before founding her own Paris-based firm, Loci Anima, is the creative genius behind Greenwich West. The West SoHo condominium, which marries classic New York City architecture with French flair, will be the first Big Apple building designed by a French female architect. At 30 stories high, it will also be one of the tallest buildings designed by a female architect.
Raynaud is known for approaching architecture as a living organism rather than a static force, and Greenwich West serves as an extension of this guiding design principle thanks to its elegant, free-spirited aesthetic. "A successful residential building is firstly a building that is designed from the inside and that emphasizes the views, in terms of sun and double exposure, as well as the fluidity of space," says Raynaud, who has compared the intricate process of designing a building to watchmaking. "Greenwich West's design is like extremely classic Channel tailoring—timeless, with a very beautiful style. It is as Coco Chanel said, 'Fashion changes but style endures.'" She notes that while women's rights have evolved considerably, there is still a long way to go: "There are still few women building in New York or Paris."
The Parisian firm Sébastien Ségers Architecte is handling the interiors for Greenwich West. Sales for the building officially launched in October, and construction is on track to be completed in 2020.
GREENWICH WEST
Photo credit: Courtesy
---
Jeanne Gang of Studio Gang—a MacArthur Fellow who designed Chicago's Aqua Tower—is also making her New York City debut. Her brainchild is 11 Hoyt, a 57-story condominium that will be one of the tallest towers in Downtown Brooklyn. Developed by Tishman Speyer, the modern tower will feature a facade made out of scalloped concrete and glass. "The architecture creates a strong relationship between interior and exterior, with windows that create inhabitable facades," says Gang. Sales officially launched in September. Interiors will be handled by Michaelis Boyd Associates, and Hollander Design Landscape Architects will oversee the landscaping (which includes a 27,000-square-foot private park above street level).
And Deborah Berke—who is the first female dean of the Yale School of Architecture, as well as the founder and principal of Deborah Berke Partners in New York City—oversaw 40 East End Avenue in Manhattan. The boutique 29-unit building, which tops out at 20 stories, features a charcoal-colored brick facade and double-height windows at the street level. Sales launched this spring, and the building is on track to be completed next year.
Fourteen years after the late Zaha Hadid made history by becoming the first woman to win the coveted Pritzker Architecture Prize, female architects are continuing to prove that the sky's the limit.
11 HOYT
Photo credit: Courtesy
Source: Robb Report
---
New York Build is the leading construction show for New York and the Tri-state region. Gain access to 9 specialized summits, 200+ exhibitors, 200+ speakers and connect with 15,000+ registered visitors.