17 Dec 2018
Where Are All the Female Architects?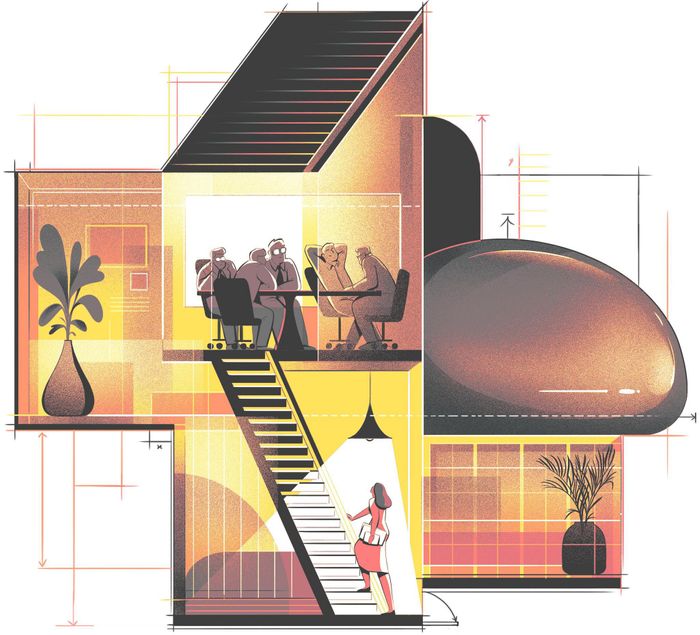 Nearly half of architecture students are women. Why are so few sticking with the industry after graduation?
To get a sense of the state of opportunity for women in architecture, consider that the firm getting the most high-profile architectural commissions in the world right now has just one female principal and this web address: big.dk.
Yes, BIG (for Bjarke Ingels Group) is based in Denmark (hence the "dk"), but the firm's use of this cheeky address just about sums up the situation facing many women in the architectural profession today.
Until 1972 and the advent of Title IX, which forbade gender discrimination in federally funded education programs, most American architecture schools refused to admit women. The last major survey of the field found that women account for half of graduates from architecture programs in this country, but they make up about 20 percent of licensed architects and 17 percent of partners or principals in architecture firms.
There is no single — or simple — explanation for this. Nor is there an easy fix. The challenge, said Ila Berman, dean of the University of Virginia School of Architecture (and one of just a few female deans in the field), is to "change a culture that will only be changed through representation, when 50 percent of the people in the room are women."
The — tentative — good news is that it's happening.
Architecture has had some semblance of a #MeToo moment. An online list of male architects accused of harassing colleagues, similar to a list that circulated in the media industry, appeared this year. One of the field's elder statesmen, Richard Meier, stepped down in March from a leadership role at his firm after allegations of sexual harassment by five women. "Voices of Women," a manifesto calling for an end to "pervasive prejudices and disrespectful behavior that appears to be systemic in our culture and discipline," was introduced by a group of female architects at a flash mob at the Venice Architecture Biennale over the summer.
The American Institute of Architects-led Equity by Design initiative has been working to address "pinch points" (hiring, glass ceiling) in the profession and to promote best practices in recruitment, retention and promotion in the field. In November, the initiative released the results of a survey of 14,360 respondents in every state and across six continents. Among its findings: female and minority architects and designers earn lower salaries than their white male peers and are less likely to hold positions of leadership; mothers in particular lose out on career and salary advancements; and firms have been slow to follow best practices regarding equity and worker well-being.
I was struck in particular by how many men versus women reported feeling strongly that their work made a difference; this perhaps connected to the finding that female architects felt recognized for working hard rather than for the work itself.
Outside of the A.I.A., others are spearheading efforts to change what many consider to be a toxic culture. "We are not victims, we are targets," said Caroline James, a graduate of Harvard's architecture program and founder of the advocacy group Design for Equality. "Let's give women tools they can use. Mentorship. Access to information. The sharing of salary info. It's time to ID the problem and what we need to do moving forward."
Women are underrepresented in architecture not just at the top of the field but at all levels of practice. In 2015 and 2016, only 31 percent of full- or part-time faculty members in architecture were women. Even as women have been gradually increasing their numbers, they've mostly done so at lower rungs of both academia and the profession.

Not surprisingly, then, the percentage of women in architecture radically decreases as one moves up the ladder toward more senior positions and prestigious honors. Female mentors and role models are in scarce supply. (Apart from Zaha Hadid, how many female architects can you name?) And though women might be growing in numbers in the lecture hall, they're underrepresented on course syllabuses, which can send a message that women aren't valued participants.
The Pipeline Is Not the Problem
It would seem obvious: If you want more female architects, teach more women to be architects. Other fields where women are underrepresented speak of a pipeline problem, the belief that a lack of diversity stems from a scarcity of available talent. But nearly half of architecture students are women, so why are so few sticking with the industry after graduation?
Even in 2018, assumptions that women would quit to marry, that they would be unable to command authority on job sites, or even that their creativity was not up to par, have persisted, resulting in unequal pay, recognition and access to opportunities. Every woman I spoke to on this topic has a story (or more likely, many stories) of men questioning their competency and qualifications, of not believing they were actually in charge of a project.
Several women said clients often assume that a female architect in a room is there to take notes or serve coffee. One woman was asked in a meeting if she had PMS; another recounted the time when a group of male colleagues complained to the head of the firm that they could not take orders from a woman; still another describes losing a promotion after becoming pregnant.
Several of the country's most prestigious architectural programs, including Yale, Princeton, Columbia, Cornell, the University of Virginia and the University of California, Berkeley, have in recent years appointed women as deans or directors. It would be unreasonable to put the onus of transformation on a handful of women — and it's insulting to all women to assume that these talented and capable architects were hired solely because of their gender. But those appointments do begin to change the balance of power.
"It is meaningful both symbolically and substantially that I'm a woman dean at Yale," said Deborah Berke, dean of architecture at Yale and principal of her own firm. "We won't see the culture change immediately. But we will see the results."
In architecture, peer review dominates. When tenure decisions are made by committees made up of men, consist of interviews with mostly male candidates, and are sent to male provosts for approval, the system perpetuates itself. Female architects make less than their male counterparts at every level of experience.
To put it plainly, men are still the face of the profession.
"Every single woman architect I know would, I think, say the same thing," Ms. Berke said. "'I want to be a good architect who has a meaningful impact. I don't want to be known for being a good woman architect.' Architecture needs to look like the world it serves — and that's everybody."
Redefining Success
The architects most of us hear about — Gehry, Foster, Ingels — are often commissioned to design skyscrapers, museums and high-tech corporate campuses, and it is those buildings that are seen as the pinnacle of success, the projects to which others should aspire. There are women who want to design skyscrapers, too, but this represents an awfully limited view of what architecture could be. Part of what might account for the low numbers of female graduates continuing in their field may be their interest in forging a different path.
Key to greater equality of opportunity is rethinking what success means in architecture. "There is so much available to be reinvented," says Amale Andraos, dean of architecture at Columbia, who like many of her female peers left a large male-led firm to found her own shop, WORKac, with her husband, the architect Dan Wood. "Housing, low-income housing, gardens, questions of public space, architectural criticism. You can change culture, knowledge and history by designing an app, engaging in social activism or mapping family-friendly spaces. The definition of success is up for grabs."
Liz Ogbu, who trained as an architect at the Harvard Graduate School of Design but describes herself as a "designer, social innovator and urbanist," certainly sees it that way. Ms. Ogbu's career — she has designed shelters for immigrant day laborers and collaborated on a social enterprise that provides safe, hygienic and convenient sanitation to the homes of low-income urban dwellers in Ghana — points to a much broader definition of what an "architect" might be and do.
As she explained to me in an email: "In many ways, architecture is a profession that has been the epitome of the dominant white patriarchy, from most of the celebrated starchitects to the all too frequent obsession with buildings that are better known for the beauty of the object than the quality of life that they enable. I'm black and female; my existence is the exact opposite of that system. So perhaps it is no accident that as I've built my own path in this field, I've been committed to a design practice that is rooted in elevating the stories of those who have most often been neglected or silenced."
One Easy Fix
The problem discussed here is more a societal problem than an architectural one. Transformation won't come overnight, but there's one thing all firms could do right now: pay men and women the same.
That's what the architect and MacArthur fellow Jeanne Gang did for her own firm, Studio Gang, which designs the sort of high-profile projects not typically given to firms led by women.
"It's obvious," she wrote in a recent essay about promoting gender equality in the field. "We can start by looking to the fundamental issue of respect in the workplace — pay. Unlike other measures of value, pay is a number. It's tangible and objective."
It's an essential first step toward equality that will let the profession move forward, together, to address the more complex challenges that await.
Source: The New York Times
---
New York Build is the leading construction show for New York and the Tri-state region. Gain access to 9 specialized summits, 200+ exhibitors, 200+ speakers and connect with 15,000+ registered visitors.