06 Feb 2020
Why New Brownfield Designation is Good News for Brooklyn Industry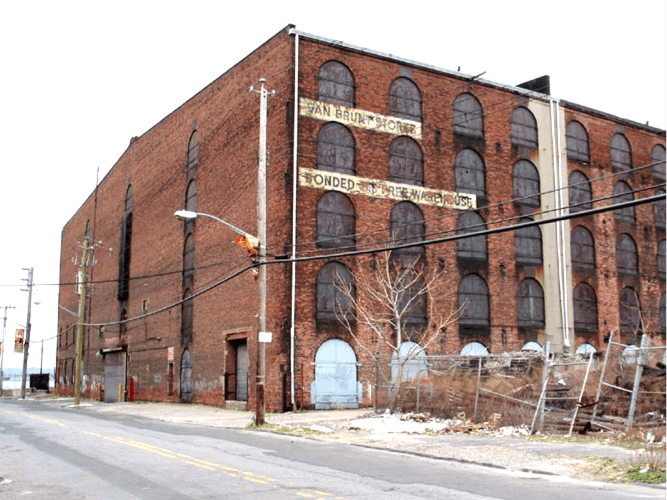 On December 17th of last year, the New York Department of State designated a 721-acre area in North Brooklyn's Industrial Business Zone (IBZ) which stretches from eastern Greenpoint into parts of East Williamsburg and Bushwick as a new Brownfield Opportunity Area (BOA).
The BOA program aims to revitalize communities with a neighborhood-wide approach and encourage remediation and redevelopment of contaminated sites into productive and job creating properties by means of (1) tax incentives administered through the State's Brownfield Cleanup Program (BCP) and (2) financial grants to local organizations and not-for-profits to work to align these new developments with the local communities visions and priorities.
The state's BOA designation tracks the recommendations for the area's transformation outlined in the publicly available "Step 2 Nomination Report" compiled by North Brooklyn's Evergreen Local Development Corporation (Evergreen) in collaboration with local organizations and community input.
While its specifics might be subject to future changes, the plan calls for transportation infrastructure upgrades, land use policy enforcement and special incentives to maximize the neighborhood's affordable industrial and commercial space by encouraging new affordable development and support for key employment sectors in the area.
These sectors include traditional industrial uses (such as waste management, manufacturing, warehousing and distribution), and more recently emergent commercial uses (TV and film production, tech, media, advertising and information technology and creative office) and supplementary retail.
The report identifies eighteen candidate sites for environmental assessment and BCP funding within the BOA's five designated subareas. Three of these subareas abut Newtown Creek and are made up of mostly heavy industrial uses and city utilities.
The report calls for zoning restrictions and reinforced boundary conditions to protect these heavy industrial uses against future encroachment and conversion. The remaining two subareas feature an evolving mix of industrial and commercial uses bordering Greenpoint's and Bushwick's residential portions.
The recommendation for these areas is to support their growing demand from creative commercial sectors while protecting existing anchor businesses from displacement by encouraging higher density development that can accommodate for a combination of emerging commercial and affordable industrial uses.
In today's market environment, even with the help from Brownfield tax credits, affordable industrial rents on their own cannot generate sufficient returns to make private sector development financially feasible within the North Brooklyn BOA.
While engaging non-profit developers such as the Greenpoint Manufacturing and Design Center (GMDC) which finance affordable developments with a combination of EDC Grants along with New Market and Historical Tax Credits can address part of the issue, the nonprofit sector is far too small to meaningfully redevelop an area as large as the BOA on its own.
As a result, incentivizing private sector development will be critical for the State's designation to have a meaningful impact. So as to allow for profitable development, Evergreen's proposed redevelopment framework relies on a combination of adaptive reuse of existing industrial buildings, additional financial subsidies, high-density zoning variances and allowing for a mix of higher value market uses such as office and retail to subsidize the affordable industrial component.
Coincidentally, the State's BOA designation comes on the heels of a major setback for a similar neighborhood initiative, the 'North Brooklyn Industry and Innovation Plan', an area-wide rezoning also meant to revitalize the industrial neighborhood with new development.
This past April, City Council Member Antonio Reynoso, whose district covers the southern part of the affected area, announced that the rezoning was 'dead in the water' because it did not contain enough restrictions for non-manufacturing uses and therefore threatened local industrial business.
While Steven Levin, whose district covers the BOA's area north of the Brooklyn Queens Expressway has yet to publicly renounce the rezoning in the same way, judging by his recent real estate policy recommendations, there is a good chance he shares his colleague's point of view. Any future zoning changes within the BOA will be subject to the city's Uniform Land Use Review Process (ULURP), which requires approvals from members of the local City Council.
Their unwillingness to give these approvals might threaten the prospects of substantial near-term redevelopment resulting from the State's BOA designation for the area, especially in those parts where high market rate land values require the benefit of zoning changes which would allow for more density and higher value uses which can subsidize the affordable industrial component for projects to 'pencil out'.
The State's BOA designation is very good news for the community at large and shows the State's commitment to help finance a large-scale cleanup of the area's contaminated sites while supporting the creation of affordable space for local industrial business.
Leveraging the new designation into a meaningful revitalization of the area in the near term will require that the community find ways to effectively partner with private developers.
To do so, Evergreen and local organizations which understand the financial constraints on new development might have to persuade local politicians to recognize the same economic realities and come on board for the greater good of the neighborhood.
Read more at Real Estate Weekly
---
New York Build is the leading construction show for New York and the Tri-state area. Gain access to 12 specialized summits, 250+ exhibitors, 230+ speakers and connect with 20,000+ registered visitors.